The Current Issue - August 2014

Aug 18, 2014 07:08AM ● Published by Community News Service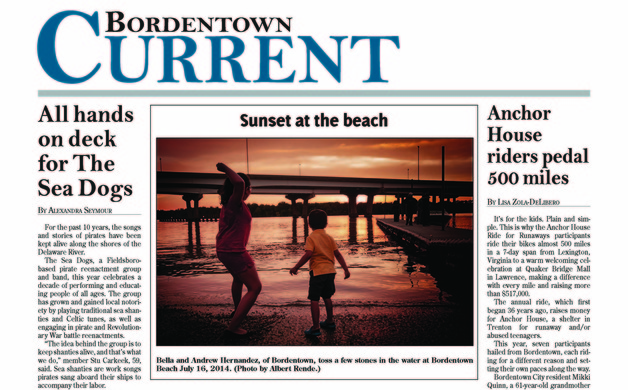 Summer starts to wind down with a new school year just around the corner! Warm weather sports are at their height with the 500 mile Anchor House Ride for Runaways and the Mancini family archers. A local Fieldsboro group reenacts period pirate blunders and we go in depth with Hollywood Tans owner Tony Nardello. Also, don't miss the second annual Hope Hose Humane Carnival!

Fieldsboro-based swashbucklers perform pirate battle reenactments
Read more

Greg Mancini stays on target with archery passion after years of practice
Read more

Bordentown cyclists ride from Virginia to New Jersey to support Trenton shelter for teens
Read more 

Wednesday, Aug. 20 to Saturday, Aug. 23 the carnival will take place on the grounds next to Retro Fitness on Route 206
Read more

A 1995 BRHS grad will be wed in Virginia in November.
Read more

Firehouse Art Camp students create alien animations
Read more

Over 70 young performers sing and dance in the Bordentown Junior Musical Theatre Company's performance of Annie Jr.
Read more

Prepare for vacation in a sunny locale with a base tan at Hollywood Tans
Read more

260 swimmers between the ages of four to 15 learned new techniques and safety skills in this year's swim club.
Read more

Bordentown resident helps coach travel baseball team to victory
Read more

The Bordentown Jersey Bandits denominated the competition in Medford and Westampton to bring home two championship titles.
Read more

The Bordentown Elks Americanism Committee coordinator Dick Langan and chairman Jim Sharpe present a Heritage Corner Kit to MacFarland Intermediate School principal Megan Geibel (center) on June 10, 20
Read more

Stress making you feel achy and nervous? It may be a sign of adrenal insufficiency
Read more
Community
2014
current
newspaper
issue
august