Local actors to present 'Kiss Me Kate'

Aug 19, 2014 10:00AM ● Published by Community News Service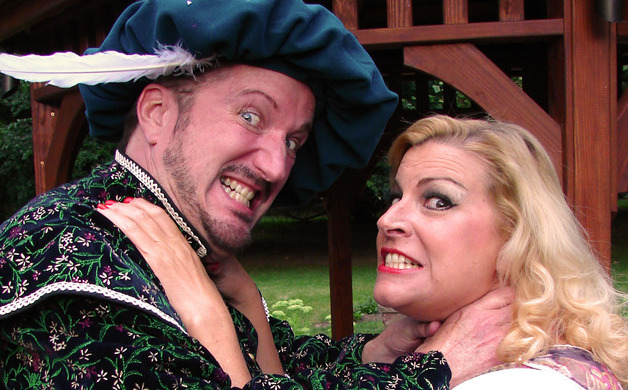 Tom Orr (Ewing) and Susan Fowler (Lambertville) star as Lilli and Fred in PinnWorth Productions presentation of 'Kiss Me Kate' at MCCC's Kelsey Theatre.
A battle of the sexes is about to begin at Mercer County Community College's Kelsey Theatre as PinnWorth Productions presents Kiss Me Kate.
Kiss Me Kate is a play-within-a-play. Fred and Lilli, a divorced couple, are cast as leads in a production of Shakespeare's Taming of the Shrew. Their tumultuous backstage romance and the comic antics of the other leading couple, Bill and Lois, are complemented by Cole Porter's musical score, which includes such hits as "Another Op'nin, Another Show," "Too Darn Hot," "Wunderbar," and "Brush Up Your Shakespeare."
Starring in "Kiss Me Kate" are Susan Fowler of Lambertville as Lilli Vanessi/Katherine, Tom Orr of Ewing as Fred Graham/Petruchio, Jonathan Polanco of Hamilton as Bill Calhoun/Lucentio and Rachel Smith of Cinnaminson as Lois Lane/Bianca.
The supporting cast includes Donna Reed (Bordentown); Sean McGrath (Bucks County, Pa.); Rachel Garrettson (East Windsor); Christa DiLalo Petti (Edison);Chris Arena, Dan Johnson, Nicholas Pecht (Ewing); Evan Bilinski (Franklin Park); Todd Roman (Fords); Reginald Brockington (Hamilton); Lexi Schlaifer (Hightstown); Bridget Hughes (Jackson); Mariah King (Jersey City); Lindsey Jordon (Metuchen); Alan Kramer (Mount Laurel); Roman Sohor (Old Bridge); Sally Page (Princeton); Koren "KZ" Zander (San Francisco, Calif.) and Tonya Treadwell (Trenton)
The show is directed by LouJ Stalsworth, with musical direction by Peter de Mets, choreography by Renee Liciaga, and fight choreography by Peter Liciaga. The stage manager is Jon Cintron and assistant stage manager is Amanda Suchil.
Performances are scheduled for 8 p.m. Sept. 12, 13, 19 and 20; and 2 p.m. Sept. 14 and 21. Kelsey Theatre is located on the college's West Windsor campus, 1200 Old Trenton Road. A reception with the cast and crew will follow the opening night performance on Sept. 12.
Tickets are $20 for adults, $18 for seniors and $16 for students and children.
More information is online at kelseyatmccc.org.
Arts+Entertainment
theater
theatre
acting
performance
perform
act
actors
local
mccc
kelsey