Randy Now Turns Doc into Fundraiser for city cats

Aug 22, 2014 07:12AM ● Published by Community News Service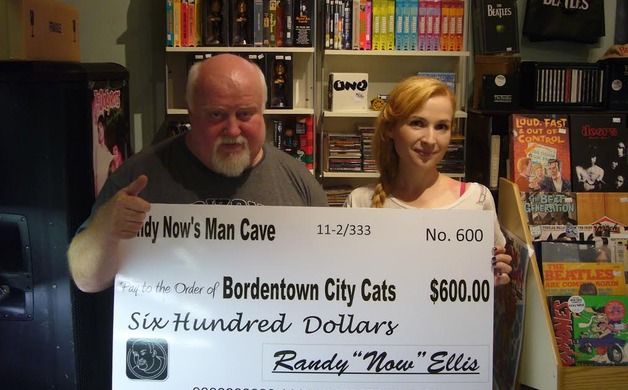 Randy Now presents Tara Howley of Bordentown City Cats with a check for $600 in The Man Cave.
Long-time Bordentown fixture Randy "Now" Ellis turned the story of his legendary Trenton-area concert-promoting days into a fundraiser to benefit Bordentown City Cats (BCC) animal rescue group.
In doing so, Ellis raised $600 in the past several weeks by requesting a $10 per person donation from everyone who turned out for the screening of the new feature-length documentary "Riot on the Dance Floor: The Story of Randy Now and City Gardens," which chronicles Ellis's 30-year history as a DJ and booking many seminal punk and rock acts at the Trenton club.
"As a resident and store owner, I know what a great job BCC does in Bordentown and I'm glad that I had the opportunity to contribute in some way coinciding with the film documentary about my career," said Ellis, who presented a check to BCC at his store, The Man Cave, in Bordentown this week. "I hope the Man Cave can help the BCC cause again in the future, perhaps with an afternoon adoption day at the store.
Ellis' sizeable donation will go a long way towards furthering BCC's mission, which can often be costly. Now in its eleventh year, BCC is dedicated to rescuing, fostering, spaying/neutering, finding loving homes and caring for Bordentown City's stray and feral cat population.
"We'd like to give a special thanks to Randy Ellis and The Man Cave for donating $600 to Bordentown City Cats' rescue efforts," said Tara Howley, a volunteer member of BCC who is also a guitarist for the all-girl, punk band The Droogettes. "Randy was generous enough to donate the proceeds from the door during screenings of Riot On the Dance Floor, a documentary on the legendary City Gardens that, under Randy's management and direction, hosted pretty much every punk band ever. This will go a long way in supporting rescue and adoption efforts."
To find out more about "Riot on the Dance Floor," visit: www.citygardensfilm.com. Randy Now's Man Cave is located at 134 Farnsworth Ave, Bordentown, NJ or you can discover more online at: www.mancavenj.com.
For more information on Bordentown City Cats' rescue efforts and the cats available for adoption, please visit: www.bordentowncitycats.blogspot.com.
Business
,
Arts+Entertainment
benefit
city
cats
bordentown city cats
animal
rescue
shelter
randy
now
man
cave
donation
film
doc
documentary