All hands on deck for The Sea Dogs

Aug 25, 2014 10:33AM ● Published by Alexandra Seymour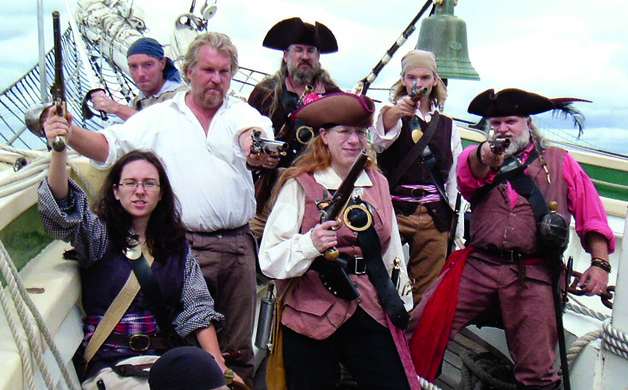 The Sea Dogs stand on the bow of the Gazela at Independence Seaport, Penn's Landing: (front) Stu Carkeek, Ariel Peterson, Eileen Eggert, Del Merritt, (back) Steve Alt, Eric Martin, Wayne Orndorf and Harley Herrell.
By Alexandra Seymour
For the past 10 years, the songs and stories of pirates have been kept alive along the shores of the Delaware River.
The Sea Dogs, a Fieldsboro-based pirate reenactment group and band, this year celebrates a decade of performing and educating people of all ages. The group has grown and gained local notoriety by playing traditional sea shanties and Celtic tunes, as well as engaging in pirate and Revolutionary War battle reenactments.
"The idea behind the group is to keep shanties alive, and that's what we do," member Stu Carkeek, 59, said. Sea shanties are work songs pirates sang aboard their ships to accompany their labor.
"We're not glorifying [pirates], we're trying to educate," member Eileen Eggert, 45, said. "We'll make no bones about it, pirates were bad people."
But as bad as the pirates might be, the Sea Dogs recognize pirates' significance in history and strive to allow others this appreciation as well.
The 13-member group performs about 20 times a year and puts a strong emphasis on being inclusive and family-oriented. They also welcome short-term members of any age, the youngest currently being 12-years old.
"One of the things that I say to people when they're joining…is that it's purely for fun," the Sea Dogs founder Del Merritt, 45, said. "If you're looking for money, go somewhere else. You have to want to do it and you have to have a passion for the music and/or the history."
"Really, all you have to do is be cool to hang out with because if we like you, we want you around," Eggert said. "We don't even care if you're the best singer or if you play an instrument. If you're interested in the stuff enough to learn how to use [it], then that's all it takes."
Originally from West Windsor, Merritt moved to Fieldsboro in 1998 with his brother and Eggert, who his is wife, where he started the group in 2004. Merritt's keen interest in pirate history and Celtic tunes inspired him to create the Sea Dogs as a means of incorporating the two.
"Those two things remained separate for most of my life," Merritt said. "I started off playing rock music on the drums, but then I switched over to playing Celtic music and music from the British Isles. When I was a kid, folklore, religion and mythology were my main focuses, so starting to look at poetry in music was how I was introduced to these [types of] lyrics. You can't really understand the mythology of folklore without understanding the history. So with this group…we were able to marry the two together."
Carkeek, who sings for the Sea Dogs, was initially drawn to join because of his love of sea shanties.
"[My wife and I] were attending a festival and we heard them singing, so I went over and started singing songs with them," Carkeek said. "I just kept following them around and then they asked if I wanted to join, so I said, 'sure, why not.' I've been with them ever since."
The band practices their repertoire every Thursday night at Merritt's house. However, not all members live in Fieldsboro and most have careers that oftentimes make it difficult for them to make each practice. As a result, rehearsals can turn into a means for these good friends to catch up with each other.
"Sometimes we won't practice as much because we're gigging a lot and so we're out a lot, or if it's an off-season and Del wants to introduce some new tunes, then we do that," said member Steve Alt, 49, who has known Merritt since high school. "Or sometimes it's just a great opportunity to hang out. The band has become my friends, which is great because I expected it to be my band and now it's my buddies, too."
Carkeek said the Sea Dogs have also taken the first steps towards releasing a CD, a project they hope to finish in the near future.
The group does not adopt personas for their reenactments because they do not want to distract from the historical knowledge they convey. However, while they are not actors, they still take measures to prepare themselves for performances, including arriving at venues early to familiarize themselves with the space so they can then derive a battle plan for their reenactment.
"We try to find a way to make it look like the most convincing battle," Merritt said. "The main thing is thinking of what resources you have…and coming up with loose plans before we go out and start shooting each other."
To enhance their performances and supplement the knowledge they share, the Sea Dogs enjoy getting dressed up in costumes and bringing artifacts and weaponry to display to their audience. Attendees generally receive these objects and outfits very well, especially children who approach members with curiosity and eagerness to relate their own pirate knowledge.
"I watch Del [and other members] relate to children in a very magical way," Alt said.
For the most part, Alt only partakes in the band side of the Sea Dogs by playing the acoustic guitar and leaves the reenacting to the other members. However, the band aspect of the group is equally interactive with audience members.
"One time, we were the opening act for a rock band at a fundraiser event, and when we did our sea-shanty thing, we were really lit-up that night," Alt said. "We did one really hot set, and afterwards, everyone was hanging around us telling us that it was really cool…That made me feel really good because if I could wave my magic wand, that's what I would like to do every night."
Eggert prefers doing Revolutionary War reenactments because she loves European history and had involved herself in those types of reenactments prior to the Sea Dogs. She particularly enjoys performing at the Siege of Fort Mifflin, but likes all opportunities to educate the audience about the role of women, a side less frequently portrayed and slightly more challenging to execute from a historical context.
"There weren't that many [girl pirates], but there were some," Eggert said. "From a musical standpoint it's a little bit tricky because we try to sing on a guy register."
One of the Sea Dogs' favorite events to perform at is the annual Pirate Day at Fort Mifflin, which is coming up again on Aug. 16. They have been involved with it since its inception, when Merritt helped the board design the event.
"To us, that's a big one because it's kind of like our baby," Merritt said. "We get to mix our two things: a band that we love and a place that we love."
The Sea Dogs have events scheduled through the summer and fall. For more information, or to see a complete listing of events, go online to seadogsnj.com.
Community
,
Arts+Entertainment
revolutionary war reenactments
pirates
fieldsboro
performance group