'Super' start to school year

Aug 29, 2014 09:41AM ● Published by Scott Morgan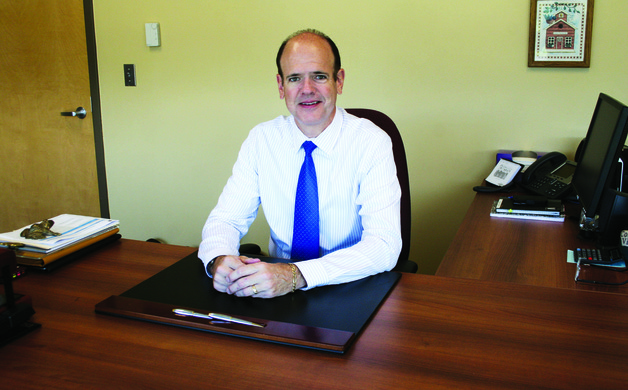 Edward Forsthoffer officially took on the role of Bordentown Regional School District superintendent July 1, 2014. (Staff photo by Lexie Yearly.)

By Scott Morgan

Edward Forsthoffer sees promise in new ways of educating students. The former superintendent of the East Windsor Regional School District, Forsthoffer took over the Bordentown Regional School District on July 1. With him he brought the perspective that the ways of learning are not static.


"I spent so much time, when I was a kid, on knowledge," Forsthoffer said. "Now the thing is to get students to analyze and build a deeper understanding."


Forsthoffer, as one of the first generation of school administrators to teach children raised entirely in a wireless world, is "worried that we're raising a cubicle society," he says. He's referring to a society in which people shy away from face-to-face communication and opt instead to text or use social media outlets.


"Faceless communication worries me," he said. "That lack of interaction. Kids don't even want to talk on the phone, they'd rather text. People are losing their interpersonal skills."


It's a heavy load to bear, trying to walk the line between teaching according to society's ways and engendering the kinds of skills kids will need as adults, when they have to interact with people directly. But Forsthoffer sees more promise than peril and has high hopes for Bordentown.

He takes much of his educational philosophy from business leadership.
"We can learn a lot from business," he said. "Understanding how good your staff is and how we can make it better." In other words, teamwork, solid leadership, and a finger on the carotid of society, combined with humanity's most basic social interactions. "It all comes down to the human element," he said.


Forsthoffer's tenure in Bordentown will be something of a homecoming for him.
"I kind of grew up in Bordentown," he said. "I feel like I've lived my childhood milestones here."
Forsthoffer grew up in Hamilton and enjoyed post-Communion and post-Confirmation meals at diners like Mastoris and Town & Country. Adventures up and down Farnsworth Avenue. Rooting through old bookshops in search of old books on magic.


Yes, Forsthoffer is a bit of a magician. He used to perform magic shows for the kids back when he was a principal in Hillsborough and loves discovering magic books from the 1920s and '30s. He got into magic when he was about 7 years old. The same age at which he knew he wanted to be a pediatrician.


Forsthoffer entered Rider College in 1983 with every intention of becoming a doctor. However, he had one tiny obstacle to overcome: "I hyperventilate at the sight of blood," he said. "I wanted to be a pediatrician so long as there was no pain and no blood. Apart from giving [a kid] a lollipop, there's not much I could do."


So Forsthoffer, who did not inherit his nurse mother's strong stomach for sick people, turned to biology because he could at least cope with dissecting frogs and such. It was what he calls a happy accident that he realized he wanted to be a teacher, and followed his degree into teaching biology. His wife, Michele, had realized this when she was a kid and followed through with it, but "for me it was an evolution," he said.


Then again, so was his path to administration. Forsthoffer thought that at most he'd be a principal, which he was in the Hillsborough School District. He went back to Rider for his master's degree, which he earned in 1995. He became vice principal of Hillsborough Middle School in 1998 and then principal of Hillsborough Elementary in 1999. In 2005, Forsthoffer completed his doctorate in educational administration at Seton Hall (he did say he wanted to be a doctor), where he also found out that he loved the personnel side of education.


As Forsthoffer finished, the Monroe Board of Education called on him. That district had created a new position of assistant superintendent for personnel, and Forsthoffer served that role until 2007, when he went back to Hillsborough to be the superintendent there.
Forsthoffer loved Hillsborough, but logistics were an issue. "I live in Hamilton," he said. "Two miles from the Whitehorse Circle." The drive — and there is no easy route from Hamilton to Hillsborough — was a lot to contend with every day. So when East Windsor went looking for a new superintendent of schools in 2010, Forsthoffer grudgingly gave up his longtime stomping grounds in Hillsborough and went to work up Route 130.


Last February, Bordentown's five-year superintendent, Constance Bauer, officially retired, and the district named Joe Miller its interim superintendent while it sought a permanent replacement. Forsthoffer, seeing the chance for a homecoming of sorts, applied and was, he says, put though the paces of a rigorous screening process.
School board president Mark Drew said the district was looking for the most qualified candidate with the strongest leadership abilities.


"Dr. Forsthoffer has a proven track record that fits perfect with what our district needs," Drew said. "The BOE has found a special leader who I know will work harmoniously with an already great group of administrators and teachers."


Drew also said that Miller was not an option because he was retired. "By law a district can only have a retiree as interim super," he said.


Forsthoffer was contracted at $157,500 a year, roughly $35,000 less than he made in East Windsor, which has about twice the students Bordentown has.
As for what Forsthoffer expects during his tenure, well, he expects to be held accountable in the highest.


"Parents here have high expectations," he said. "They're demanding in a very positive and appropriate way."


With a district bigger than tiny but small enough for everyone to know everyone personally (BRSD has about 2,500 students), it's not likely for kids to get lost in the mix. His goals for these students and parents aren't set yet, but Forsthoffer knows at least that he's going to make sure every child is prepared to go to college—if they want to go to college.


Forsthoffer believes college is the best way to prepare for adult life and says he will encourage everyone to consider higher education, but he knows not everyone wants that or is cut out for it, the same way not everyone is not cut out for a tradesman's life or a military career. But Forsthoffer wants those decisions to be consciously made by the students who choose them.


"If that's the path they set for themselves, great," he said. "I would love to see 100 percent of our students go to college, but it's not right for everybody. Maybe they're not ready emotionally or financially to go to college. But I don't want them to not go because of something we did."
The Bordentown Current eUpdate
Community
,
Schools