A father and son's Race Across the Sky

Sep 04, 2014 11:51AM ● Published by Lexie Yearly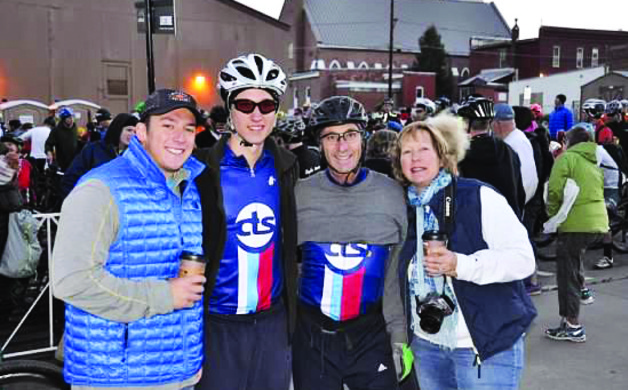 The Schino family—Vincent, Nick, Vince and Mary Ann—gather at the start of the Race Across the Sky in Leadville, Colorado Aug. 9, 2014.
Gallery: Shino Family Ride Across the Sky [11 Images] Click any image to expand.

By Lexie Yearly

It was early morning Aug. 9 as Nick and Vince Schino took their positions among nearly 1,500 others packed into a few block radius. As the pair fastened their helmets, adjusted their carefully measured food and water supplies, and fastened their outermost layers of gear that kept them bundled up from the cold, they knew they had done everything they could to prepare. The last year of training, planning and research would all come together over the course of the next 12 hours.

When the shotgun start officially went off at 6 a.m., the father-son team started pedaling in one of the most difficult races in North America. The Leadville 100 Mountain Bike Race Across the Sky, which starts in Leadville, Colorado, is a 103-mile mountain bike race that winds its way through the Rocky Mountains, with steep inclines, uneven and rocky dirt trails, and a fraction of the oxygen riders would have at a lower elevation.

Leadville itself sits at nearly two miles high, with an elevation of 10,400 feet, nearly double the elevation of Denver. As riders make their way up and down the mountain trails, the low oxygen level is what taxes riders the most, as it makes it more difficult for the body to keep up its endurance.

Over the course of the race, the total elevation gain if all the inclines were added amounts to nearly 13,000 feet, the equivalent of climbing the Empire State building about nine times, Vince recounted with a chuckle.

Before the race, Nick, 22, and Vince, 60, had already made two trips out to Colorado—they went out together for 11 days in July, and returned July 28 and stayed until race day—to practice on the course and get acclimated to the elevation.

Mary Ann Schino joined her husband and son in Colorado Aug. 3, and Nick's older brother Vincent, their cousin, and Nick's girlfriend arrived Aug. 7.

While the practice days included a grizzly bear encounter, 60 miles of biking through the course, and getting caught in a hailstorm, nothing could have prepared them for the actual event.

"I've ridden the course through all the training," Vince said, "but during race day and doing all those miles, it's hard to even explain to somebody what you go through." Most of the trails were extremely narrow, squeezing the bikers into close quarters with limited passing options.
After about 15 minutes, just three miles into the race, Nick fell victim—literally—to the tight space, unable to avoid a crash with a fallen biker. Despite a shoulder injury, Nick was able to continue. Aside from Vince's quick stop to check on Nick after his fall, the pair kept their own paces and didn't focus on staying together during the race.

"You just have to appreciate it as you're doing it," Nick said. "You know you're going to be suffering. Even the pros say…this is a race that makes grown men cry. But you know it's going to be hard, so you just have to appreciate that fact that you're in the moment and enjoy it."

They finished about half an hour apart, with Nick coming in at about 11 hours, 30 minutes, and Vince clocking in at 12 hours and 25 seconds.

To be recognized as an official finisher, race contestants need to finish within two designated times: less than 9 hours, which is possible for only the most advanced professionals, and results in receiving a large belt buckle and medal; or less than 12 hours, which results in a smaller belt buckle and medal. If riders clock in later than 11 hours, 59 minutes and 59 seconds, they receive nothing.

Though the near miss was disappointing at the time for Vince, he knows that even finishing the race is an achievement—a few hundred other contestants never even completed the course that day.

"Now he's joking around, saying if he hadn't stopped (to check on me after my fall), he would have finished in time," Nick said with a smile.

* * *

Nick and Vince have slowly been building their endurance competition experience ever since Nick competed in his first sprint triathlon four years ago. He'd just graduated from Doane Academy in Burlington, where a coach had commented on Nick's biking skills and suggested he try out a triathlon competition.

That summer, Nick entered the race (which includes a .47-mile swim, 12-mile bike and 3.1-mile run), and instantly took a liking to it. And so did Vince, then a spectator—so much so that after Nick's second competition, Vince and Nick signed up together for a third race together.
Their next goal was the Ironman 70.3, which consists of a 1.2 mile swim, 56 mile bike ride and 13.1 mile run, and the first time Nick and Vince tried the event, they weren't even close to the fitness level where they wanted to be. And that was the start of the real fitness training.

Since that first half Ironman two years ago, the pair has taken their training to another level and has continued to compete in those events—their most recent Ironman 70.3 was June 22 in Syracuse. But last year, they decided to up the stakes again and started to look into competing at Leadville.

That training officially began after Christmas morning last year, when Mary Ann and Vince surprised Nick with the news that he and his father had been accepted into the race.
Nick, at that time still finishing up his senior year of college, had some catching up to do to get back to his previous fitness level.

Nick and Vince began working with trainers from Carmichael Training Systems—the company that trained Lance Armstrong—and during Nick's spring break from college, took their first trip out to mountain bike in Arizona.

From there, the training schedule became like a second job for the pair, who would schedule early morning bike rides or evening runs and training sessions every day.

"Today, I got here at 8 for work," Nick said on one weekday in June. "Then at around 4, I'm going to drive to Lambertville and do a 40-mile ride in the hills, to get as much climbing in as possible."

Part of their training also included nutrition and planning out their race meals. They needed to eat every half an hour, and tried to find ways to snack during the ride and checkpoints. They also measured out their water and electrolyte mix, calculating how much they'd need for each section of the race.

One of the most important aspects of their training happened while they slept. Vince bought two low oxygen tents for himself and Nick to position over their beds. They can adjust the oxygen level to help their bodies acclimate ahead of time to the conditions that would be present during the race.

Vince also used another gadget to help with his recovery: inflatable boots for each of his legs. The air chambers inside the boots fill up to help increase circulation and blood flow after training.

"I say that I'm living with the Jetsons," Mary Ann said with a laugh.

* * *

It's not unusual for the Schinos to get involved in things as a family. The longtime Bordentown residents are most known locally for their family business, Schino Property Management. The family owns and operates the Chestnut Village Apartments complex and also own three other shopping centers in town: Shoppes at the Glen, Springside Commons and Hillview Plaza.
Mary Ann and Vince have worked together for more than 20 years, and now hope to bring their sons into the mix, too.

"With her and I, it's just easy to work and do this work together," Vince said about how close their family is. "And as a family unit, we've always done things together…it's just the next step."

Since his graduation, Nick has taken a more active role in running the business. While Nick's brother, Vincent, currently lives in Hoboken, the pair both have their real estate licenses and hope to eventually take over the family business when their parents retire.
But for now, competing in their numerous athletic events has just been one more thing for the family to do together.

While Nick and Vince are the primary competitors, Mary Ann and Vincent are just as involved.
Mary Ann is the family's unofficial "travel agent," and has started planning family trips around the next race or training events on the schedule. And Vincent has even gotten involved in endurance races on his own; last spring he ran his first half marathon, the Philly Love Run.
During the Leadville race, Mary Ann and Vincent drove around to all the different spectator areas during the race to try and catch a glimpse of Nick and Vince, supporting them the whole way through.


* * *


After the race, Vince strapped on his inflatable boots and lay on the floor to relax. He was surprised to find the next morning that he wasn't hit with a rush of pain and soreness he expected, though Nick was feeling the aftereffects of his crash.

Now, Vince said, the race has left him with the feeling of unfinished business—which means the father-son team is planning another run at that elusive belt buckle next year.

In September, the pair will set off for Flagstaff, Arizona for the Barn Burner ride, where they hope to qualify early for next year's Race Across the Sky.
Sports
,
Community
Biking
Ride Across the Sky