Olive oil shop brings taste of Italy (and elsewhere) to Farnsworth

Sep 04, 2014 10:17AM ● Published by Community News Service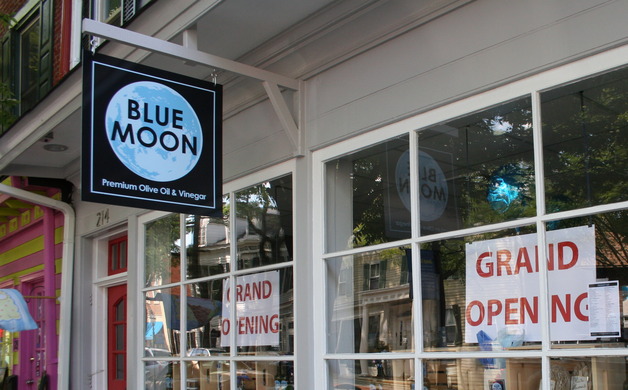 By Jessica Oates
The business of olive oil isn't as simple as it sounds. From Aug. 8-10, Bordentown residents got a taste of just how much effort and study goes into making sure olive oil is at its best with the grand opening of 
Blue Moon Premium Olive Oil
 and Vinegar on Farnsworth Avenue.
This is the second Blue Moon location owned by Bob McVicker and his wife, Darcie, who opened their first shop in Collingswood in November 2012.


A self-taught olive oil expert and enthusiast, Bob McVicker's passion was first ignited years ago when he and his wife visited a small shop similar to his own.

Blue Moon Olive Oil - Bordentown, NJ
Blue Moon Premium Olive Oil & Vinegar, opened in November 2012 with the mission of informing the public on the benefits of incorporating "True" Extra Virgin Olive Oil and Balsamic Vinegar... Read More 
"I was amazed that a whole store could be dedicated solely to oil and vinegar, but I was impressed by the quality of everything in the shop," he said. "The clerk had us try his oil side by side with a popular brand offered at the supermarket, and I realized it tasted like clay. My wife and I bought several bottles of his oil, some for ourselves and also for her parents, and they were just as impressed as we were."


For McVicker, the experience was eye opening.


"The olive oil I tried that day tasted nothing like what I was buying in bulk, trying to save a few bucks. It just can't be considered a good buy if it isn't made properly," he said.


That's when McVicker began to study olive oil, from how and where it is made—and when.
"Just because your bottle of oil from the supermarket says it's extra virgin olive oil made in Italy, doesn't mean it is," he said. "The big olive oil companies are making millions of dollars on deception, and my biggest goal is to educate people and show them that there is something better out there."


McVicker explained that the regulations surrounding olive oil labeling are not very firm and that many companies do not abide by the standards.


"From the time the olives are harvested until the time the oil is prepared, no more than six hours can elapse for the oil to be considered extra virgin," he said. "This isn't happening, but the 'extra virgin' labels are still on the bottle. The truth is that most of what you are buying in the supermarket is rancid."


The shop owner continued to explain that Blue Moon olive oil is always fresh, because it is sourced from locations that counter produce each other.


"People think that for the oil to be high quality, it has to come from Europe, but if you want your olive oil fresh, you want it from a region that is in season for producing the olives," he explained. "When Spain and Italy aren't in season, Chile, South Africa, and Peru are, and they import some of the finest oils."


So how is McVicker meeting his goal of educating the community? The unique design of his store and his passion for cooking and quality olive oil create an eye-opening experience for shoppers.


Blue Moon offers more than 50 flavors of olive oil and several different vinegars.
"I put new customers through the Pepsi challenge," he said. "It is a very education-oriented shopping experience. I have new customers try our oil and compare it with a top brand, and then I give a presentation, including some recipe ideas from simple salads to desserts. People can even bring a bottle of wine, if they like. It's fun."


Though McVicker has no formal culinary training, he has always enjoyed cooking and experimenting with food.


"Walking through the shop and seeing all the different oils and ingredients, people who love to cook like I do are already thinking about what they are going to make," he said.
McVicker also provides shoppers with literature explaining the importance of olive oil preparation and the science behind it, including information about the oleic acid, free fatty acid, and peroxide counts.


"My olive oil is all certified premium extra virgin," he said. "Think about it like juice. The fresher a fruit juice is, the better it is for you, with more vitamins and antioxidants inside."
With so many different flavors to try, the shopping experience at Blue Moon is far from a typical trip to the grocery store. None of the bottles are prefilled, so after sampling the oils, customers can fill and label their own bottles.


"My wife and I opened our first location in Collingswood, a town we fell in love with," McVicker said. "It has a beautiful atmosphere and great people. On date nights, we would buy a bottle of wine and walk around town before choosing a place to have dinner. We felt Blue Moon would fit right in."


Though his family moved around a lot, McVicker received most of his childhood education from Bordentown schools.


"I always meant to come closer to home," he said of his new store location.
Blue Moon is a gourmet grocery store that offers more than olive oils and vinegars. The shop also carries olive oil soap, pasta, infused sea salt, jam and pesto.


McVicker's plans for the future include expanding his grocery line, but for now, he is glad to be doing his part to educate the community, both about olive oil adulteration and the health and flavor benefits that come with quality, well prepared oils.


Darcie McVicker works full-time as a marketing executive and lends a hand managing the Collingswood location when special events demand a supervisor at each shop. Her father is also happy to pitch in when help is needed.


"I don't consider other stores my enemies or competition," Bob McVicker said. "Though they may not offer the same level of quality that Blue Moon does, at the end of the day, we are working toward the same goal. The real enemies are the supermarket brands that are making money through deceit. For me, it isn't about making money, it's about serving my customers."
"I couldn't have done this without the help of my wife's family," he said. "They have been my biggest supporters from the beginning, and I am so grateful for that."


Blue Moon Premium Olive Oil and Vinegar is located at 212 Farnsworth Ave. in Bordentown.
Check out Blue Moon Premium Olive Oil's business listing online at bordentowncurrent.com. 
Food+Dining
,
Community
olive oil
vinegar
Blue Moon