Scotties football setting sights on improvement

Sep 04, 2014 10:59AM ● Published by Kyle Kondor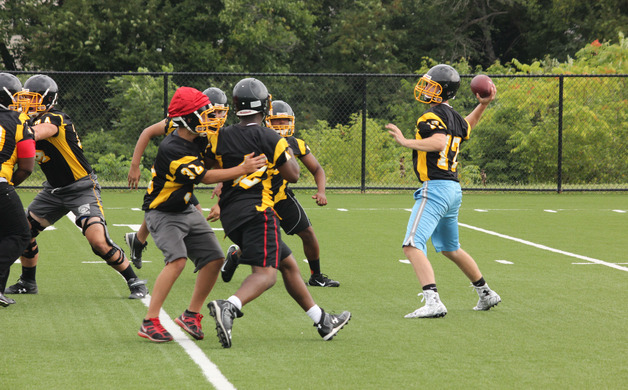 Gallery: BRHS Preseason Football [29 Images] Click any image to expand.
By Kyle Kondor
The old adage states that good things come to he who waits. For 
Bordentown Regional High School
 head football coach, Stephen Perry, that adage proved true. When Perry accepted his coaching job in 2009, he did so knowing that the team won just eight games in five seasons dating back to 2004 under previous head coaches Larry Larned and Jack Yost.
Perry has since doubled that total during his five year reign, having led the team to 16 wins. That success did not occur early on — nine of those wins came within the last two seasons.
Now, the Scotties are coming off their first five-win season since 1996, looking to return to the playoffs for the third straight year.

"It feels good to see progress and have the community involved and get excited," Perry said. "I don't take the credit because obviously it's a team thing when you're coaching. I've got a very good coaching staff and we've also had some good talent coming up."

One of those talented players includes Class of 2014 graduate, Tommy Walters. Since he was a sophomore, the 5-foot-6, 150-pound standout had received significant playing time on both offense and defense as a running back and cornerback. He was even the team's kicker for a majority of that span. Last season, Walters accounted for 13 of the team's touchdowns, scoring two or more in three of their five wins. However, this year the team will be without the first-team all league defender.

"It's going to be tough to replace Tommy," Perry said. "We're going to miss him defensively and just in general. Tommy was a great leader. He had a lot of confidence in his teammates and he was vocal. So that's the biggest place where we're going to have to step up."
In 2013, the Scotties got one look at what it will be like without Walters this year. He was banged up early on in the team's Oct. 25 game against Holy Cross, though it did not prove problematic offensively as Jahmire Van Kline led Bordentown to a 42-29 victory. In that game, Van Kline scored five touchdowns and accumulated 350 total yards, both rushing and receiving.

The 5-foot-8, 180-pound Van Kline is entering his senior season with the team. He scored 19 total touchdowns last season, which was part of what earned him the Burlington County Offensive Player of the Year award. Van Kline, who also plays cornerback, is one of 12 seniors on the team's roster this year.

"My coaches said if me and Tommy combined our yards last year that we would've had more than the top running back in the state," Van Kline said with a smile. "During the offseason I got a trainer and did some intense training, so I've been preparing to take on that extra workload."
Despite the team being heavily invested in their run game, it shouldn't go unnoticed that 2013 starting quarterback Austin Pinkerton will be returning for his senior season as well.
At 6-foot-2, 195 pounds, Pinkerton entered training camp 30 pounds heavier than he was last season. He accumulated that weight after working out during the entire off-season with St. Joseph's Prep quarterback coach Jim Wick.

"I absolutely think we can be better than we were last year," Pinkerton said. "Our seniors are like a family. We may not have talked to each other all summer but then we come together during camp and we're just one big unit. We all feel the same amount of pressure and we know that if we do everything right than we'll succeed."

Brady Hudik is one of four offensive linemen with varsity experience who will be returning for the Scotties this season. Hudik can be spotted wearing a knee brace on the playing field after a torn ACL caused him to miss all of last season. At 6-4, 260 pounds, Hudik has been a starter on offense and defense for the team since he was a freshman and he'll likely be playing football at the Division 1 level in college if he can remain healthy.
After watching from the sidelines for a year, he'll get his first shot at playing in the new defense that Perry installed last season.

In Perry's first four years as coach, the team ran an eight-man-front which features four defensive linemen and four linebackers. That style of play is typically used to stop opponents from running the ball well. Now, the team runs a 3-4 defense that features blitzing linebackers and more pass stoppers.

"This year guys are going to be a lot more comfortable with the new defense," Perry said of his team, which allowed 24.6 points per game last season. "Having Brady back on defense is going to help us as well. We've gotten a little bit bigger on the D-Line and gotten faster in the secondary, so all of those things guys have been working hard on during the offseason are going to help."

In 2013, Bordentown finished in third place in the Burlington County Scholastic League Patriot Division. They also entered the state tournament as the eighth and final seed for the second straight season. They lost to New Jersey football powerhouse Rumson-Fair Haven 41-8 in their first game.

"Our guys are starting to realize that every game is important and crucial to us," Perry said. "We're going to work hard to get a couple more wins and get a couple more power points to get moved up a little bit and hopefully get a home playoff game or get bumped up where we can get a better seed and not always face that number one seed."
The Scotties are set to open up their season on their home turf against Pemberton on Sept. 12.

"We've been taking it one step at a time by winning more games every season," Van Kline said. "This year we're trying to take home that conference title."
Sports
,
Community