BRSD recognizes 20 years of service

Sep 12, 2014 06:33AM ● Published by Community News Service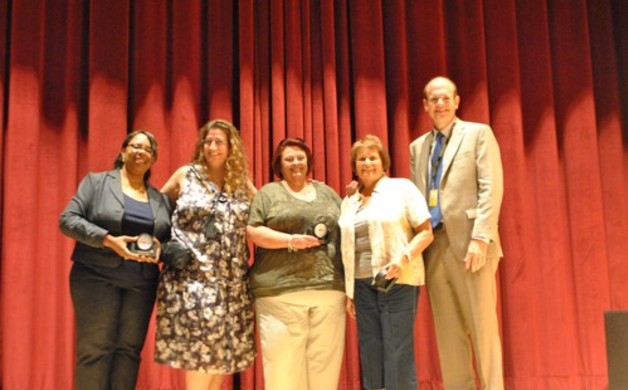 Dr. Edward Forsthoffer, BRSD Superintendent, thanks staff for 20 years of dedication to the district.
Five Bordentown Regional School District staff members were recognized at the Sept. 2 Welcome Back Breakfast and Convocation for twenty years of dedicated service. Among the awarded faculty were:
Donna Glover, Nurse (MIS) - Up until this year Nurse Glover has been the high school nurse. Most recently she has been asked to bring her care to MacFarland Intermediate School. Over the past twenty years Mrs. Glover has contributed to the wellbeing of students by introducing "The Game of Life;" an interactive health fair involving community resources, the Annual Blood Drive to bring awareness to the importance of donating blood and being an advisor to a precursor of the "On Point" program; H.A.N.D.S. (Helping All Needed During School).
Nancy Houston (Transportation) - BRSD recognizes Mrs. Houston's dedication to her students. "We are lucky to have such a kind hearted, caring person to be with our children during their daily travels," said BRSD.
Louisa Kenny, Principal (CBS) - Louisa Kenny began her career with Bordentown Regional High School as a social studies teacher. During her time there, she has dedicated her time and skills as an academic coach for the Model Congress, designed musical performance sets and has been the theatre director for several musical performances. She became a Humanities and Arts Supervisor and was a mentor to many of our teachers and staff members. For the past five years, Mrs. Kenny has been a school principal.
Constance McMillin, Teacher (BRMS) - Constance McMillin currently serves the Bordentown Regional Middle School children as a 7thgrade Social Studies teacher. Over her 20 years in Bordentown she has worn a number of different hats. She has taught Basic Skills classes, directed many drama and musical performances and has helped organize the yearly Renaissance Faire field trip for our 7thgraders. A long-time Bordentown resident, Mrs. McMillin provides a strong home-to-school connection and is constantly involved in community activities. BRMS is proud to honor her and celebrate her 20 years of dedication to the children of Bordentown.
Barbara Parmigiani, Aide - Mrs. Parmigiani is an asset to the classroom. She is always willing to help prepare the day's materials and organize the students to better facilitate the lesson.
"Their twenty year commitment to their professions and our students is greatly appreciated," BRSD announced.
The Bordentown Current eUpdate
News
,
Schools