Township residents assist in burglary arrests

Sep 23, 2014 09:55AM ● Published by Community News Service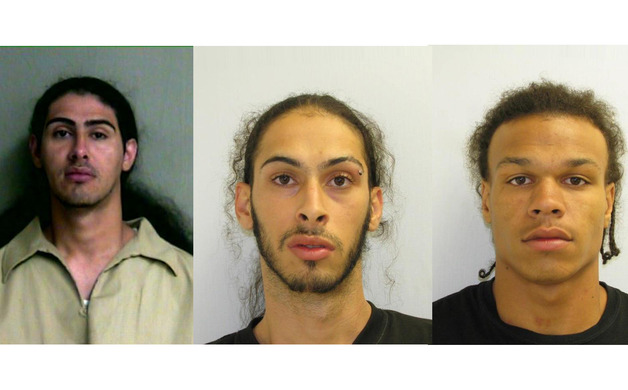 Jose Cardona, Luis Cardona and Montel Gilbert were charged with burglary Friday, Sept. 19. Jose Cardona is still at large.
Bordentown Township Police arrested three suspects on Friday, Sept. 19 after tips from local residents spurred an extensive search in the north part of the township.
At approximately 6:16 a.m., Bordentown Township Police were dispatched to a residence on Hogback Road after a report of a suspicious van, identified as being a 2000 Red Chevy, parked in the rear of the homeowner's property.  As Officers were proceeding to that address, more calls were received indicating that several male suspects were observed running from the area of the van through neighboring streets and yards.
The van, reported stolen from Hamilton Township earlier Friday morning, contained two All Terrain Vehicles that had been stolen from the yard of another home on Hogback Road. 
A perimeter was established and officers conducted an extensive foot search of the area which included police canines and a New Jersey State Police helicopter.  During that search Luis Cardona, Montel Gilbert and a fifteen year-old juvenile were taken into custody, although Jose Cardona – brother of Luis - eluded capture. A warrant has been issued for his arrest.
Subsequent investigation revealed that these subjects had burglarized a total of five sheds or garages during the early morning hours on Sept. 19 on Hogback and Groveville Roads.  The suspects attempted to steal ATV's, dirt bikes, motorcycles, a stereo receiver and a trailer which were all recovered by police.
The Cardona brothers and the fifteen year-old were reported as responsible for multiple prior shed break-ins that occurred in Bordentown Township since July in which ATV's, dirt bikes, flatbed trailers, tools and landscaping equipment were stolen.  A Ford F-250 Pick-up truck was also previously stolen by these suspects and has yet to be recovered.  At this time, Montel Gilbert is not believed to have been a regular participant in these previous thefts and is suspected of only becoming involved on Friday.
Luis Cardona and Montel Gilbert were charged with numerous counts of burglary, theft, criminal mischief and resisting arrest by flight and then were lodged at the Burlington County Jail in default of $60,000 bail.  The fifteen year-old juvenile was also charged with the same offenses and then released to the custody of their parent.  Warrants were issued for Jose Cardona for these same offenses and bail was set at $100,000 full.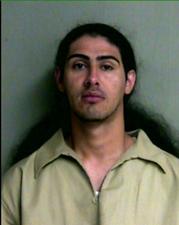 Anyone with information regarding the whereabouts of Jose Cardona is asked to contact Bordentown Township Detectives at 609-298-4300, ext. 2129.  All tips will be kept confidential.
Lt. Brian Pesce of the Bordentown Township Police Department commended the residents of the neighborhood for their vigilance during this rash of thefts and credited them for putting a stop to this criminal activity. 
"We asked the residents to be more alert and report all suspicious activity," said Lt. Pesce, "and they did exactly what we requested.  The report we received on the morning of 9/19/14 regarding the suspicious van and then the numerous calls we fielded from residents who observed the suspects fleeing from the area were instrumental in their apprehension.  We can't thank the residents enough and consider this a textbook example of community policing at its finest."   
Suspect information:
Jose Cardona, age – 27, resides on Genesee St. in City of Trenton.
Luis Cardona, age – 24, resides on Genesee St, in City of Trenton.
Montel Gilbert, age – 18, resides on Third St. in City of Trenton.
The Bordentown Township Police were assisted by the NJSP, NJSP – Aviation Unit, Bordentown City Police Department and Hamilton Township Police Department during the extensive foot search for the suspects on Sept. 19 and is extremely grateful for their support.
The Bordentown Current eUpdate
Community
,
News
police
Burglars
Cardona
shed
garage