Ghosts caught on tape, Haunted White Hill Mansion (VIDEO)

Sep 26, 2014 06:39AM ● Published by Community News Service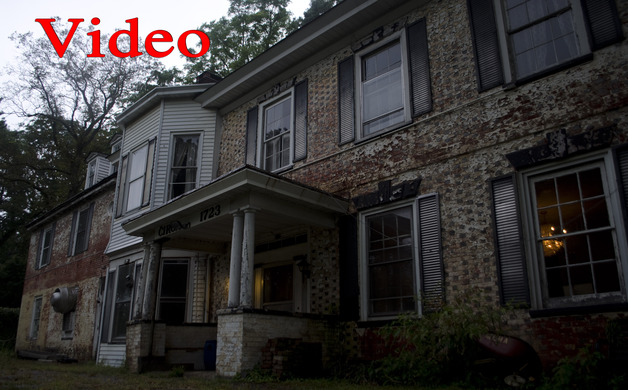 (Scroll down for video)
From the American Revolution until today, Fieldsboro's White Hill Mansion has been steeped in history.  Robert Field, an advocate of the American Revolution, mysteriously drowned in the Delaware River in 1775. This left his young wife Mary to care for their three small children and the then 600 acre property in the face of the War for Independence.
The old home is often the site of abnormal and hard-to-explain occurrences. Dawn Reichard of Private Paranormal Investigators and her ghost hunting team have explored the house searching for signs of abnormal activity and she has had several encounters of her own.
Another Ghost Tour will be held at White Hill Mansion Saturday, Oct. 18 at 7 p.m. Participants are expected to make a tax deductable $20 donation to the restoration of the historic building. For more information email: whitehillinfo@yahoo.com.

White Hill was very active during the Revolutionary War. Loretta Kelly is director of the Friends of White Hill Mansion, an organization devoted to preserving the historic site, and her investigative research has revealed much of the home's story.
Throughout the war Mary Field remained neutral, but a dinner with American naval Captain Tom Houston and his officers caused loyalist neighbors to report Mary Field as a rebel supporter. This led a British captain to invade the home searching for hidden American soldiers. White Hill was also the headquarters of Hessian Captain Wrenden and a plot may have existed to distract these occupying forces at White Hill while Washington famously crossed the Delaware. In 1777, Colonial Captain Thomas Read and Captain John Barry (later named the "father of the American Navy") docked the American ships Effingham and Washington at White Hill and upon orders from General Washington were scuttled before falling into the hands of the British. In 1779, Mary married then Commodore Thomas Read who made the home his county seat until his death there on Oct. 26, 1788, just five days before Halloween.
Throughout the 19th Century several influential people made White Hill Mansion their home, including a United States senator, typesetter inventor and Archibald Crossley, a famous pollster.  In 1923 Heinrich and Katrina Glenk made the house into Glenk's Mansion House Restaurant which successfully operated for fifty years and catered to New Jersey's upper-class.
White Hill Mansion will show its sunnier side Friday, Oct. 10, when the Friends of White Hill Mansion will host an artisan's gallery from 6 – 9 p.m. with wine and cheese. For more info visit White Hill's Facebook Page.
Community
,
News
halloween
ghost
haunted
house
american
revolution
mansion