BRHS grads find success on the stage

Sep 29, 2014 08:10AM ● Published by Michael Nunes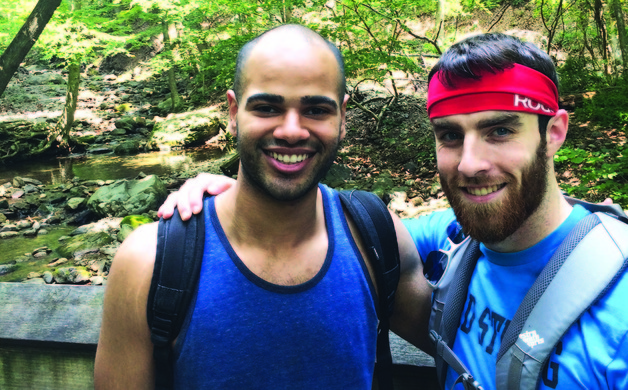 Going to college often means leaving behind old friends and moving on with life. But for two friends from Bordentown, a love for theater and performing kept them from growing apart.
They attended schools in different states and are set to perform in tours across the country, but Ben Walker and Nicholas Rodriguez are continuing to support each other in their theatrical endeavors.
While Rodriguez was attending Montclair, Walker studied at Penn State. Individually, they landed excellent opportunities right after graduating college: Rodriguez playing the role of Pablo in Sister Act for the Greater City Theatre Company, and Walker understudying the roles of Gaston and Beast in an on-stage adaptation of Beauty and the Beast.
In high school, Rodriguez was outgoing and felt a natural attraction to the stage, especially after seeing some live productions, which whet his appetite for performing.
"I had a very competitive attitude. I always said, 'I could do that,'" he recounted. "I decided to take the dive and fell in love." That "dive" was joining his high school choir, where he would meet future friend Walker.
"Ben was always one of those people who were very easy to talk to and I was new in the choir," Rodriguez said.
Soon enough, Rodriguez also became a staple in the high school plays.
"He just caught the acting bug," Walker said.
Walker fell in love with singing after watching his sister sing as part of the Westminster Choir. Following in her footsteps, he joined the choir at BRHS. Starting his freshmen year, he performed in the productions at BRHS and was an active member in the choir.
The two performed in six plays together and shared a common goal of going on to college to study theater.
But when it came time to choose the colleges they'd attend, their decisions led them down two different roads.
In college, Rodriguez stuck to the two things he liked best: singing and performing. He quickly found success in his endeavors; he even received the honor of singing the National Anthem at Madison Square Garden for NBC's Fight Night.
"It was an out of body experience," he said about walking into the area that night, surrounded by posters of all the biggest acts who had performed there, such as Whitney Houston.
And Rodriguez's success didn't stop there. He auditioned for American Idol and advanced through the competition until Hollywood Week, when he was finally cut by the judges. But what initially seemed like a setback eventually helped Rodriquez clarify what what he wanted to do in his life.
"I felt like it was not for me," he said of the experience. "It opened my eyes to what I really wanted to do."
And what he really wanted to do, he said, was not only sing, but perform and act in live performances and on television.
Since then, Rodriguez has performed in two other tours through Oregon and Michigan; he landed roles in Kiss of the Spider Women as well as Joseph and the Amazing Technicolor Dreamcoat.
But his most exciting call was one Rodriguez received while having lunch with his mother in New York. Rodriguez is currently in the process of taking mas- ters classes at New York University. It was there he was discovered by the cast- ing director for Sister Act. Impressed by Rodriguez's talent, the casting director called him the day after final call with the news about his upcoming role.
Meanwhile, Walker was enjoying similar success. At the same time, he had just completed a grueling audition pro- cess for the production of Beauty and the Beast, and was finally notified he had made the cut.
"It was a very long process, they brought me in 6 or 7 times," he said.
His hard work payed off, as Walker was chosen as an understudy to two major roles in the well-known story: Gaston and Beast. Despite going to different schools in different states, the two still tried to keep their friendship going strong.
"We have one of those friendships were we could pick up right where we left off," said Ben.
And even throughout their success, the pair has not forgotten to stay in touch with their roots at Bordentown Regional High School.
Rodriguez assists at a musical theater camp hosted by the school, and over the summer directed the camp produc- tion of Grease. Walker is also a frequent visitor and keeps in contact with his old stomping grounds.
"They are really great guys," said Bordentown Regional High School Technical Director and Theatre Manager Stacie Morano. She adds that the two are driven to do their best and are really behind one another no matter what happens. "They have really bright futures ahead of them," she continued. Despite not touring together, Rodri- guez and Walker have one common dream: Broadway. And whatever hap- pens, the two plan to support each other.
"We are each other's biggest cheer- leader," Rodriguez said. "I don't think of him as my best friend, he's more of my bro."
Beauty and the Beast was scheduled to open in New Brunswick, and Walker continue on the tour through Austin, Texas; the Midwest, Canada and even two weeks in Florida.
Community
,
Arts+Entertainment