Big or small, they help them all

Sep 30, 2014 09:21AM ● Published by Community News Service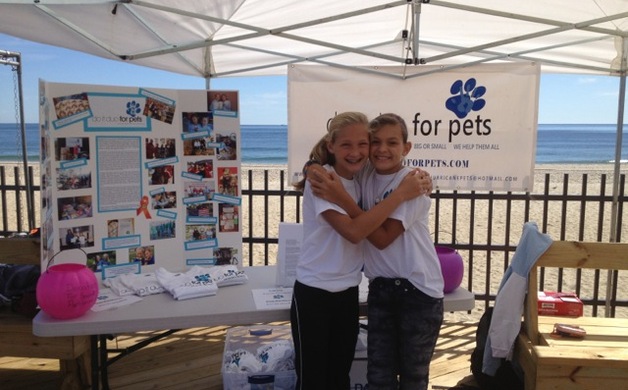 After they watched story after story about all the pets that were displaced in the aftermath of Superstorm Sandy, Lucy Miles and Alex Dompier knew something needed to be done.

"Alex and I were watching the Bon Jovi Benefit Concert on TV, where they were showing lots of photos of animals being displaced after the storm," Miles said. "We saw that the humans were being taken care of, which was great. But many of the pets needed help. So Alex and I got together, and decided we needed to do something." 

So the girls, who met in pre-K at St. Mary's School in Bordentown, got together, looked up in a Thesaurus different words for the word meaning "two." "We were at Lucy's house, just hanging out, and all of the sudden, the words 'do it' came out of our mouths, and we just added 'duo' and knew we had the name of our organization," said Dompier, who spent the early years of her life as a Bordentown resident before moving to Columbus, where Miles resides as well. "Lucy and I are very different in some ways, but we are the same in others, mand this is where we came up with the same purpose of wanting to help all kinds of pets." In the past two years, the animal lovers have certainly succeeded in their mission. 

Miles, the owner of Boris, a black Russian Terrier, and a few pet fish, and Dompier, who owns two mutts (Rue and Kermit) and Jeb the cat, have always had a special place in their hearts for all animals. A big part of their "Do It Duo For Pets" is fundraising to buy gift cards and necessities for many of the displaced animals who are now in shelters, instead of living on the streets, because of the girls' help. "We have helped purchase food for dogs, cats, hamsters, and any other animal that can be a pet," Miles said. "We have even helped to get bedding for
snakes and lizards, as well as getting things for the bottom of their cages that they may need."

Dompier and Miles have received a great deal of support from their families. Dompier's parents Rhoda and Dave and siblings Dane and Callie, and Miles's parents Mary and Andrew and sisters Hannah and Millie have also put in time and effort to help the girls' organization. "Our families support us in every decision that we have made," Dompier said. "Our families have helped us deliver pet supplies and they attend fundraising events with us."

Dompier and Miles have also received recognition for their efforts over the last two years. In 2013, the girls were honored at the Lakewood Blueclaws 70 Sandy Ovations, which recognizes organizations and individuals who contributed to Sandy relief, and also received a New Jersey State Governor's Jefferson Youth Service Award, presented on June 8, 2013.

Do It Duo has donated money and pet food and supplies to the SPCA Humane Police, the Catherine Violet Hubbard Animal Sanctuary, the NJSPCA, the Catholic Charities Disaster Relief Program, the Perth Amboy Animal Shelter, the Salvation Army in Ortley, the Visitation Relief Center, the Seaside Park Boardwalk fi re, and numerous other places where animals have been in need. Miles and Dompier, who will be entering the seventh grade at St. Ann's Catholic School in Lawrenceville and Northern Burlington Middle School, respectively, use their Facebook as the best way to let people know what pets are available at the shelters in New Jersey. 

They also use their website (doitduoforpets.com) to post important information. Photos are posted on Facebook, and information about the pet is given. From there, interested people may contact the shelter for more information. The pair hopes to help as many animals as they can, and the girls have one goal in mind: "To change the world for the better one pet at a time."
For more information, go online to 
doitduoforpets.com
 or search Do It Duo for Pets on Facebook.
Community