Donations needed to help survivors

Oct 21, 2014 12:48PM, Published by Community News Service, Categories: Community, News Police
---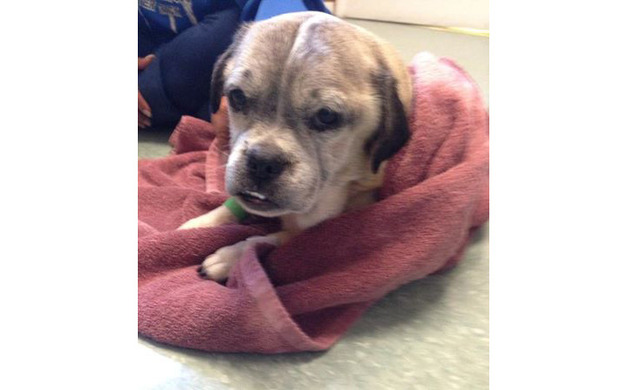 Survivor at Columbus Central Veterinary Hospital moments before he was euthanized.
---
Gallery: Survivors need donations [3 Images] Click any image to expand.
---
---
The Burlington County SPCA Humane Police are in need of donations for their October fundraiser in which Moore Funeral Services has vowed to match every donation up to $2,500.
The Burlington County SPCA's bills heavily outweigh their donations.
So far BCSPCA has received $538 in donations this month, but this does not even cover the medical bills incurred from the rescue efforts of a stray puggle that was brought to the Burlington County Animal Shelter on Sunday, Oct. 5. Immediately, the sickly dog, later nick named Survivor was transported to Columbus Central Veterinary Hospital where it was predicted that he would have a long recovery due to a maggot infestation and myriad other health issues. It is not known for how long Survivor roamed the streets of Burlington City.
On Thursday, Oct. 9 Survivor was euthanized with BCSPCA Officer Cooper and Chief Mosca by his side. Survivor was beginning to suffer organ failure. "His condition went from bad to worse and the very difficult decision to humanely euthanize [him] was made," the Humane Police wrote on their Facebook page. Before he was put to sleep, Survivor needed $1,700 of veterinary care.
"We had hoped for a full recovery and were looking into finding a home for him," said Chief Cheryl Mosca.
The BCSPCA Humane Police rely on donations to provide help to animals in need like Survivor. To donate visit the Donate page on: burlcospca.org.
Aside from medical bills like Survivor's BCSPCA must contend with thousands of dollars in insurance costs, office space rental and phone bills. Every officer or agent pays out of their own pocket for uniforms, equipment, training, court paperwork, gasoline and private cell phone bills.
BCSPCA would also like Burlington County residents to be aware that if a stray animal is spotted the local police or animal control must be notified to prevent cases like Survivor's.
Help lost pets like Survivor by sharing his story on Facebook.

---
---
---