Firehouse Gallery's children's book is Amazon favorite

Nov 14, 2014 06:14AM ● Published by Community News Service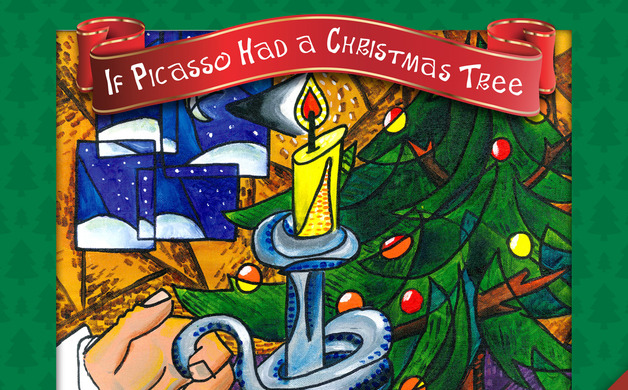 The cover of "If Picasso Had a Christmas Tree" features one of Gibbons' works which emulates the artist for whom the book is named.
Eric Gibbons, art teacher at Northern Burlington Regional High School and founder of The Firehouse Gallery of Bordentown, is not only one of 30 art teachers from across the globe featured in the new children's book "If Picasso Had a Christmas Tree"—he is also the author.
Gibbons began working on the book several years ago, but it seemed too daunting to complete alone. With the help of social media, he decided to collaborate with other art teachers from across the United States, United Kingdom and China by connecting through Facebook.
Each teacher emulated an artist of their choosing and included a Christmas tree in a way that honors the work of that artist. Gibbons completed a dozen works for the book, including the title image in the style of Picasso.
"If Picasso Had a Christmas Tree" is now an Amazon favorite, being honored as one of the "Best Books of 2014" on the Amazon listing for the book.
"It was an amazing process working with 29 other amazing art teachers who helped shape the book," Gibbons said.
Art teachers from elementary to high school levels were inspired by masterpieces from the Renaissance to modern genres in Gibbons' book, and Firehouse Publications also includes a link in the book to a webpage where teachers and parents can download and print lesson plans to extend learning in the classroom or home school.
"I tried to do it on my own," Gibbons said, "but it was overwhelming. What a joy to share this little dream of mine with so many other art teachers. There is so little out there for the elementary level to explore art history, I hope this brings a little balance."
Gibbons said the book will appeal to older children, artists and even teachers of other subjects like English, history and literature.
"The poetry makes it real fun to read, and I wrote it in the same meter as 'Twas the Night Before Christmas," he said.
The images in the book are not the work of the famous artists, rather emulations by art teachers with a Christmas tree theme. Emulating an artist is something often found in the art room. The idea is not to copy, but to study a master artist through mimicking their technique.
This emulation can often be harder to execute successfully than it would seem. Mark Rothko's paintings, famously consisting of only color fields, are far harder to imitate than they appear, Gibbons said. Students may come to realize that not just any color will do, and ghostly blurred edges are difficult to achieve. They may learn that Jackson Pollock's action paintings take a certain amount of skill, physicality and practice to accomplish, learning they need a chemist's eye to discover and reveal the properties of paint viscosity. In the end, though Gibbons' work may seem like a fun and simple children's book, it has the ability to open a gateway to deeper learning across curricular boundaries into history, science and literature.
"If Picasso Had a Christmas Tree" is for sale at The Hirshhorn Museum of Washington, D.C., and the Detroit Institute of Art. For more information, or to order a copy of the book, go online to firehousepublications.com.
Read an abridged, watermarked version of "If Picasso Had a Christmas Tree" online at issuu.com/firehousepublications/docs/preview-lowres-watermarked.
Do you like this article? Like it on Facebook to show us you do!
News
,
Arts+Entertainment
children
art
picasso
firehouse
gallery
eric gibbons