Bordentown challenged to spread the GOOD spirit

Nov 20, 2014 09:15AM ● Published by Community News Service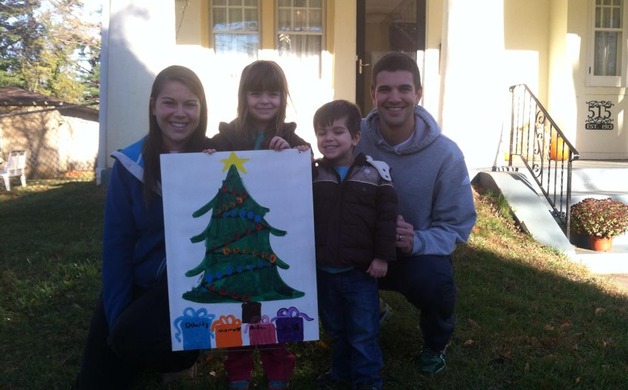 Several GOOD signs are currently out in Bordentown challenging residents to do some GOOD.
Gallery: MAD Splatter Challenges Bordentown [13 Images] Click any image to expand.
Are you up for a GOOD challenge this holiday season? Want to know how you can get involved in our community to spread some good cheer? Melissa Pillik — founder of MAD Splatter, a community organization that promotes creative activities and philanthropic missions for kids — has designed an innovative way for Bordentown to make a difference.
The GOOD Challenge is a community project that engages residents in a positive way and is inspired by Giving Tuesday, a new national trend designed to put some positive energy back in our communities on the Tuesday after Black Friday and Cyber Monday.
How it works
MAD Splatter held two local events on Nov. 23 and Nov. 29. There community members repurposed political signs from the recent elections by painting positive messages on them.
Now, it's time to "splatter" a neighbor, friend, family or favorite business. Leave a sign on their lawn or somewhere outside their home or business, then share your "splatter" on social media, using #HELPGOODGOVIRAL #GivingTuesday and #Bordentown. You can even take a photo of you and your GOOD sign: that's called an #UNselfie.
Anyone who is "splattered" has to perform a good deed and then "splatter" someone else. Also tag @MAD Splatter and @Bordentown Current on Facebook to let the community know all the good you are up to.  
To pick up a sign, contact Melissa Pillik. Email: mpillik@verizon.net. Cell: (609) 456-8357. Facebook: send a personal message to Melissa Carter Pillik.
How the GOOD challenge started
A recent political candidate contacted Pillik to offer MAD Splatter their campaign signs, hoping she could find a use for them since MAD Splatter is always looking for creative ways to transform the community.
Although she wasn't sure what exactly she could do with the signs, Pillik knew she could find something. "The only thing I knew was I wanted to transform these signs that once littered the landscape and were a source of contention in this community, into a symbol of good," Pillik said.
While working on another project, Pillik was reminded of the Giving Tuesday movement which she had discovered previously. It was then that she had the idea to start the GOOD Sign Project that would make the GOOD Challenge possible. The basic idea was to spread the concept of giving time, talent and treasure which, for Pillik, is the true spirit of the season.
MAD Splatter generally works with children, acting as a party venue where kids can raise awareness about causes important to them, but the GOOD Challenge project mandated the engagement of the entire Bordentown community, young and old. This gave Pillik the idea to contact the activities coordinator at The Clare Estate Assisted Living. They eagerly volunteered to help MAD Splatter's mission, and seniors from The Clare Estate primed Pillik's campaign signs to make them into blank canvases ready to be painted.
With willing volunteers from The Clare Estate, Pillik set out to find paint and primer for the signs. "My first thought was to go to a local paint store to see if I could get mistints," she said. Mistints are paints of the wrong shade that customers have returned to a store. But after visiting a few stores without meeting anyone willing to join her cause, Pillik nearly gave up. "After a long day of running around I was ready to call it a day when I decided to make one more stop," she said, "and good thing I did, because I met Luke Ginty, manager of Sherwin Williams in Hamilton, who not only gave benefit of his extensive knowledge and experience, but sent me out of there with everything I needed to get my project off the ground without having [to] spend a dime."
Pillik now had volunteers to prime the signs along with paint and primer from Sherwin Williams. Her own challenge wasn't over yet though; she needed a venue where Bordentown could come to paint the signs. "MAD Splatter usually hosts our events at Square Peg Round Hole Art Emporium on Farnsworth Avenue," Pillik mentioned. But this time, she thought that there wouldn't be enough space there, and contacted Father Matthew Tucker of the Christ Episcopal Church on Prince Street. Tucker had contacted Pillik in the past to thank her for the effort that MAD Splatter put into teaching Bordentown children positive traits and skills. He offered the use of the church's general purpose room. For Pillik, it was "the perfect space to fill with people willing to use their creativity to spread the love around."
About MAD Splatter
Standing for Make A Difference, MAD Splatter is a children's party venue designed to offer artistic parties for children ages 6-16 as a fun and interactive way for them to celebrate birthdays and special occasions by making a difference in the lives of others. MAD Splatter empowers each child to make their mark by contributing a personal donation from the party cost to the charity of their choice.  MAD Splatter is associated with Glitter Lemonade, a non-profit foundation sponsoring altruistic efforts by children that benefit charities and champion causes in the spirit of good will.
Community
,
News
mad splatter
giving
tuesday
good
challenge
signs
pillik
#givingtuesday
#HELPGOODGOVIRAL