Marching band wraps up season of success

Dec 01, 2014 11:46AM, Published by Community News Service, Categories: Today, Community, Schools
---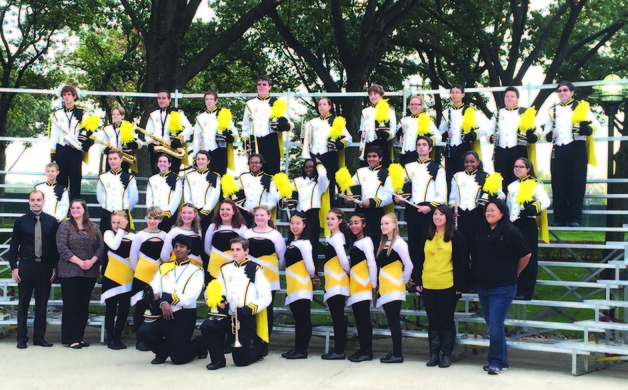 The Bordentown Regional High School Marching Band finished in fifth place in the state championship in November 2014 at Rutgers University.
---
---
After spending the past four months practicing more than six hours per week (and even more on competition days), the Bordentown Regional High School marching band just ended one of its most successful seasons yet— a season that earned the 35-student troupe multiple medals and awards around the state.


BRHS junior Victoria Weiner, section leader of the upper woodwinds, noted that the marching band defies any negative school band stereotypes, and being a member requires the same amount of commitment as being on a sports team.


"It's not just us being in silly costumes and following the football team," Weiner said. "We're not out there twice a week for three hours because we want to follow the football team. We love to compete."

The band's dedication can be seen through its rehearsal schedule. They meet for three hours after school on Monday and Wednesday, and on competition days—of which there were seven this season—they practice for hours beforehand, often showing up to the school as early as sunrise to tune up before hopping on the bus.


Under the direction of band director Michael Montalto, the close-knit BRHS band, which is a mix of both middle school and high school students, won three second place awards at competitions around the state, and also had a fifth place finish at the state championship in November at Rutgers University. Additionally, they won awards such as best overall effect, best visual, best percussion, and best color guard in competitions throughout the season.
The band wrapped up its 2014 season in Allentown, Pennsylvania, at the national competition, where, although they did not place, they earned 87 out of 100 possible points for their performance.


"I'm really proud of the score we got at nationals," brass captain Leah Tasseff said.
Tasseff, a senior, said that since band camp in August, Montalto has been challenging the musicians while also boosting their confidence, bringing out the best in them. Last year's music was difficult, and with this year being no different, the young musicians knew that they had a great deal of hard work ahead of them. As the hot summer days slid into cooler fall nights, the melodies and harmonies began to fall in place and the students felt great."We are better musicians than we thought we were," Tasseff said.


Montalto said that this year's success can be credited to the students' "buying into" the theme of the show they are doing. This year, it was Babylonia, a Middle Eastern musical medley representing the rise and fall of Babylonia. Songs included "The Tower," "Hanging Gardens" and "Destruction."


"It was challenging but awesome," Weiner said. While this marching band season has come to a close, members are confident that even better times are to come.


"We're really improving every year," Rajkiran Baskaran, a BRHS junior and drum major said. "It's a pretty steady improvement."


Baskaran said the middle schoolers have a lot to offer to the band.


"Since a lot of these middle schoolers are kind of fresh with this kind of experience, it sounds young," he said. "This year we have a lot more interpretation of the music. They're not just reading off the page."


Between middle schoolers and high school students picking up interest, the marching band continues to grow every year. US Bands, the circuit in which BRHS competes, classifies them as a "group 1" band, meaning that they have less than 40 members. However, Montalto said that they might "bump into group 2 next year if the program continues to grow."


A small band does have its benefits, members say.


"Since our band is so small, one great thing is that we get to know each other really well. Our entire band knows each other on a personal level," Baskaran said. "I think that might actually help with our performance."


Weiner agreed. "We stood out from other bands because we're like a family and we help each other out through things," she said.


As leaders in the band, Weiner and Baskaran know that it is important to push the members to be their best, to hit all the right notes, and to practice diligently.


"Being in a small band, it is easier to approach the members if you might want to fix something," Baskaran said.

Montalto, who has been the band director for four years, said, "The dedication of the members has been at a higher level than it has been in years."


Though the year's competitions ended in mid-November, the BRHS marching band was set to continue to perform at football games up until Thanksgiving. The band also has performances scheduled into 2015, including the Hamilton St. Patrick's Day Parade on March 14 and Bordentown's Memorial Day Service on May 23.



Do you like this story? Like it on Facebook to show us you do!


---
---
music bordentown regional high school school marching band
---