Cake Box adding new flavor to Farnsworth Ave.

Dec 02, 2014 10:39AM ● Published by Community News Service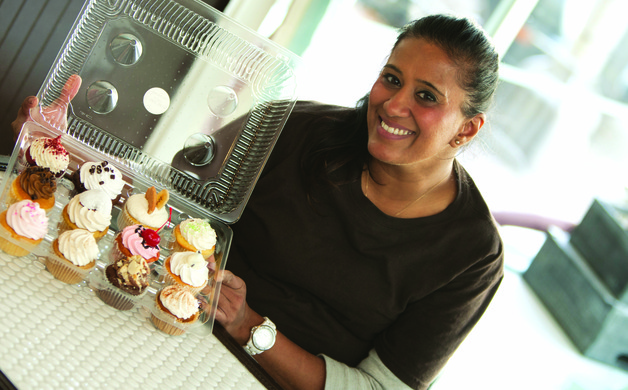 Neelma Patel opened The Cake Box by Neelma Nov. 5, 2014 on Farnsworth Avenue in Bordentown City. (Photo by Albert Rende.)
Neelma Patel grew up learning how to cook and bake from her parents and grandmother. When the now-Columbus resident moved to New Jersey from East Africa at age sixteen, she continued to learn the craft, but not in a culinary school or cooking class.


In November, despite her lack of formal training, the self-proclaimed "University of Youtube" student just opened her own bakery, 
The Cake Box by Neelma
, on Farnsworth Avenue in 
 Bordentown City.


After weeks of delays, the baker said that the Nov. 15 grand opening was a great success.
"The grand opening was a sellout," she said. "Two days' worth of inventory was wiped out two hours before closing."


The business's mission, according to its Facebook page, is "to make all your special events as delectable as possible."


Cake Box specializes in custom cakes and cupcakes, cake pops and cookie bars. It also sells coffee and tea. While that may seem pretty standard, the Cake Box's daily lineup of flavors, which changes every day, is not. Some of the flavors in mid-November included caramel apple pie, Reese's pieces, PB&J and even jalapeño margarita.


"Inspiration comes from walking down grocery store isles, farmers markets, and cravings of different foods," Patel said. Because the menu changes every day, Patel said she is unsure what the customer favorite will be.


Patel grew up in Tanzania, where her mother, father and grandmother would constantly experiment in the kitchen.

"For that time, my mom was very advanced in her cooking skills. She made pizza when nobody else knew what pizza was," Patel said.


But it wasn't until later that she began baking on a regular basis. Patel moved to the United States at age 16 and then eventually settled down in Columbus, where she eventually married and began a career in banking. After having two sons, now ages 11 and 16, she decided to save on childcare costs and stop working eight years ago. Not a big fan of idle time, she began to experiment with pastries.


"Somehow that became part of my weekly routine — buying some fondant here, cooking up some buttercream there," she said.


As the age of social media was just gaining traction, Patel began receiving requests for the pastries that people had seen her post on Facebook and her blog. But it took her five years before she decided to sell her first cake.


Now, in her Bordentown shop, Patel urges those looking to try some of her specialty baked goods to get to the shop early, as cupcakes tend to sell out quickly. Visitors to Cake Box by Neelma can expect to be greeted not only by the smell of fresh baked sweets, but by a neat and simple display of about a dozen silver cupcake displays, stacked three high behind glass. Toward the register customers can find cakes and specialty items, such as Patel's "deconstructed brownie."


Patel said that a few years ago, she didn't imagine herself having such a space. When she decided to make her baking a business, she originally only wanted a space with a commercial kitchen, but found the options that she looked at were not a good fit.


"When I was looking for a place to operate, I was only looking for a kitchen," she said. "We stumbled upon this space, and after seeing so many spaces that weren't in our budget or needed fixing up, the minute I saw it, I knew I could make it work."


While Patel's treats of the day are inspired by her mood and fresh foods that she encounters, the inspiration for the business's name was rooted in something else: her desire to have her own brand.


"The Cake Box came from wanting a brand name of my own," she said. "It was the perfect 

The dream came far before the name and quirky cupcake concoctions. name to add 'by Neelma' to and [it] stuck."


"I've always wanted to run a restaurant with fusion food," Patel said, adding that maybe one day she'll open a restaurant with an Indian-twist on mealtime favorites.


But until then, she plans to continue to experiment with funky cake flavors at The Cake Box by Neelma, which she hopes will continue to expand; she has plans for new interns and freelance bakers within the next few weeks, and hopes to explore weekend brunch in the spring.


The Cake Box by Neelma is located at 222 Farnsworth Ave. Phone: (609) 324-2727. Visit: 
The Cake Box by Neelma
 on Facebook.
Food+Dining
,
News
cake box
neelma
bakery
cupcakes
baked goods