After slow start, Scotties make a state tourney run

Dec 02, 2014 10:40AM ● Published by Community News Service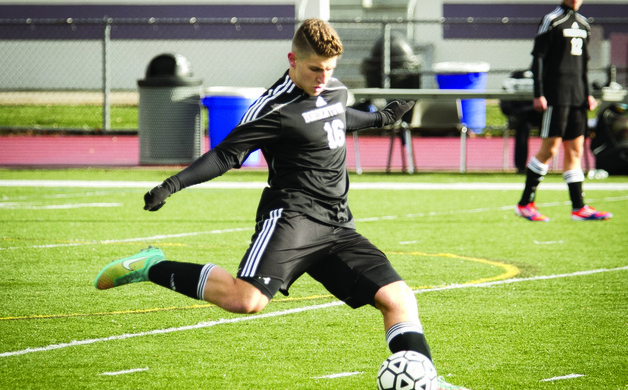 Center back Dom Pasapia sends the ball flying during the Central Jersey Group II Quarterfinal at Rumson-Fair Haven on Nov. 7. Bordentown won in penalty kicks. (Photo by Peter Ciarrocca.)
Gallery: 2014 Boy's Soccer Tourney Run [2 Images] Click any image to expand.
If there were people who didn't believe in the Bordentown Regional boys' soccer team as it struggled through injuries during the early portion of this season, you wouldn't have found them in the Scotties' locker room.


And by the time the squad bowed out of the state sectional playoffs with a semifinal loss in overtime at Holmdel, it likely had converted whatever doubters existed.


Bordentown overcame a 2-6-1 start to its 2014 campaign, only to come within reach of playing for the NJSIAA Central Jersey Group 2 championship. And despite falling just short, the fact the team had picked itself up to get that far was reason to feel like winners.


"We started slow, but we worked together as a team and came back, like I knew we would," goalkeeper Dino Gromitsaris said. "Once we started rolling, we were fine. I thought we had a really good season. Making it to the sectional semis was a big accomplishment. I just feel like we're going to come back 10 times stronger next year."


The Scotties were the No. 14 seed in the 16-team sectional tournament, but they immediately made their presence known by knocking off No. 3 Matawan, 2-1, in the first round on Nov. 3. Matt Horner and Adam Bijou scored Bordentown's goals, and Gromitsaris made 11 saves.
Four days later in the quarterfinals, the Scotties and Rumson-Fair Haven played scoreless soccer through regulation and overtime before Bordentown prevailed in the penalty kick shootout. That set up the match at Holmdel on Nov. 10, where Andre Justin tallied for Bordentown and Gromitsaris stopped 18 shots in the tough 2-1 loss.


"I'm just really proud of the boys," Scotties coach Mike Brennan said after his squad ended the season 11-9-1. "We went through a rough patch injury-wise and sometimes it's hard to keep kids believing when things aren't going well. We kept telling ourselves if we keep pushing ahead every day, it's going to turn around. It's real easy to say it's not our year, but these kids didn't throw up their hands and walk away."


And when they got their opportunity in the postseason, they ran with it.


"What we say to the kids all year long is that the seeds, especially in Central (Jersey), are absolutely meaningless because for our part of the section, not only do we not play any of the teams, we don't have any common opponents," Brennan said. "So there's no way to measure a three seed from a 14. We came in here and didn't necessarily mind being a 14 seed because just having that seed makes people think we're not worthy. In reality, they don't realize we have one heck of a squad here."


The odds seemed against Bordentown since the team's first game of the season, when Horner, who ended up leading the team with 13 goals this year, suffered a broken collarbone and was sidelined for four weeks. When he returned, the Scotties embarked on a six-game win streak that included a 3-0 victory over eventual South Jersey Group 2 champion Cinnaminson.


"We just had to keep working," said Gromitsaris, who had seven shutouts this season. "We were in every game when we were losing, so we just had to take the best from each game. As we got our players back, we started rolling. After the Cinnaminson game, I thought we could make a run into the playoffs."


Making Bordentown's resurgence all the more impressive was the fact that the Scotties had only one senior, Gideon Ayeni, on the squad.


"Everybody here loves the game of soccer and we wanted to see our team succeed," Ayeni said. "I don't really know how it all happened, I guess just everybody really wanted it. We saw what we had, and we took it."


"I really want to thank Mr. Brennan for pushing us and keeping us focused," he added.
Brennan deflected praise back to his players, and beyond.


"As coaches, you like to say that you play a big role in that, but that's not me — that's them, that's their parents, that's our community," Brennan said. "It's what I love about Bordentown. Our kids, they don't quit."


Bijou finished second in goals to Horner, with 10. Rounding out the squad were Cameron Ciarrocca, Kole Creegan, Jonathan Domenech, Verlensky Joachim, Matt Molnar, Peter O'Connor, Dominick Pisapia, Jason Schenker, Nicolas Velaquez, Jared Martinez, Braeden Clemens, Sean O'Leary, George Kalagheros, Marcus Rios and Eric Price.

"What I'm going to remember most is the team, the whole environment," Ayeni said. "I liked everything about the entire experience. I wasn't thinking about it before, but now I feel like playing college ball. The way this season went, it makes me really want to play." Gromitsaris agreed.
"We've got a great group of guys; they're great players, they're family," he said. "I love all of them. It's just tough to go out like this. But we'll come back hungry and hope to make a bigger run next year."


After overcoming adversity and succeeding, Bordentown's players should know anything is possible. Brennan, though, thinks they were aware of that fact already.


"I don't think it was a lesson they just learned," Brennan said. "We knew it; it's just something everyone else learned about us. I'm glad everyone got to see what these kids are all about. These kids work hard and it translates into life. It's great for them to get the recognition for it and hopefully it helps them in all aspects of life moving forward."



Do you like this article? Like it on Facebook to show us you do!

Sports
,
Community
soccer
boys