Keepin' it real this Christmas presented by ERA Central Realty Group

Dec 04, 2014 06:46AM ● Published by Community News Service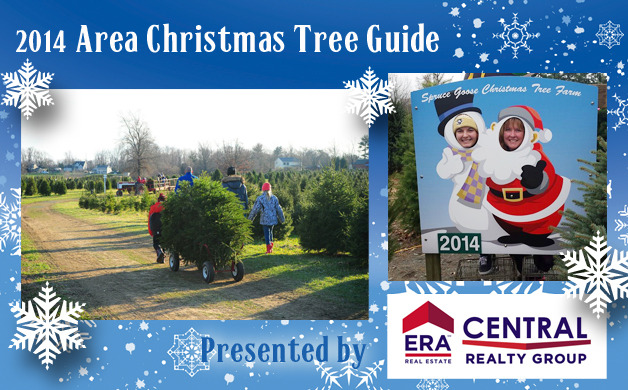 Now that the turkey's been cleared off the Thanksgiving table, it's time again to dig out those holiday decorations and choose the perfect Christmas tree. This year, Bordentown Current and ERA Central Realty Group have teamed up to bring you an exclusive 2014 Area Christmas Tree Guide. Here you'll find information about six great locations in and around the community where you can seek out this year's Christmas tree.
ERA Central Realty Group features listings from all over Bordentown and central New Jersey. When you choose an ERA Central agent you are represented by a true professional, with the support of three key in-house departments: Marketing, eDevelopment and Training.
Winter Works Bordentown

Don't want to find and cut your own real Christmas tree this season? Stop by Winter Works right in Bordentown City in the empty lot next to Bonaparte Antiques. Here owner Larry Hart is gearing up for a wonderful season after his first year of business in 2013. Freaser Fir is the most popular tree at this stand, which offers free delivery to any residence in Bordentown City, Township and Fieldsboro. Wreaths and other Christmas items are also available. Santa will wish customers a happy holiday on Saturday, Dec. 6 and Sunday, Dec. 14.
Location: 375 Farnsworth Ave., Bordentown, NJ 08505 at Bonaparte Antiques
Contact: (609) 234-0925
Seasonal Hours: Monday–Friday 5–8 p.m.; Saturday 10 a.m.–8 p.m.; Sunday 10 a.m.–6 p.m. from Nov. 28 to Dec. 24
Services: Netting, loading, free local delivery to residents in Bordentown City, Township and Fieldsboro
Pricing: From $38–$50 depending on the tree
Bordentown Elks
Open for their second year of business, the Bordentown Elks are selling trees outside of their lodge on Amboy Road. Tree selection ranges from small potted trees to 7-foot tall trees. All proceeds benefit Bordentown Elks programs, including youth activities, special events for children and veterans, scholarships for the less fortunate and a youth Christmas party. The lodge is also taking orders for poinsettias and wreaths.
Location: Bordentown Elks Lodge #2085, 11 Amboy Road, Bordentown, NJ 08505
Contact: (609) 273-7641
Seasonal Hours: Wednesday and Friday 6–9 p.m.; Saturday and Sunday 10 a.m.–6 p.m. from Nov. 28–Dec. 21.
Services: Loading, securing to vehicle, delivery available upon request
Pricing: By size: $25–$50, 3–7 feet tall
Spruce Goose Farm
This family operated farm has been in business since 1993 and has gradually grown in popularity. Spruce Goose Farm has a wide range of trees from Colorado Blue Spruce to Canaan Fir and several options available whether you'd like to cut your own tree or pick one up. Christmas trees are grown across 10 acres of ground, and you can catch a hayride to the back field for fun! Once you have your tree, don't forget to stop in the Spruce Goose Christmas Shop, which features fresh wreaths, decorations and other Christmas necessities. Wreaths may also be custom ordered.
Location: 194 Bordentown-Georgetown Road (Route 545), Chesterfield, NJ 08515
Contact: (609) 298-2498
Seasonal Hours: Open 9 a.m.–5 p.m. from Nov. 22 to Dec. 21
Services: Saws, carts, netting, shaking, twine, assistance cutting and loading
Pricing: Choose & Cut your own Field Trees: $46.73–51.40; Premium Fraser Fir: $55 and up (pre-cut); Pre-cut Field Trees: $30 and up
Chesterfield Christmas Trees
You'll find a friendly team of staff members at this farm in the heart of Chesterfield. Owner Bob Bruch started growing Christmas trees from seed when he was just 13 years old as part of a 4-H program, and even wrote a paper on the subject in college. The 25-acre establishment features seven types of trees. Enjoy hot cocoa and wagon rides to and from the fields. A Christmas shop is complete with decorations, ornaments, wreaths and fresh greens.
Location: 193 Crosswicks Chesterfield Rd., Chesterfield, NJ 08515
Contact: (609) 298-3234
Seasonal Hours: Open 9 a.m. to 5 p.m. from Nov. 23
Services: Saws, shaking, netting and twine
Pricing: All trees (any size) are $55
Chesterfield Christmas Trees on Facebook

Croshaw's Christmas Tree Farm
Nearly 1,500 Christmas trees are available this year at Croshaw's Christmas Tree Farm, which started growing seedling trees roughly 60 years ago. Ryland Croshaw, a veterinarian, started the business as a hobby. Douglas Fir is a popular favorite, but many customers prefer the sturdier branches of the Norway Spruce. From I-295, take Exit 52A to stop by and take advantage of Croshaw's unique pricing: all trees are $46.
Location: 26815 Mount Pleasant Road (CR 543), Columbus, NJ 08022
Contact: (609) 298-0477, croshawnursery@mac.com
Seasonal Hours: Wednesday and Thursday call ahead; Friday 1–4:30 p.m.; Saturday and Sunday 9 a.m. to 4:30 p.m. from Nov. 29 to Dec. 21
Services: Saws, carts, netting, loading
Pricing: One price for all trees: $46, 6–12 feet tall
Edwards Christmas Tree Farm
Inspired by a family tradition of growing Christmas trees, the Edward's Christmas Tree Farm opened 19 years ago. Among the varieties of trees on the farm are Norway and Blue Spruce and White and Scotch Pine. Trees are priced according to height. An assortment of wreaths and other items can be found in the Holiday Shop, and wreaths can also be ordered online.
Location: 338 Jacobstown-Cookstown Road, Wrightstown, NJ 08562
Contact: (609) 758-7729, (609) 234-2628
Seasonal Hours: Open 9 a.m.–5 p.m. from Nov. 28 to Dec. 24
Services: Carts, tree shaking, tree wrapping
Pricing: By Size: From less than 3 feet: $32.71 to 7 – 9 feet: $56.08
Thanks for keeping it real this Christmas. Growing Christmas trees is not easy work, as trees take roughly 10 years to finish growing on the farm. Check out a video from the New Jersey Christmas Tree Growers Association in our sidebar to find out more and remember ERA Central Realty Group for all your real estate needs. 
Do you like this article? Like it on Facebook to show us you do!

Community
,
News
christmas tree
tree farms
real
Where to buy