Senior Bruccoleri wraps up Rutgers soccer career

Dec 13, 2014 10:40AM ● Published by Community News Service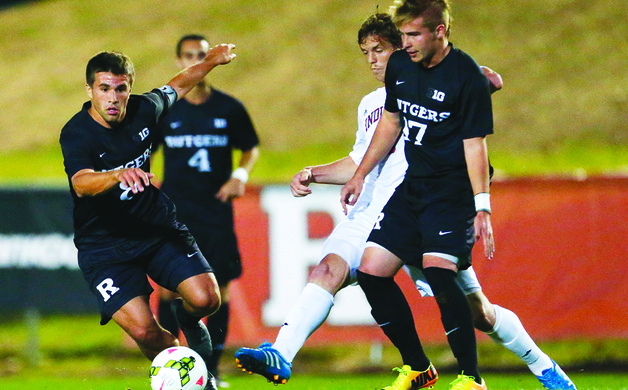 Nate Bruccoleri (8) moves the ball during a September Rutgers home game against Indiana. (Photo by Rich Schultz.)
As one of the linchpins of the Dan Donigan-era Rutgers University men's soccer team, Nate Bruccoleri has seen a lot on (and off) the pitch over the last four years. The Bordentown-bred Pennington School graduate saw three conference switches in three years, was Donigan's first-ever recruit and was part of the first Rutgers team to ever win a Big Ten game, when the Scarlet Knights defeated Wisconsin 3-2 in overtime on Sept. 12.


Not a bad way to cap off a career, said Bruccoleri, the squad's lone senior.


"Our team has really come together as a family this year," he said. "We were dedicated and motivated to do our best on and off the field. We did a lot of learning through the season through the process of losing games we should have won or wanted to win, but all the guys are like family. We're all dedicated to the program."


The squad wrapped up the season at 6-12-1, but when you think about what it took to get there, the record doesn't seem all that bad. After 18 years in the Big East Conference, Rutgers became an American Athletic Conference member in 2012 during the Big East's realignment. The school joined the Big Ten, where it currently plays, after one season with the AAC.
Bruccoleri's career included game-winning goals and a selection to last year's Duke Soccer Classic All-Tournament Team, but his top highlight, he said, was this season's win over Wisconsin.


"We were the first Rutgers team to ever win a Big Ten game [with that win]," he said. "Going into the postseason, it was still a highlight, just because we had the opportunity, no matter what we did in the regular season, to win out and win the Big Ten tournament."


Rutgers again defeated Wisconson, 5-2, in the tournament's first round on Nov. 8, but the team lost to top-seeded Maryland, 2-0, the following day.


During Bruccoleri's freshman season, in which he appeared in all 21 games and started 18, the team placed second in the Big East, "one of the best in the country." That year also saw a trip to the NCAA tournament's Sweet Sixteen. His sophomore year wasn't as successful, and all of the conference shakeups over the last two years brought an interesting dynamic to the squad and its competitors.


"The AAC was some new teams plus the Big East teams making the transition," he said. "It was interesting. There was a lot of competitiveness. The Big Ten is my favorite, though, just because it's so nationally known, not only in soccer, but in every sport. It also shows great support in academics."


Still, Donigan would have liked a better all-around outcome for Bruccoleri's sake.
"He's kind of been a cornerstone in the middle of the field for us for the last four years, certainly from my standpoint," he said. "I wish we could have brought him a little more success than we have. He was one of the first pieces in putting together our program."


Through all of the changes, though, Donigan said Bruccoleri has been staggeringly devoted to Rutgers.


"He knew he was going to have to endure tougher times than good times, unfortunately, but he knew that coming in," he said. "He's just an incredibly loyal kid."


Bruccoleri said he became a smarter player on the field over the last four years, but it was his GPA and academic mindset that saw the most significant development.


"When I came in, my focus was more just on soccer," he said. "Now, the focus has been on both equally, and I'm doing well academically and on the field. As a student-athlete, a good balance of priorities is the most important thing. If you don't have that, you're thinking about off-field conflicts when you should be focusing on the field. If you miss class, you're doing extra sprints at the end of practices. You have to focus on both equally, especially the little things."


Bruccoleri will graduate this month with a labor and employment relations degree, which he hopes to use to pursue a career in human resources or business management. He said he would love to play soccer beyond college, but coaching is a definite.


"I want to do everything possible with soccer," he said. "I love the sport. It's something I never want to get away from."


And the soccer world, Donigan said, will be happy to keep him.


"Nate does many of the intangible things that do not appear on the stat sheet that many won't notice until he graduates," he said. "He's a vital part of our transition game that helps us gain possession of the ball, and he gets the team back onto the attack."
Sports
,
Community
,
Schools
soccer
men's