BRHS donates food to families in need

Dec 22, 2014 09:08AM, Published by Community News Service, Categories: Today, News, Schools
---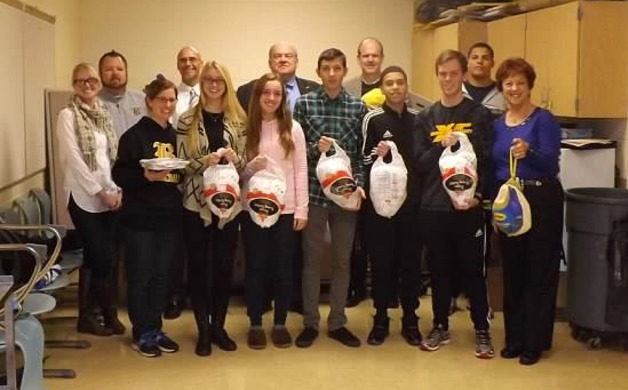 Many BRHS students and staff participated in the donations. (Top Row Left to Right): Lisa Sabo, Joseph Sprague, David Misselhorn, John Pavlovsky, Dr. Edward Forsthoffer, Devin Douthit (Bottom Row): Jodie Glenn, Michelle Hazlett, Kacie Stettner, Ramon Regueira, Michael Santiago Donoho, Matthew VanPelt, Judith Margulies
---
---
Every year Bordentown Regional High School and Bordentown Regional School District provide a basket of food and supplies to families in the community. This year over 60 baskets were distributed to families in need.
Among contributing parties that donated to this effort were: the Rotary Club of Bordentown, ACME Markets of Bordentown, Camp Fire NJ, the Bordentown Is On Point Program, the George M. Dare Chapter of the National Honor Society, BRHS' Spanish Club, Ms. Raquel Page's Family and Consumer Science classes and Ms. Michelle Quigley's Earth Science students.
The BRHS administration, the Board of Education, community members, students, faculty, staff and Ricardo Pina, BRHS Director of Safety and Security, all played a role in making the donations possible.
---
---