Bordentown accepts a GOOD Challenge

Dec 24, 2014 03:36PM ● Published by Community News Service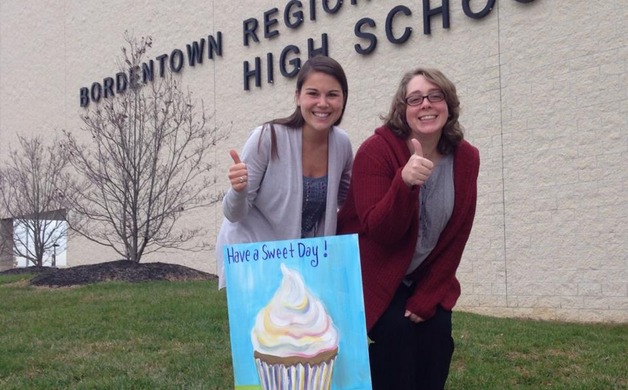 Julie Pone and Amanda Sexton spread the GOOD spirit at Bordentown Regional High School.
Gallery: MAD Splatter spreads community kindness [4 Images] Click any image to expand.
Through the month of December, residents may have seen some hand-painted signs encouraging kindness and participation in The GOOD Challenge.


In an effort to spread some positivity this holiday season, Melissa Pillik of MAD Splatter, a children's party venue, designed the challenge as a way for residents to come together and give back to the community.


It started with repurposing political campaign signs from the Nov. 4 elections. Senior citizens at The Clare Estate Assisted Living primed the signs for painting. Then, members of the community came out to two local painting parties, on Nov. 23 and 29, where they decorated the signs with positive messages and uplifting images.


Community members could then take home their newly painted signs, and on Dec. 2, known as Giving Tuesday, they could "splatter" someone in the community by placing the sign on the lawn of their home, business or school to challenge the individuals there to do a good deed. Once the "splattered" individuals completed their good deed, they could then splatter someone else with the sign.


Once the splattering began, participants started posting photos of themselves, with their signs, on The GOOD Challenge Facebook event page.


One of those photos features the daughter of Heather Kennedy. After being splattered by a neighbor, Kennedy and her daughters Grace, 6, and Olivia, 4, adopted Salvation Army angels. This program allows residents to purchase gifts for children in need who may not otherwise receive gifts. Grace and Olivia both chose two girls roughly the same age to buy gifts for and went shopping with their mother. They purchased clothes and toys for the girls in need and then the Kennedy's splattered another neighbor to continue spreading the good spirit.


"It's something we should be doing naturally, but it is not always done," Kennedy said about the effort to give back to the community. A resident for nearly 10 years, she feels the best part of Bordentown is the community; she said she is glad that most of her neighbors know each other and is happy to be able to walk to most places she visits in town.


It is not too late to get involved with The GOOD Challenge. Residents, businesses and anyone in the Bordentown community can "splatter" a neighbor by placing a GOOD sign in front of their home or business. To show you participated, take a photo of yourself with your sign — that's called an #unselfie — and share that photo online. If you get splattered, give back to the community and then splatter someone else.


If you have been splattered, there is still time to go out and do your good deed. Feel free to share what you did online and pass the spirit on by splattering someone else! To pick up a GOOD sign or for more good deed ideas, contact Melissa Pillik. Email: mpillik@verizon.net. Cell: (609) 456-8357. Facebook: send a personal message to Melissa Carter Pillik.


Standing for Make A Difference, MAD Splatter is a children's party venue designed to offer artistic parties for children ages 6-16 as a fun and interactive way for them to celebrate birthdays and special occasions by making a difference in the lives of others.

MAD Splatter empowers each child to make their mark by contributing a personal donation from the party cost to the charity of their choice. MAD Splatter is associated with Glitter Lemonade, a non-profit foundation sponsoring altruistic efforts by children that benefit charities and champion causes in the spirit of good will.
Community
mad splatter
Kindness
#UNselfie
Giving Tuesday