Fundraising efforts a success for power wheelchair purchase

Dec 24, 2014 06:29AM ● Published by Community News Service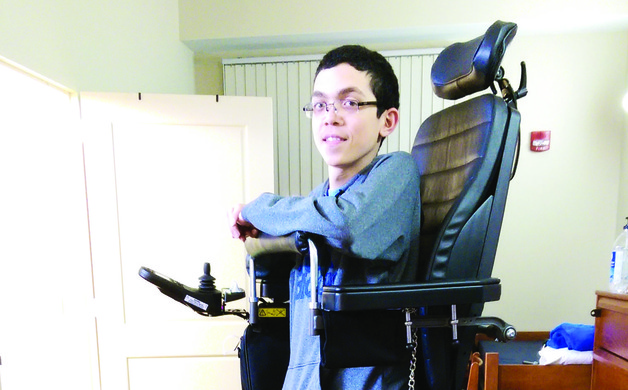 Dawud Hamdan was able to get a power wheelchair with a power standing function in November 2014.
This Thanksgiving, Dawud Hamdan was feeling especially thankful.


The day before the holiday, Dawud received his very own power wheelchair with a power standing function, ending a mission that first began more than a year and a half ago and was made possible due to an outpouring of support from the Bordentown community.


Diagnosed with transverse myelitis as an eighth grader in 2010, Dawud had since been confined to a wheelchair with limited physical capabilities.


Transverse myelitis is a neurological disorder caused by inflammation across a segment of the spinal cord. The damage from inflammation causes nervous system scars that interrupt communications between the nerves in the spinal cord and the rest of the body. 


It affects all the body's physical abilities below the attack site. For Dawud, the site was just below his neck, meaning he had limited functionality in his body below that point. Though numerous surgeries in the past five years have allowed him the use of his arms and hands, painful spasms in his legs was the one thing he couldn't seem to alleviate, even by taking the maximum dosage of medication. After continuing with Dawud's physical therapy, though, the Hamdans realized that standing had a positive effect on Dawud's leg muscles and seemed to decrease his spasms.


Dawud had a standing physical therapy machine at home, but he still needed two people to assist him in getting into position to use it. A power wheelchair with a power standing function would allow him to stand at any point during the day, and even "walk" the halls and access tables and other areas that are difficult to reach from a sitting position in a wheelchair. Having the chair, he said, would also allow him more independence.


But when the Hamdans attempted to use their insurance plan to purchase the chair, the insurance company denied the claim, citing the chair as experimental technology.

In April 2014, after exhausting what seemed like all their options, Dawud's father, Gus Hamdan, tried one more idea that was suggested to him by a friend. He set up a fundraising page online, with any funds raised going toward the purchase of the chair.


The response from the community was incredible, Gus Hamdan said. Not only did they receive assistance from the website, but local businesses and schools immediately got involved, holding their own fundraisers and setting out collection jars around town.

It was not uncommon for Gus Hamdan to receive calls on his cell phone from people who wanted to help: to collect money at their business in town, to organize school-wide events and efforts in the Bordentown Regional School District, and to offer their support.


After close to six months, the quest to purchase the chair for Dawud was nearly complete.
Gus Hamdan picked up Dawud two days before Thanksgiving, and the next day, Nov. 26, the chair was delivered.
 
Now a freshman at Rutgers University in New Brunswick, Dawud is living in the dorms on campus. He has an aid to assist him in the morning and a nurse at night, but he's on his own for the rest of the day, Gus Hamdan said.


Now, as Dawud spends the day on campus, he'll be able to stay more comfortable during the stretches of time between classes, when he can't travel back to his dorm.
Community
,
News
Gus Hamdan
Wheel Chair
transverse myelitis