BRHS quartet readies for college field hockey, basketball

Dec 24, 2014 06:40AM ● Published by Community News Service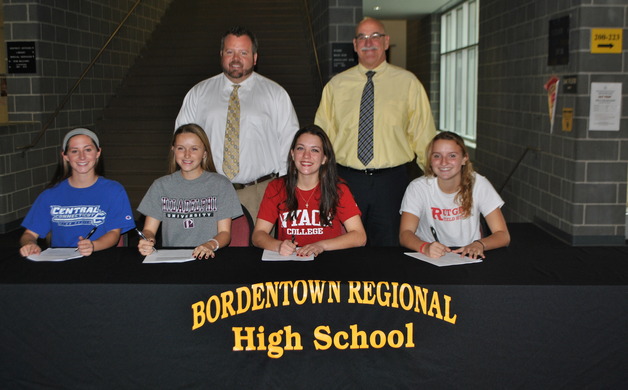 National Signing Day—the formal end to a long, sometimes grueling recruiting process—is often one of the major highlights of an athlete's high school career. Some verbally commit several months prior to the actual day, but signing makes it official. On Nov. 12, Bordentown Regional High School students got to breathe that sigh of relief when they committed on paper to their schools of choice.


Field hockey powerhouse Cait Nitschmann and softball standouts Kaitlin Lupinacci, Carli Shaw and Jamye Kagel signed to play at Rutgers University, Nyack College, Central Connecticut University and Philadelphia University, respectively, though all four made their decisions well before then.


Verbally committing or even making a mental decision prior to senior year is the way to go, the girls said. Namely, they get to play without the pressure of knowing that college coaches are watching.


"It feels like such a relief," Kagel said. "It makes it more fun. It will be a good, stress-free season. All you want to do is win. It's not about how good you have to be to get people to look at you."


Playing in college showcases, tournaments and even regular season games where coaches and recruiting staff were present has its advantages and disadvantages, Nitschmann said.
"It makes you want to do better, so it's kind of a good thing, but then it is kind of stressful because if you know you're not playing your best, it's like 'Great, I just lost all my interest,'" she said. "I think it's good and bad. They make you want to do better, but if you aren't doing as well as you hope, it's not as good."


The good news is, she doesn't have to worry about that anymore. Nitschmann—who holds the school records in season goals (32), season points (79), career goals (62) and career points (163)—is preparing to play in New Brunswick next year under head coach Meredith Long. Nitschmann was also interested in James Madison University, East Stroudsburg University and Penn State University.


Rutgers, where Bordentown graduate and field hockey standout Jess Carey currently plays, wasn't on her initial list, but when the school contacted her after the National Field Hockey Festival in Palm Beach, Fl., they were on her radar. She checked out the campus and met with the coaches in the spring, and she made her decision. Once the team starts its summer workouts, Nitschmann feels like she started to adapt to the transition from high school to college field hockey, though playing club and Futures hockey has already made that a little easier.


Bordentown head coach Julie Riesig said Nitschmann won't have any problems adjusting.
"She has been an impact player for years," she said. "She pretty much was one of the players that when you're in a clutch situation, you want the ball on her stick. She has just been absolutely the real deal. She's a flier on defensive corners, a striker on offensive corners. She has the complete package of an athlete—speed, athleticism, generosity."


And the prospect of playing with Carey, who was a constant target for Nitschmann's goal mouth feeds and passes, will make the transition even easier.
"I wasn't thinking, 'Oh, I want to go there because Jess is there,'" Nitschmann said. "But definitely knowing that I have somebody that I do know and I know I can play well with, it makes it better to go in."


The trio of Lupinacci, Shaw and Kagel felt similarly about the recruiting process and ultimately choosing their schools. The three, along with the other seniors on the softball team, have played on the same team since they were nine, and being able to make their decisions with one another's support made it a more pleasant experience—and brought their careers full circle.


"This whole thing happening was amazing," Kagel said. "We all grew up together, and we're really supportive of each other. Signing together made in ten times better."
Kagel decided on Philadelphia not long after the staff offered her a spot on the team that day. She garnered some interest from Caldwell College, too, but after visiting, it didn't affect her the same way PhilaU did. She verbally committed last year.
Playing for Bordentown under head coach Hillary Allen, said Kagel, has been a major step in preparing for college ball.


"It's a lot of teamwork," she said. "In travel ball, you're playing for yourself. You work on making yourself better. With school ball, you're making your team better. Everybody knows each other better. You want to go farther."
Shaw agreed, especially because this team in particular has so many years of experience playing as a unit.
"All the seniors are really excited for school softball because we get to play with each other one last time," she said. "We've all been playing together for so long."


Like Nitschmann, Shaw wasn't considering her ultimate choice, Central Connecticut, when she first made her list of schools. She played in a lot of college showcases and clinics, like one hosted by Top Prospect. It was there that head coach Bre Gleason watched her play, and she liked what she saw.
And so did Shaw when she finally went to visit the school.
"It was kind of fate," she said. "I went to the school and fell in love. All the players were nice. I got long with all of them."
It was an easy decision at the end of a daunting process, which Allen helped the girls through, step by step.


"We have a really good coach," Shaw said. "She played at Drexel, so she knows what we're going through. She gave us a lot of tips to help prepare us."


For Lupinacci, all of that started her freshman year. She made a list of schools, mainly small, private Catholic or Christian institutions. She made recruiting profiles, went to clinics and emailed coaches to get her name as widespread as possible.


"People say, 'wait until you're a junior,' but you really have to familiarize yourself with whatever college you want to go to," she said. "You want to get your name out there."


Showcases and clinics were the most important part of the process, she said.


"They are a large part of being a student-athlete," she said. "You have to leave school to play in these showcases. It's really stressful, but in the long run, it's really effective because that's where coaches will see you."


She finalized her list from freshman year to about 10 schools, and almost decided on Felician College. But after she visited Nyack for a showcase, she settled on the New York Christian school.


"I was really lucky and blessed that the coach came out to see me," she said.


And while Lupinacci said she and her teammates can focus on the upcoming season and enjoy it rather than stress about being recruited, they still have a lot to maintain.


"It does feel good, but we still have to manage our GPAs," she said. "We still have to keep up with academics. It's senior year, being recruited is great and the softball part is finalized, but we do have to keep with with our athleticism and keep practicing a lot."
Sports
,
Community
Cait Nitschmann
Kaitlin Lupinacci
Carli Shaw
Jamye Kagel