Hoops squad aims to keep up momentum with transition game

Dec 24, 2014 06:48AM ● Published by Community News Service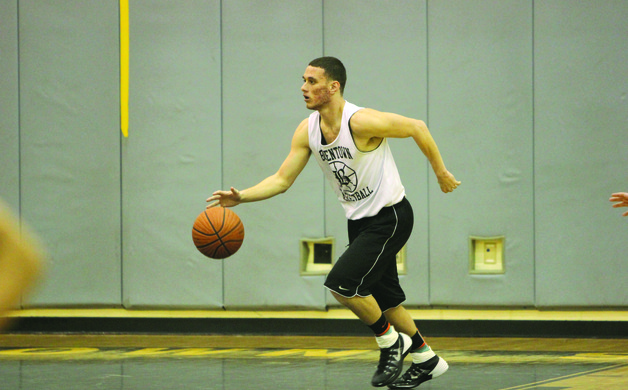 Dominick Nemeth dribbles down the court during a home scrimmage against Steinert on Dec. 8, 2014.
John Myers is committed to creating a winning tradition at Bordentown Regional. And after watching his boys' basketball team finish last season by going 7-6 in its final 13 games, finishing the season at 10-16, the second-year coach believes the Scotties are poised to make a run.


"Run" was the key word when Myers assessed Bordentown's chances to fulfill its goals. The Scotties, who returned four starters from last season's squad, plan to rely on speed to overcome a lack of size.


"We have killer speed," Myers said. "If you watch us play, it's going to all be about transition. Everything is about getting up and down the floor as fast as we can. We're not particularly tall, but we're fast, so we're just going to run, run, run. Not out of control, but we're going to run. That's who we are."


The Scotties understand the plan and are ready to, well, run with it.


"It's easy points in transition and that's where we earn a lot of our points," said returning starter Brion Teel-Scott, who averaged 9.7 points and a team-best 5.9 rebounds per game last season. "We're just out there having fun with it. I definitely like it, and it's what makes us successful. We can't always go up with those big boys, so a fast pace with pressure, it works for us."


The transition game begins with strong defense, and the team's quickness could also help the undersized Scotties with rebounding.


"We've got to have (defensive) stops so we can start running," said Myron Gordon, who averaged 17.6 points, 4.5 rebounds, 3.3 steals and 2.4 assists last season. "I feel we can be a good defensive team, we've just got to work hard and play as a team."


Myers added that the squad's speed creates more rebounding opportunities.
"Because we're so quick, they can't just put a body on us," he said. "They have to find us someplace, and then put a body on us. That's to our benefit."


Bordentown began last season by going 4-9 in its first 13 games before a victory over a then 10-win Holy Cross team—a program that Myers coached several years earlier—sparked the Scotties' second-half success.


"I think they realized we belong, we beat a good team," Myers said. "That's kind of what did it. It was what I was probably most proud about because the kids never gave up. When you get to be 4-9, it's real easy to say 'We're done.' But the fact that they ended up being over .500 the second part of the season, which was probably the harder part of our season, is a real tribute to the kids."


Other returning starters for Bordentown are Matt Culda and Dante Gipson. Culda averaged 8.5 points and 4.1 rebounds last year while Gipson averaged 7.4 points, 2.2 rebounds and 1.8 assists.


Top newcomers are Darnill Brown, Manny Ansong and Teriq Ashburn.
"My expectations are to exceed last year," Teel-Scott said. "Not just have a positive record, but win our division and go as far as we possibly can in the playoffs. Hopefully, to a championship."


Last year, he added, the biggest challenge was each player figuring out his role on the court.
"Everybody wanted to be a scorer, so everybody was in for themselves," he said. "As the year went on, we started playing as a team. That's what changed. Everybody found their roles, stuck with their roles and played as a team."


In addition to the strong finish to last season, Bordentown entered this year buoyed by a strong performance in the Moody Park Summer League.


"We're trying to change things here," Myers said. "Before I got here, I think they went eight or nine years in a row where they never won more than seven games. I'm trying to change that. We want to create a team where people want to be part of something bigger than themselves.
"I want them to continue to build on enjoying the game and enjoying being with each other. This is a time that they're never going to forget for the rest of their lives, playing high school basketball. I really want them to get that experience out of it."


It appears more than the Bordentown players are buying into the experience. Myers said a preseason scrimmage attracted more than 100 fans.


"We're talking about a scrimmage and students were here, parents were here and it was loud," the coach said. "It was a cool environment."


Gordon hopes the Scotties give those fans a reason to cheer throughout the season.
"We've got good chemistry, we work hard; I think we're going to do good," he said. "Now we know what to do to be successful. We've got the blueprint, so all we have to do is execute."
His goal for the squad is one thing: a championship.


"We can do whatever we want to do as long as we stay together," Gordon said. "I think we could be one of the top teams in Jersey. But we've got to prove it to everybody else."
Sports
,
Community
basketball