Commit to getting fit: 18 ways to keep your New Year's resolution

Dec 28, 2014 10:43AM ● Published by Community News Service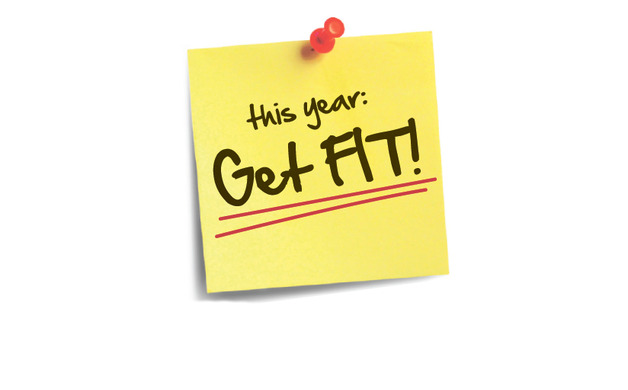 It's the same story every January: gym memberships skyrocket, athletic gear disappears off the shelves of retail stores, and people promise themselves that this will be the year they'll go to the gym and get in shape.
One of the top New Year's resolutions every year is to start a fitness routine that yields results. But while those resolutions are made with the best of intentions, many resolutionists find themselves unable to stick with their commitment in the long run.
The Bordentown Current reached out to several local gyms, fitness centers and trainers to gather some expert advice on how to turn a short term New Year's resolution into a long term commitment that allows you to reach your fitness goals. Here are some of their best recommendations:
Get to know your surroundings. New members can reap huge benefits from a thorough equipment orientation. Many would-be exercisers report feeling lost or intimidated by the complex array of equipment available at the gym and find themselves unable to put together a consistent, well-balanced program that they can follow long enough to see results.
What they may not know is that many fitness centers offer an equipment orientation to new members to avoid this confusion and the frustration that can follow. Evidence suggests that exercisers who know what they need to do are far more likely to actually stick to a routine than those who aren't taught proper guidelines for equipment usage. –Kristen Yonkman, Certified Personal Trainer, Hamilton Area YMCA
Use the buddy system. Sometimes people don't want a personal trainer because it's expensive. Bordentown Retro Fitness noticed another way to amazing results to your fitness is the buddy system. When joining a gym, consider joining with a friend; a lot of the Retro Fitness of Bordentown members join with a friend to work out with.
On those days where you don't feel like coming in, your friend is going to pick you up to go, go, go! It has also been proven that you burn more calories with a buddy without even realizing it. So grab a friend this new year! –Joseph Pasquale, Owner/General Manager, Bordentown Retro Fitness
Don't overdo it. Don't go overboard—keep your workouts and goals manageable. The last thing any person starting up at the gym should do is bombard the body with tons of different exercises. Keep it light to start, and slowly build up the workout as you get stronger. Pick a few exercises that will target the whole body and keep it consistent.
If you go too hard at the beginning, you will increase your chances of injury, or you will become overly sore that the body will take long to recover, making you never want to come back to the gym. –Amy Van Dyk, Personal Trainer, RWJ Fitness & Wellness Center, Hamilton
Personalize your training program. Be consistent. These days, people are looking for a quick fix. You are not going to get the body that you want at a drive-thru. Work out at a minimum of three times a week. However, even more important is the quality of the workout.
Seek out a fitness expert that will personalize a program for you: one that fits your schedule, keeps you coming back for more, that delivers results and that continues to challenge you, because that's what will make a difference in how you look and feel. It's also the key behind turning working out into a healthy habit that will last a lifetime — not just a two-week resolution. –Carrie Ward, Shock It Fitness
Enroll in a class. Attending a yoga class, versus trying to learn from videos or DVDs, will allow you to get the most out of a yoga practice with the least risk of injury. With the right class and instructor, and attending a class a few times a week, you will be guided with a hands-on experience for adjustments, and you will experience all of the befits that a yoga practice provides for the mind, body, and soul.
Do your research and find a class with a description that aligns with your specific goals. If you are looking for classes with a more athletic component to make you sweat look for "hot" or "power" classes. If you are looking to relax, or begin a practice, look for "gentle," "roots" and "restore." –Erica Milcarek, Honor Yoga
Make the most of your workout. Move, move, move—a body in motion stays in motion. Give it your all in the 30-60 minutes you are at the gym. Walking on a treadmill sometimes simply doesn't cut it. You have to step it up, which means even a trot is better than walking.
Having a higher intensity for 30-60 minutes will always be better than being at the gym for countless hours. One hour is the maximum time you need to spend at the gym. If you're spending more than an hour, you're not working sufficiently. –Dave Leech, Change Fitness Personal Training Studio
Create a routine and stick to it. It is so important to have a routine to follow when starting up at a fitness center. Too many people aimlessly walk around the gym deciding on what exercises to do or what areas they want to work out that day. They end up wasting a ton of time, and leave the gym feeling unaccomplished. Having a routine with both resistance and cardio exercises assures you are getting the most out of your time spent at the gym. –Amy Van Dyk, Personal Trainer, RWJ Fitness & Wellness Center, Hamilton
Keep daily reminders. Just like any other appointment, schedule your workout sessions in your calendar. This helps to keep you focused on your goals and helps with time management. We want exercise to become a habit, and by keeping workout times in your calendar, you are constantly reminded to get to the gym. It is also a really good idea to keep a change of workout clothes in your car at all times. That way, you have no excuses to skip out on a workout. –Amy Van Dyk, Personal Trainer, RWJ Fitness & Wellness Center, Hamilton
Hire a good trainer. Do yourself a favor and don't watch everyone in the gym. Most people do things wrong, which is why a personal trainer is great to have. When you hire a trainer, ask how they critique form, because form and doing exercises right should be on the top of their list. If it's not, get a new trainer who does focus on form. –Dave Leech, Change Fitness Personal Training Studio
Eat well, but don't diet. Make better eating decisions. It's that simple. Diets are fads that come and go, leaving you with more weight than you originally had before you started. Say this year, "I will make better decisions and that's that." Bread and sugar are the two evils you should eliminate completely if you can. The results you get from avoiding just these two foods will shock you. –Dave Leech, Change Fitness Personal Training Studio
Set specific, measurable goals. Instead of making vague goals like, "I want to lose weight" or "I want to tone up," try setting measurable, achievable goals like, "I want to be able to complete a spin class" or "I want to be able to hold a plank for a whole minute." These benchmarks help you see improvement as you work toward the bigger picture and can encourage you when you feel like progress is slow. Focus on something specific that you want out of your workouts and develop a plan for how to get there. Then follow through! –Kristen Yonkman, Certified Personal Trainer, Hamilton Area YMCA
Try something new. Suffering from weight gain and malaise after a lay-off, 55-year old Pam was told by her doctor to try a new activity every week. One by one, she tried the group classes offered at her gym and then moved on to weight lifting and training for a half marathon. This previously sedentary woman found a new zest for life, improved health and stamina, and a group of active, up-beat friends who shared her new interests. Not every new activity was her thing, but within a few months, she had discovered enough active interests to keep her fit and engaged for years to come. –Kristen Yonkman, Certified Personal Trainer, Hamilton Area YMCA
Surround yourself with like-minded people. Surround yourself with people who will respect your journey and commitment to making healthy changes in your life and who are also health-minded. –Carrie Ward, Shock It Fitness
Train your brain. Train your brain to focus on the positive and the present. Be present in your workouts, and don't let your brain tell you that you can't do anything—including those last 10 reps! –Carrie Ward, Shock It Fitness
Remember that results won't happen overnight. Bordentown Retro Fitness always advises those whom are looking weight to really remember it does not happen overnight. It takes at least six months for your body to break a cycle that it is used to. It takes time, hard work, and dedication for others to notice your results, but Bordentown Retro Fitness Members report they feel great on the inside after they finish working out. This New Year you can get to your fitness goals, just remember it will not happen overnight; you can do anything you set your mind to! Set a goal to reach for the stars! –Joseph Pasquale, Owner/General Manager, Bordentown Retro Fitness
Track and portion meals. Bordentown Retro Fitness suggests always portioning your meals throughout the day. Not eating all day will actually slow down your metabolism because you go into starvation mode, where the body will actually eat the essential fats and sometimes even muscle, the longer you do not eat. Eating regularly in small, healthy portioned meals will help speed up your metabolism and promote healthy weight loss. My Fitness Pal App on your smart phone is a great free way to track and portion your meals. The app is available through the Google play store. Download the app to track your meals and calories. –Joseph Pasquale, Owner/General Manager, Bordentown Retro Fitness
Get Rid of Misconceptions. A common phrase we hear in yoga is "I'd love to try yoga but I'm not flexible." Or "I want to do yoga, but I'd be no good at it." Being "good" at yoga is something that simply does not exist. It is through a yoga practice that one becomes flexible; yoga is meant to help you become more comfortable, gain strength, and increase range of motion in the body that you have. Yoga requires equal flexibility and strength, and the hope is that you'll balance the two. –Erica Milcarek, Honor Yoga
Make promises, not goals. Goals and resolutions are never kept. Make a promise to yourself that you will make healthy changes in your life. People often make resolutions and don't see them through. They are quickly forgotten, but a promise that you make to yourself is more likely to be kept. –Carrie Ward, Shock It Fitness
Sports
,
Community
gym
wellness
health
fitness
fit