Six year old gives all with heart (VIDEO)

Jan 16, 2015 09:41AM ● Published by Community News Service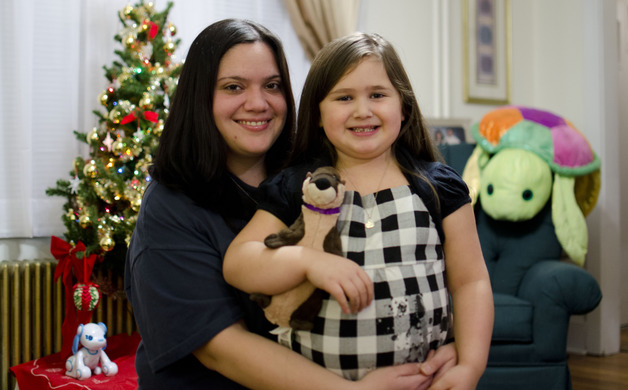 Tania Lecaros and her daughter, Alexandria Albarran, who is participating in Jump Rope For Heart at Peter Muschal Elementary School, despite a tragedy at home.
Gallery: Alexandria Albarran gives with heart [3 Images] Click any image to expand.
*SCROLL DOWN FOR VIDEO*
By Tom Smith
Alexandria Albarran has already raised $195, and more is likely on the way. It's not bad for a little girl who was nearly struck by a projectile coffee table when a car slammed into her living room last month.
Alexandria, 6, is participating in the American Heart Association's Jump Rope For Heart program at her school, Peter Muschal Elementary. She is raising money on a webpage that will benefit research and advocacy of heart disease and stroke. Her goal is $250 and she will collect donations online until the day of the Jump Rope For Heart event on Feb. 6 at her school. Click here to visit her webpage.
Giving is a favorite hobby of Alexandria's, and she often finds ways to collect money for a good cause. "She's always willing to help in any way she can," said her mother, Tania Lecaros. Nothing seems more important for the girl who once offered her piggybank to help pay the bills, and that compassionate attitude has made Lecaros proud of her daughter. Alexandria's first donation to Jump Rope For Heart was money she'd been saving to buy herself a toy. But despite this positivity, the two are facing tough times.
Alexandria's efforts have remained a positive focus for the mother-daughter pair, especially in light of the recent hardship the two have faced.
Disaster strikes
On Dec. 12, Lecaros' apartment was struck by an out of control driver in the parking lot of the Bradford Pointe Apartments off of Route 130. They had just finished decorating the apartment to celebrate Alexandria's birthday on Dec. 18.
Everything was normal when Lecaros walked down the hallway to get her laptop, but was then jarred by the crash of the car into her living room wall. "I didn't know what was going to happen when I turned around," she said. Alexandria was hysterically crying and shaking; the wall had bulged in and sounds of the driver still colliding with other parts of the complex could still be heard.
The driver was arrested and failed a sobriety test. The apartment was deemed unsafe by Bordentown Township fire marshals and Lecaros was forced to move in with her mother in Hamilton. "Technically I'm homeless," Lecaros said. Many of her belongings are piled in her car as she prepares to move back to Bordentown. Often she had to run back to the crippled apartment to grab necessities while reorganizing Alexandria's party and preparing for Christmas.
Giving all and staying healthy
But the tragedy has not affected Alexandria's giving spirit.
She is joined in her fundraising efforts by many of the students at Peter Muschal Elementary School, where over $10,000 is raised every year for the American Heart Association.
"That's kind of a shout out to Bordentown and how generous they are," said Bill Lloyd, gym teacher at Peter Muschal. The school has participated in Jump Rope For Heart all 12 years that he has taught there.
In addition to raising money, the program also educates the kids about their health. On Alexandria's donation site, she is pictured eating a salad since she has learned to be conscious of what she eats. "She knows if she doesn't eat healthy it could lead to heart disease," Lecaros said.
This education is essential for the students of Peter Muschal who, Lloyd said, spend more and more time with digital devices. "Without a doubt, these kids become more technologically savvy every year," he said. Jump Rope For Heart encourages students to remain active despite the growing amount of technology in their lives.
Alexandria plans to remain active through a variety of activities this year. She looks forward to playing soccer, baseball with Bordentown Little League and going swimming at a local YMCA Lecaros recently joined.
The American Heart Association is the nation's largest and oldest voluntary organization fighting heart disease and stroke. Special events account for 38 percent of their revenue.
Lecaros and Alexandria are preparing to move back to Bordentown and their spirit hasn't dampened. For Alexandria, whether it's contributing to national awareness, or just making ends meet, there are plenty of good causes worth fighting for.
Community
,
News
Alexandria
Albarran
Jump Rope For Heart
American Heart Association