Bordentown braces for winter blast

Jan 26, 2015 07:54AM ● Published by Community News Service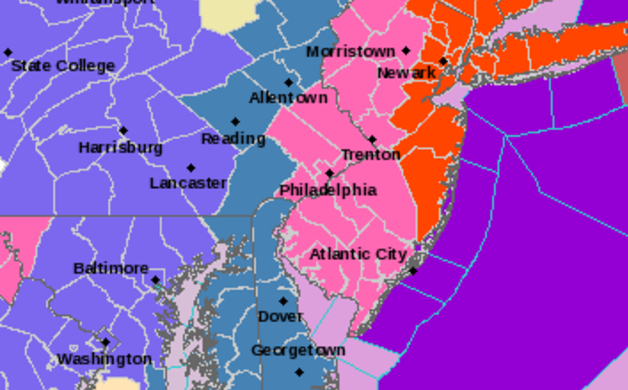 The National Weather Service's Mount Holly office placed Bordentown in the area of a winter storm warning in this map on weather.gov.
A large winter storm is predicted to hit Bordentown with an estimated 10 – 18 inches of snow between Monday, Jan. 26 and Tuesday, Jan. 27.
The National Weather Service forecast for zip code 08505 on Monday night predicts "new snow accumulation of 5-9 inches." Another barrage of the same amount is expected Tuesday. According to the forecast, blowing snow will fall heavily at times Monday night with a low of 24 degrees. The skies are not expected to clear until late Tuesday night with a low of 17 degrees.
Many regional organizations are issuing winter advisories. Burlington County Health Department issued a Code Blue Cold Weather Emergency from Friday, Jan. 23 to Thursday, Jan. 29. The 511NJ traffic organization warned motorists on their website to "please use caution, slow down and allow plenty of extra time to get to your destination." Travel is discouraged Monday night and early Tuesday morning.  
The storm is predicted to impact most of the northern east coast. The Weather Channel reported online that "at least 28 million people are in the zone of potential blizzard conditions." 
For the current National Weather Service forecast click here. 
Stay safe! If you have weather related news in our community or snow photos, email: news@bordentowncurrent.com.
News
weather
snow
winter
storm
national weather service
mount holly
blizzard