Skies to clear after 'Blizzard of 2015'

Jan 27, 2015 11:53AM ● Published by Community News Service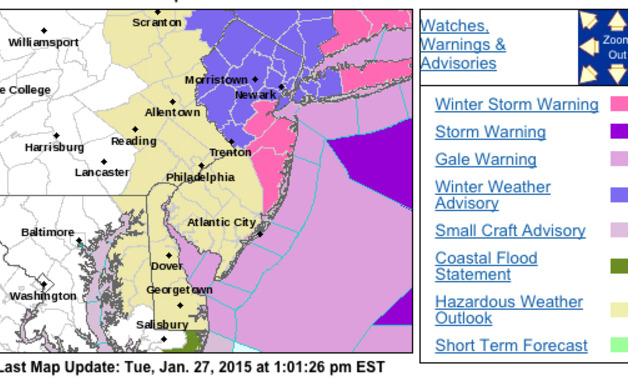 The National Weather Service's Mount Holly office updated the map of winter conditions on weather.gov.
Gallery: Blizzard of 2015 [1 Image] Click any image to expand.
The National Weather Service reports only a 50 percent chance of precipitation yielding only one possible inch of snowfall this afternoon, Tuesday, Jan. 27.
Tonight skies are expected to clear with a low around 18 degrees. The forecast for Wednesday is sunny with a high near 32.
Anticipation of the severe winter storm that impacted most of the Northeastern United States caused Governor Chris Christie to declare a state of emergency for New Jersey. The New Jersey State Police issued a travel ban on all roads at roughly 9:30 p.m. last night.
Referred to by the media as the blizzard of 2015, the storm dumped several inches of snow on the Greater Trenton area, although totals were significantly less than predicted. As of 8 a.m. this morning the State Police lifted the travel ban as precipitation dwindled and road crews caught up with the wintery conditions. 
Do you have snow photos? Send them to news@bordentowncurrent.com!
News
emergency
weather
snow
police
police
2015
blizzard
snowfall
juno