District No. 2 fire chief says farewell

Jan 28, 2015 12:40PM ● Published by Lexie Yearly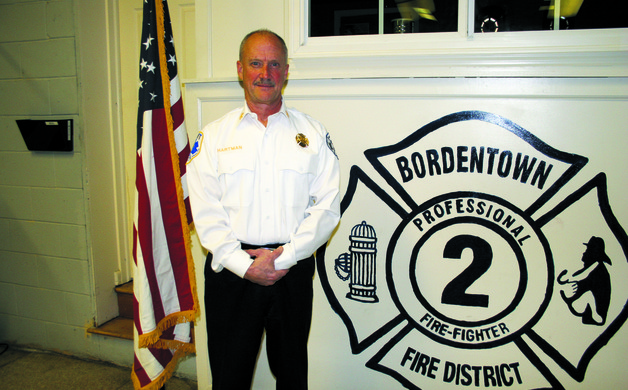 After more than 25 years of volunteer service Bordentown Township Fire District No. 2 Chief William Hartman moves on.
If there's one thing William Hartman has learned from his nearly 40 years of fire and EMT service, it's the value of life and how much he appreciates it.


"It's taught me the value of life, and the value of life is that it could be gone that quick," Hartman said. "I've watched people die in cars that we've been cutting apart. Life is so important and it is so precious and so fragile. And it's amazing how fast it can be taken away."
On Jan. 14, Hartman stepped down from his role as chief of Bordentown Township Fire District No. 2, making him the last volunteer chief the department will see. The role will now be filled by Chief Robert MacFarland, who was promoted Jan. 14 from his previous position as captain.


The structure of having a volunteer fire chief overseeing career firemen is a bit of a unique situation, Hartman said, but one that he's found to be a positive experience.


He attributed his experience and relationship with the career firefighters to the fact that he proved himself through his work and his willingness to listen to others' ideas and suggestions. At the time of his retirement, Hartman served as chief with 13 career firefighters, and said despite his volunteer status, he was never made to feel unequal.


"The guys always did make me feel like part of everything," he said. "No matter what happened, I was included in everything."


Since he first started serving as a firefighter in his teen years, Hartman, now 56, has never once tried to turn his volunteer work into a full-time job. He's spent nearly 37 years working at Haldeman Ford in Trenton, where he started out washing cars and eventually took on work in the collision repairs department, where he's stayed ever since.


Luckily, very little sleep has never been an issue for Hartman, who noted he's had occasions where a call keeps him out until 7 a.m., with just enough time for him to head home, shower, and be on his way to his day job.


He first got interested in becoming a volunteer firefighter when he was a 15-year-old Boy Scout in 1975. Growing up in Hamilton, Hartman attended Boy Scouts meetings at Enterprise Volunteer Fire Company in Hamilton. When Hartman began to lose interest in the scouting aspect, his father, a Scoutmaster and volunteer fireman, helped his son explore his opportunities at the fire department.


From age 15-17, individuals are able to serve as junior firemen, meaning they can still assist the department in some capacity, but can't do things like handle the fire hose or run into a burning building.


At 16, Hartman completed fire school, and at 17, applied for his first EMT course. He then spent the next few years serving as an EMT with Liberty Rescue Squad in Trenton.
In 1980, he married his wife, Debbie, and in 1984, the couple moved to Bordentown Township, where Hartman joined Derby Volunteer Fire Company. The following year, he was promoted to captain, and the next year became chief. He continued to serve as chief for the majority of his time with the fire department, amounting to more than 25 years.
What he's enjoyed most about his work as a firefighter and EMT is his service to his community.


"I think it was the ability to serve the community and know you are making a difference," Hartman said. "We are an individual's best hope on their worst day. It's always been said, 'when you don't know who else to call? Call a fireman.'"


And over the years, Hartman has seen all kinds of calls.


"I've had snakes in basements," Hartman said. "I've had cats in trees, I've had ducks in drains."


One call in particular was quite unusual, and one he remembers to this day. In 2008, Fire District No. 2 was called to assist with an accident on the N.J. Turnpike at 4 a.m. A disabled tractor trailer was parked on the shoulder, and another driver had crashed into it.

The driver was fine—he escaped with a cut on his knee—but the vehicles were so entangled it took nearly four hours to get the driver out. But the unusual part came when Hartman discovered there were other patients in need of assistance.


The driver had been towing several horses and a donkey, and a state trooper approached Hartman to see what should be done about the animals.

"Now, I've got a guy stuck in a truck and I've got horses," Hartman said. "I went, 'you know what. Horses are victims, too. I have to call the county."


He made several calls before a vet from Colts Neck showed up to examine and assist the animals.


Every one of the patients were fine, and the story had a happy ending, Hartman said.
But he's also seen his share of tragedies that come along with the job. It's the kind of work, he said, where people either do or don't accept the kind of situations and realities they'll encounter on the job. It's often not something people can learn or teach themselves to accept.


"You have tragic stories on the other end where you just come back here (to the firehouse) and look at each other and go, 'That's not going to be good,'" he said. "But you have to take the good with the bad."


Hartman's service and his unique position with the fire company hasn't gone unrecognized, either.


MacFarland noted that for Hartman to have served as chief officer for more than 25 years is virtually unheard of—due to the responsibility and stress of the position, most only serve a few years.


"That in itself speaks volumes for [his] character and ability to deal with the stress, responsibility and politics of the position," MacFarland said.


MacFarland also said that the actions Hartman took as chief were primarily focused on helping "the guys" do their jobs and helping the public, and that as chief, Hartman also helped keep operations running smoothly between the career and volunteer staff members.

As for what's next, Hartman isn't sure how he'll spend much of his new free time. It will certainly be an adjustment for Hartman, who often stopped at the firehouse at least two or three times daily.


But it's something he looks back on fondly, noting he was lucky to have the support of his wife throughout all his years of fire and EMT service.


"The experience I had here when I had volunteers and when I switched and became chief of the career staff, it's been a rewarding experience," he said. "It's an experience you can't just buy, you can't read about it, you can't see it on video. It's difficult to explain, but it's a personal satisfaction, what I've been allowed to do, with support."
Community
,
News
township
Fire
chief
Hartman
MacFarland
Derby Volunteer Fire Company