BRMS gets technical with Hour of Code

Jan 29, 2015 11:16AM ● Published by Community News Service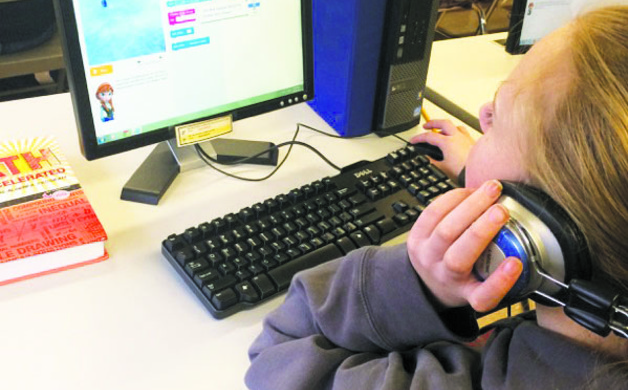 Bordentown Regional Middle School students participated in the Hour of Code Dec. 8-12, 2014.
Gallery: Hour of Code [2 Images] Click any image to expand.
* See video below *

The oversized check, awarded to Bordentown Regional Middle School in the amount of $10,000, represents just one way that the school's participation in the Hour of Code initiative has positively impacted its students.


The Hour of Code, sponsored by the nonprofit organization Code.org, challenges students across the country to participate in at least one hour of activities that focus on computer science and concepts related to coding.


For the Hour of Code, Amy Wright, who teaches computer education at Bordentown Regional Middle School, planned a weeklong program Dec. 8–12 that included the entire student population. All classes participated in an offline project, where they redrew patterns by using simple codes to follow the necessary steps.


"They were using symbolic language to communicate with their classmates," Wright said. "That's how we got everybody doing something."


Wright's computer classes also participated in coding activities throughout the week, and some students visited the computer lab during their homeroom time to work on activities posted on Code.org.


"They want you to do that hour to hopefully inspire kids to go beyond, and that's exactly what did happen," Wright said. "There are students that are still, on their own, when they get free time, pursuing it and going beyond the interactive drag and drop kind of coding that they put together, to really learning programming languages at a higher level than what they have available to them in school right now."


Wright submitted her plans to Code.org, and BRMS was selected as the winning school from the state of New Jersey. The school was presented with $10,000 to use toward new technology. The prize money was used to purchase 24 Chromebook computers, two iPads and a 3D printer.


Rob Walder, principal of Bordentown Regional High School, was principal at BRMS during the Hour of Code. He said that when word of the award spread throughout the community, a high school student wanted to congratulate Wright.


"It just was in perfect timing for our presentation of the award," Walder said. "So, he came back and he spoke about how inspired he was by Mrs. Wright last year for the Hour of Code, and how he's gone on to do web design and things like that. I thought that was pretty amazing and pretty inspirational."


Wright, who has a background in engineering, said that computer education has changed since she began teaching 15 years ago. At the beginning of her career, she remembers instructing students on topics such as Microsoft Office. Today, students have more experience with technology, and are capable of learning more advanced concepts earlier in their educational careers.


The technology at BRMS includes the school's two NAO robots, Sapphire and Ruby, who were named in an online vote during the Hour of Code activities. The robots were sponsored by the Bordentown Community District Alliance, an organization that uses funds raised through program and rental fees to support initiatives in the schools.


Sandy Ewell, director of the Community District Alliance, said that it was rewarding to see the faces of the students light up when interacting with the robots.


The robots measure about two feet tall, and can be programmed to perform a variety of tasks, such as speaking, dancing and playing soccer. During the Hour of Code week, they visited the cafeteria during lunch time, so that students could use computer software to program them to perform a variety of commands, such as speaking and waving.


"Our students are blessed and very fortunate to have Ms. Wright and Ms. Ewell, who are two individuals that are forward-thinking and very creative," assistant principal Sam Tola said.
The success of the Hour of Code activities has inspired the creation of more programs at BRMS.

Recently, Wright established a robotics club, which meets during her lunch period. More than 50 students from across the school's three grade levels have participated, she said. The students are enthusiastic about brainstorming ideas for the use of the robots, including having them perform a skit in the school's talent show.


"We have two robots, so hopefully, we can get them to talk to one another and the kids can also take part in that and entertain the rest of the school during our talent show," Wright said.
Wright said that her hope is to have the robots used across the curriculum in the future. For example, they could be programmed to demonstrate a concept in a science class, or even to recite poetry in Language Arts.


She has already seen this happen with Scratch, a platform from the MIT Media Lab that students use to create animations. After using Scratch in Wright's computer class, students have programmed the cartoon characters to present concepts in their science classes.
Walder said that the focus on technology in schools is important in today's world.


"It's tremendously important," he said. "Everything is funneled through technology nowadays, and the writing of code is critical. Not only are there statistics that show that it helps you think better and on a different level, but all the different applications, apps on phones, that's all code being written. And thanks to Mrs. Wright and Ms. Ewell, we're way ahead of the game here in Bordentown."
Community
,
News
brms
brsd
Technology
hour of code
Amy Wright
computers
IT