First Presbyterian to hold 2nd annual art show

Jan 29, 2015 12:06PM ● Published by Community News Service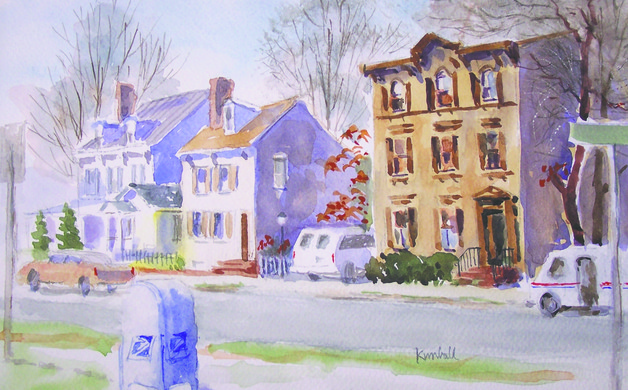 A work by Tom Kimball set to be on display at the second annual First Presbyterian Church art show Feb. 13 through Feb. 15, 2015.
The First Presbyterian Church of Bordentown is set to hold its second art show showcasing local artists from the tri-state area. Because last years' event was so widely received, the art show is set to become an annual occurrence. If you are on the market for some new art, here's a chance to support your town and local townsfolk; All proceeds raised will go to supporting church ministries.


The art show will feature over 30 artists whose expertise range from painting, jewelry making, and pottery to sculpting. Some of them include Kathie Ackerman, Dan Aldrich, Susan Bishop, Marlene Craig, Lara Darpino, Bill Devine, Marsha Dowshen, Barbara Elliott, Diana Gaslinski and Richard Gerster.


Ackerman specializes in fabric art, specifically quilting. She was heavily involved in the Pennington Quilt Works scene for quite some time, but now deals mostly with custom work. Pennington Quilt Works provided Ackerman with a way to spread her name and showcase all her handmade quilts.


Ackerman has done t-shirt quilts but mostly creates custom memory quilts for those she works with. Although she does not have a website, she does take requests from clients to fashion one of a kind pieces specifically made to order.


Ackerman has been quilting for more than 30 years. She is a retired nurse and a grandmother to 10 grandkids that keep her busy. Kathie is extremely active in her community and will be displaying her work at the upcoming event.


The art show will begin with an opening ceremony from 6 to 9 p.m. on Friday, Feb. 13. The show will continue through February 15 from noon to 3 p.m. daily. It will be held at the Bordentown Presbyterian Church, located at 420 Farnsworth Ave.
Community
,
News
art
church
first presbyterian
artists