Family Chiropractors aim to restore patients' wellness

Jan 29, 2015 12:10PM ● Published by Community News Service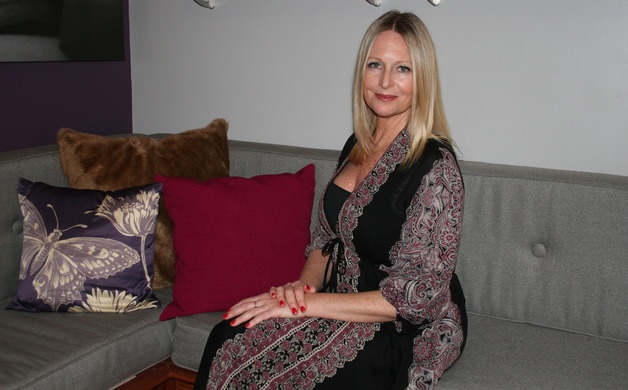 Dr. Denise Evans sits in the lounge area of her Bordentown City office. (Staff photo by Lexie Yearly.)
By Jessica Oates
Dr. Denise Evans knows that being healthy depends on the well-being and harmony of the body, mind and spirit. Since 1991, she has been practicing chiropractic medicine with the goal of achieving whole body wellness in each of her patients.


Chiropractic focuses on the body's healing energy, which flows from the brain down the spinal cord to all parts of the body, enabling it to function. Even a slight interference can be the cause of many health conditions.


Evans Family Chiropractors is located in Bordentown, where Evans was born and raised. Her office feels more homey than clinical, the nurturing environment designed to enhance the therapeutic practices her patients rely on her for.


"It's all part of the healing process," said Evans, emphasizing the importance of getting to know each of her patients individually.


"We are more than just physical beings. We each have a history of physical and emotional experiences which all contribute to our health."


That's why Evans' practice is designed to address all aspects of well-being.
After graduating from Trenton State College in 1987 with a bachelor's degree in biology, Evans earned her Doctorate from Life Chiropractic College in Atlanta, Georgia. She is a member of the NJ Chiropractic Society, International Chiropractic Association, and International Pediatric Association. She specializes in family chiropractic care for patients of all ages and for a variety of conditions, from young children, to pregnant women, to elderly patients.


Evans is also a personal trainer with a background in nutrition. In addition to her chiropractic services, which focus on ensuring optimal connection between brain and body, Evans works closely with massage therapists who offer such services as reflexology, prenatal massages, and Reiki in addition to therapeutic and hot stone massages.


Yoga classes are hosted in Evans' yoga studio—which is connected to her chiropractic office—uniting therapy, exercise and spirituality in the same location for patients seeking total wellness. Her clients are even able to take advantage of hypno-therapy, a service offered in the adjacent office, though not affiliated with her own practice. She hopes to bring a doctor of natural medicine into the picture soon.


"I think most people are realizing that our health doesn't rely on drugs," Evans said. "People are taking their health into their own hands and exploring more natural forms of medicine. When the nervous system is working properly, usually everything else will be in sync."
Hannah McIntyre, Evans' chiropractic assistant, first visited the doctor 19 years ago as a young patient when her parents brought her in for treatment. Since then, Evans has treated McIntyre's whole family and serves as a mentor for McIntyre, who aspires to follow in her footsteps.


In addition to sharing her experience with McIntyre, Evans is a member of the board of the League of Chiropractic Women, an international organization and the first of its kind to support women of the profession. The league's mission is to inspire and support women in chiropractic to thrive while advancing the principles and practices of chiropractic. It is committed to serving the vitalistic principles of chiropractic as a subluxation focused and drugless profession.


Female chiropractic students were a minority when Evans was in school, and because it was a male dominated discipline, female students were obliged to take male mentors.
"Men and women tend to approach things differently, and we thought there was a need for an organization to support women in this profession," Evans said. "The paradigm is shifting, and women are expected to outnumber men in healthcare by 2017."


Evans Family Chiropractors is located at 1 ½ Crosswicks Street in Bordentown. For more information, go online to 
drsevans.net
, or call (609) 298-4299 to schedule an appointment.
Business
,
Community
chiropractic
wellness
health
dr evans