NJ Renaissance Faire readies for pirates (VIDEO)

Feb 06, 2015 06:19AM ● Published by Community News Service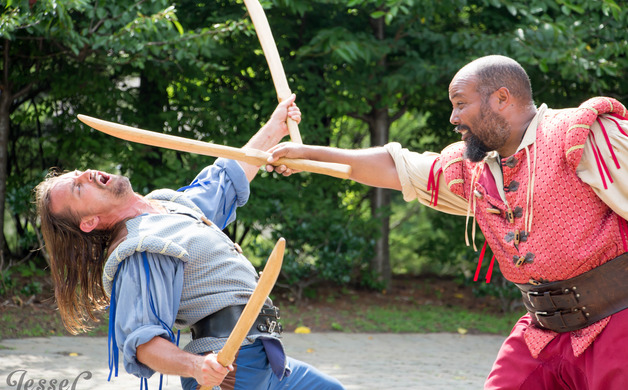 T.J. Miller of Florence and John Williams of Glassboro, the "Lords of Adventure," duel with wooden swords.
* Scroll down for the New Jersey Renaissance Faire's teaser trailer *

The New Jersey Renaissance Faire, held at Liberty Lake in Bordentown, has expanded to three weekends of period-esque entertainment for 2015. Set to be held the last two weekends of May and the first weekend of June, this year's Faire will add an additional weekend due to its past success.
The scenario of the 2015 Faire will again focus on a pivotal moment in the life of a historic figure. This year, young Francis Drake will journey through the frivolity and fun of a Liberty Lake pirate invasion. Will the young privateer be swayed by the likes of Blackbeard and other infamous buccaneers, or will he follow the way of righteousness to become England's hero? Either way, the Faire will be full of salty sea dogs and swashbuckling pirate captains.
The Faire has become a hot spot for local family entertainment. Starting the weekend of Memorial Day, a cast of talented performers will interact with patrons; performing swordfights, jousts, music, Shakespeare, aerial stunts and more. A merchant village of artisans and food vendors will also be available. Delectables include Dragon Legs (made of turkey) and Valenzano Winery's tasting booth.
Ready for its sixth year, the New Jersey Renaissance Faire entertained over 15,000 people in 2014 and continues to grow.
Auditions for the Renaissance Faire took place in mid-January. Seventy cast members were chosen to train and rehearse for the Faire, which is scheduled to take place on Liberty Lake's 60 acres of countryside.
Liberty Lake is located at 1195 Florence Columbus Road in Bordentown. Admission to the New Jersey Renaissance Faire is $20 per adult and $12 per child age 5-12. Discounts and more information is available at NJRenFaire.com or call (888) 864-8222.
News
Liberty lake
Valenzano Winery