Bordentown rallies at blood drive for resident fighting cancer (VIDEO)

Feb 13, 2015 07:34AM ● Published by Community News Service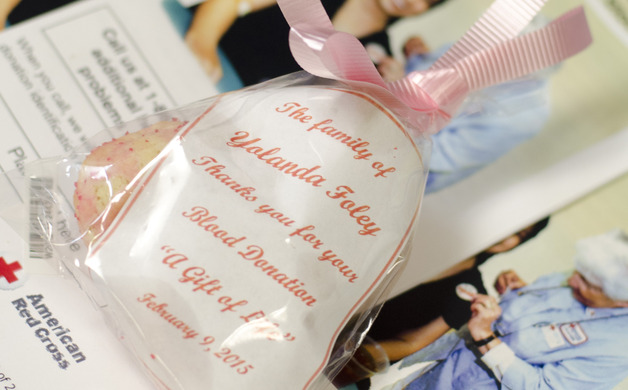 Donors at the blood drive honoring Yolanda Foley received a special-made treat bag from the Foley family.
Gallery: Bordentown gives blood to honor Yolanda Foley [2 Images] Click any image to expand.
*SCROLL DOWN FOR VIDEO*
By Tom Smith
Bordentown residents came together Monday, Feb. 9 at a community organized blood drive to support Yolanda Foley, who was recently diagnosed with cancer.
Donors gave blood to the American Red Cross at Hope Hose Humane Fire Co. No.1 to honor Foley, who was diagnosed with Acute Lymphoblastic Leukemia (ALL) in October. According to the National Cancer Institute, ALL is a type of cancer in which bone marrow makes too many lymphocytes, a kind of white blood cell.
"It was quite devastating to all of us," said Marie Houseworth, Foley's daughter. Houseworth organized the drive as a means to benefit hospitals and patients who are also fighting cancer like her mother.
"We wanted to give back to the hospital and to the people that helped Mom get through all this," Houseworth said. She called Hope Hose Humane to see if the firehouse would host the blood drive. Hope Hose agreed and also referred Houseworth to the Red Cross, which took care of all the medical essentials to host the event. The organization even has a department devoted to recruiting donors for events like the drive which honored of Foley. "The Red Cross did everything," Houseworth said.
The attendance at the blood drive was a community effort achieved through modern word-of-mouth. Texting, email and social media played a large role in assembling those who came out to donate. "We are asking for your support and your gift of life by donating a pint of blood so other patients can benefit as our Mom did - and still does," read a post on Facebook by a member of the Foley family.
The event was the first blood drive Hope Hose Humane has held. Brian Maugeri, Hope Hose Treasurer, said that the drive went well. "Every pint [of blood] saved a life; that's the way you got to look at it," Maugeri said.
Although Foley chose an unaggressive form of chemotherapy, she still had several blood and platelet transfusions. The blood collected at Hope Hose on Monday will benefit people all over the United States in need of similar treatment, said Mohammad Maqsood, the Red Cross team supervisor at the drive. Hospitals receive the donated blood to save the lives of cancer patients and accident victims.
Hosting the drive has helped Houseworth and the rest of her family through Foley's illness. While she fights against ALL, Foley wishes to spend her time with her family and cooking, which she has always enjoyed.
The American Red Cross is a humanitarian organization committed to emergency assistance, disaster relief and education in the United States. It was founded in 1881 by Bordentown resident Clara Barton.
For more information on the American Red Cross, or to donate blood, visit: redcross.org.
Community
,
News
Yolanda Foley
ALL
Acute Lymphoblastic Leukemia
Red Cross
Clara Barton
Marie Houseworth
Hope Hose Humane