Bordentown City Cats honors Randy Now

Feb 19, 2015 09:41AM ● Published by Community News Service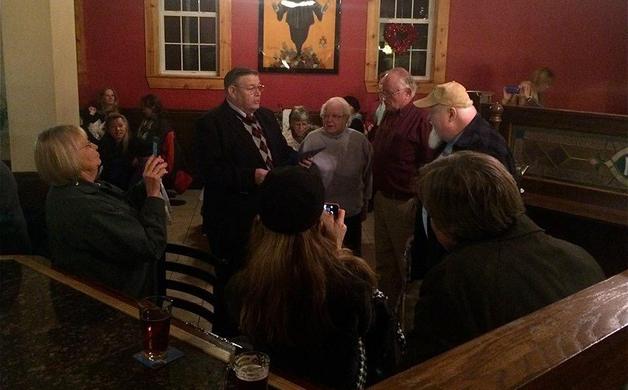 Bordentown City Cats honored "Randy Now" Ellis as its 2015 Humanitarian of the Year. Bordentown City Mayor Joe Malone presented the award to Ellis at Jesters' Cafe on Monday, Feb. 16.
Bordentown City Cats joined with local officials and supporters to honor legendary Trenton-area concert promoter "Randy Now" Ellis as the group's 2015 Humanitarian of the Year. Ellis went above and beyond the call last year to support the group's rescue efforts.
Ellis was honored at Bordentown City Cats' Second Annual Happy Hour Fundraiser at Jester's Café on Feb. 16.
Jester's Café donated a portion of the proceeds from all food and beverages bought by guests to benefit the group's continued rescue efforts, now in its 12th year.
"Randy has been a great supporter of our rescue efforts and a great addition to the Bordentown business community so we're thrilled to be honoring him," said Jennifer Sciortino, event organizer for BCC.
A long-time Bordentown fixture, Ellis parlayed the story of his Trenton-area concert-promoting days into a fundraiser last year that raised more than $600 for BCC's rescue efforts. He accomplished this by requesting donations for the screening of the feature-length documentary "Riot on the Dance Floor: The Story of Randy Now and City Gardens," which chronicled his 30-year history booking many seminal punk and rock acts at the Trenton club.
He followed up this effort by opening up his downtown store, The Man Cave, to BCC to host an adoption day event last fall.
BCC also plans to announce details of its Second Annual Cat Photo Contest after the success of last year's contest, which drew more than 100 entries, voted on by the public, with the top 12 featured in a 2015 calendar that the group had printed.
Founded in 2003, BCC has grown from a handful of concerned residents into an official registered 501c3 organization with several dozen volunteers and a growing online presence that has greatly enhanced its mission to rescue, foster, spay, neuter, find loving homes and care for the Bordentown City's stray and feral cat population. For more information, go to BordentownCityCats.blogspot.com.
Community
,
News
benefit
charity
man cave
Randy Ellis
Humanitarian