City says goodbye to Ellen Wehrman

Feb 24, 2015 11:21AM ● Published by Lexie Yearly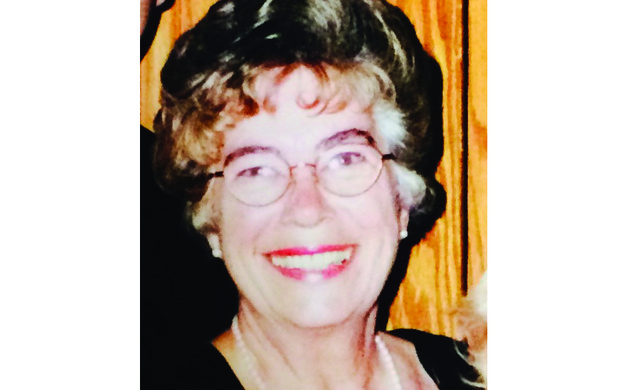 By Lexie Yearly

Selfless, thoughtful, upbeat and full of boundless energy were some of the ways friends and family members described Ellen Wehrman, a beloved member of the Bordentown community who passed away at age 80 on Jan. 20.


"She was just an extraordinary woman with boundless energy and such a zestful life," said Bonnie Goldman, a longtime friend of Wehrman's. "She always wanted to learn more about anything and about everything…and she touched the lives of so many people in so many different areas."

Wehrman had been an active and enthusiastic member of the community since she first moved to the city with her husband, John Wehrman, in 1957 after they were married. At the time, John had served with the U.S. Air Force and was based at McGuire Air Force Base.

Wehrman grew up in Scotland, where she graduated from Craiglockhart College in Edinburgh. Teaching was always what Wehrman had wanted to do, John said. She never wanted to get involved in the administrative side of education, preferring instead to work directly with the students.


One of Wehrman's most visible and remembered roles in town was her work as a history teacher, first at Peter Muschal Elementary School and later at MacFarland Intermediate School, adding up to a 44-year career in the Bordentown Regional School District. She enjoyed challenging her classes to learn and often had a strong bond with many of her students, staying in touch with some of them as they eventually went off to college and pursued careers.


Wehrman was also a Fulbright Scholar, and for years, spent a few weeks every summer traveling around the world to places including Japan, Russia, China, India, Turkey, Oxford, Princeton University, Yale University and the University of Virginia. She always brought that knowledge back to her classroom, John said, where she was eager to share a new culture with her students.


Wehrman even took students on field trips of her own. She took one class to see the New York Stock Exchange, and one evening, brought a student interested in becoming a lawyer to watch the court proceedings in Bordentown Township. Wehrman also took her students on walking tours through Bordentown City, often ending the walk with cookies and lemonade for her students on the porch of her own historic home.
 
Wehrman and John lived right in Bordentown City, in a historic house where Francis Hopkinson had once lived.
 
The charm and history of the nearly 300-year-old building was always something that fascinated Wehrman, John said. The Wehrmans purchased the house in 1973 when they attended the auction for the remaining Bordentown Military Institute properties.


Though it would take about eight years before the couple had remodeled the house to their liking—its most recent use had been as a dormitory for BMI students—John said Wehrman loved the house and the idea of the historical figures that may have walked through that same building, adding that the story of Joseph Bonaparte's role in Bordentown was also one Wehrman couldn't seem to get enough of.


Wehrman's fascination and passion for history led her to become involved with the Bordentown Historical Society, and from there she continued to participate in a number of organizations over the years: the Bordentown Shade Tree Commission, Stuart First Friday Gathering at the Stuart Country Day School, Present Day Club of Princeton, the St. Mary's Board of Education, the Bordentown Library Board of Directors and more.


Wehrman also remained a member of the Sarah Seidel Sisterhood of Temple B'nai Abraham. Though Wehrman was raised Catholic and felt strongly about her faith, her father was Jewish, and when her parents moved to Bordentown from Scotland, Wehrman's father joined Temple B'nai Abraham.

"Ellen always felt they gave her father such a great sense of joy, that she always had to give back," John said. "So she always stayed involved with the sisterhood."


Most recently, Wehrman served on the Bordentown Regional School District Board of Education; she had one year left in her second term as a board member. Board president Mark Drew said Wehrman was not only committed to the board, but encouraged everyone around her to find ways to give back to the community. Drew also noted that her concern as a board member was always to see the best improvements being made for students to thrive in their education.


"She was always supporting the community, always going to meetings, not just school board meetings, but community meetings and volunteering," Drew said. "She questioned a lot of things that the administration would do, and was always supporting to get better technology and better education for the kids."


But in addition to her constant involvement and contributions to local organizations, she also encouraged others to join in the activity.


"If you were a newcomer to town and she found out you weren't doing anything, she'd find something for you to do," John said, noting that she could find a task for anyone, even if it was something as simple as serving pie and ice cream at the Historical Society's annual peach social.


It wasn't just that she wanted others to get involved, said Suzanne Wheelock, another longtime friend of Wehrman's. Wehrman made every person feel as though their role was the most important one of all.


"She never let anyone feel that they weren't important, or that they weren't necessary," Wheelock said. "Everybody had a job and had something to do."


John said there was an overwhelming amount of support from the community at Wehrman's funeral service, adding that it gave him the opportunity to hear stories about his wife from her former students, and about how she was stern, but fair, in the classroom.


"Evidently if you came to class chewing gum, she'd say breakfast was over, get rid of the chewing gum," John said. "If you forgot your homework in your wall locker, your wall locker got an A and you got an F."


The Wehrmans' sons, John and Paul, also were touched by the stories, memories and support from the community.


Most of all, many individuals echoed the idea that Wehrman had left a lasting impact on the Bordentown community she loved so much.


"She was…so positive, so excited to tell you about what she had just seen or read or done, with such enthusiasm it was just intoxicating," Goldman said. "She's a very special person. I consider her to have been an institution in Bordentown."
Today
,
Community
,
News
scotland