Remembering Dick Pinter (VIDEO)

Feb 24, 2015 12:55PM ● Published by Community News Service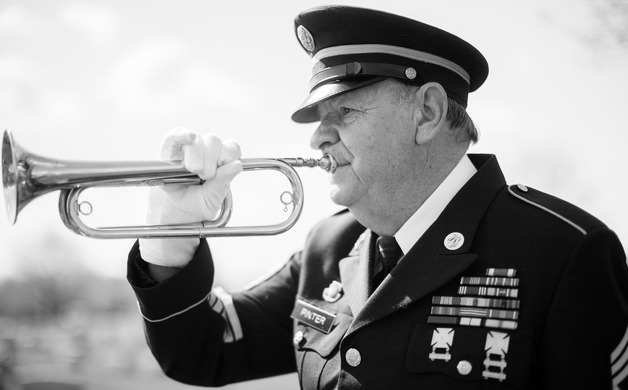 Gallery: Snow falls on The Lone Bugler [4 Images] Click any image to expand.
*SCROLL DOWN FOR VIDEO*
By Tom Smith
Heavy snowfall and freezing temperatures did not stop family, friends and colleagues from honoring Richard J. Pinter on Saturday – likely nothing could.
Those waiting to pay their last respects crowded the aisles of The First Baptist Church of Bordentown Saturday Feb. 21. A line to the door was filled for five hours for retired 1st Sgt. Dick Pinter, an honored veteran and a true community hero. Perhaps best known as The Lone Bugler, Pinter's community service was unrivaled. He sounded the iconic "Taps" melody in honor of hundreds of fallen veterans in the region and set new standards for patriotism in the community.
Pinter, 74, ended his final battle with leukemia at Thomas Jefferson University Hospital in Philadelphia Feb. 6. His death is one of three loses that recently rocked the Bordentown community including Ellen Wehrman on Jan. 20 and Daryll C. Williams on Feb. 9.

Pinter lived in the Trenton area almost all his life and was recognized by organizations including Mercer County Veterans, The American Legion, Bordentown City and Township and the Association of the National Guard.
Music was a significant part of Pinter's life. For 38 years he served the United States playing in an Army band and was the First Sergeant and Bandmaster of the Adjutant General's Own 276th Army Band of PA. He also founded AZ Music Center in Morrisville, Pa., a store offering music lessons and instruments for sale.
Among other achievements, Pinter once traveled to Washington, D.C. to lobby the United States Congress for the live sounding of "Taps" at the ceremonies of fallen veterans. To him the distinction between a live bugler and a recording was of the utmost importance.
"Dick was all business when it came to military discipline," said Jerry Skorch, Chaplain of Bordentown's Vietnam Veterans of America Chapter 899. "…but Dick was a barrel of fun when it was all over."
Pinter's character and charisma were inseparable parts of his personality. The many awards he received attest to his commitment; the Meritorious Service Medal, Army Commendation Medal, Army Reserve Components Achievement Medal and the National Defense Medal.
Pinter was finally interred at Brig. Gen. William C. Doyle Veterans Memorial Cemetery in Wrightstown, Monday, Feb. 23. But after Saturday's tearful, though joyous ceremony, a horse-drawn caisson bore Pinter through a downpour of snow to Veterans of Bordentown Cemetery to pay tribute to Bordentown's fallen soldiers. There a snow-covered bugler sounded for Richard Pinter the immortal "Taps" melody that will be forever associated with his legacy.
Community
,
News
Dick Pinter
Richard Pinter
Richard J. Pinter
Army Band
Veteran
Mission of Honor
Vietnam Veterans of America
First Baptist Church of Bordentown
AZ Music
Taps
Veterans of Bordentown Cemetery
Bugler
Lone Bugler