Roses are red, vows were said (PHOTOS)

Feb 25, 2015 10:02AM ● Published by Community News Service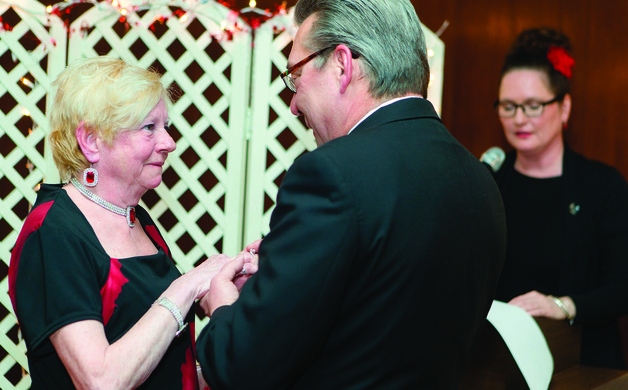 Gallery: Elks weddings and vows [94 Images] Click any image to expand.
Red and white decorations set the scene at the 
Bordentown Elks
 lodge on Feb. 14, when the Elks held its first-ever Valentine's Day wedding and vow renewal fundraiser.
A total of 11 couples participated in the event, which began at noon and ended with the last ceremony at 6 p.m.
 
The Elks offered couples the chance to wed or renew their vows in 15-minute ceremonies officiated by Elks member Heather Cheesman, who was ordained in July 2013 through the Universal Life Church.
 
Of the 11 total couples, six renewed their vows and five celebrated their wedding ceremonies.
The event was the first of its kind for the Elks. With a suggested donation of $50 per couple, the event raised $550 for the Elks National Foundation, which supports veterans, schools and youth programs. 


Turn to Page 10 to learn more about the event and read the stories of some of the participating couples.
For some couples, the Bordentown Elks' Valentine's Day fundraiser was a chance to renew the vows they said years ago. For others, it was an opportunity to say "I do" during a small, intimate ceremony.


The Feb. 14 event, held upstairs in the Elks lodge, was quite a success according to Heather Cheesman, an Elks member and the officiant at the 11 ceremonies that day.
"We all had a really good time," she said. "There were 11 couples total, and it was just marvelous. Everybody was so unique in their own ways."


Most of the vow renewals, Cheesman said, were for couples who had been together an average of 25 years, and said their renewals were touching moments to witness.
Many of the couples getting married chose to participate in the Elks event because it provided a smaller, more intimate setting. 


And the Elks made sure that the event was a special day for all the couples. Members decked out the ceremony space with red and white decor, and each couple received a special parting gift and a decorative marriage or renewal certificate as a keepsake.


The event raised $550 for the Elks National Foundation, and Cheesman said it was so successful that the Elks are now planning to hold a similar event in spring or early summer.
John and Donna Poinsett
Hometowns: Donna is from Bordentown. John is from Mercerville. We lived in Bordentown until 2001 and moved to Deptford.
Ages: Donna, 57 and John, 54
Careers: John is a retired Captain from NJ State Department of Correction. Donna retired from the NJ and PA Title Insurance Industry.
Wedding date: June 25, 1988 at the Bordentown First Baptist Church
How they met: In a bar in the Burg called Millie Place. We were both there to see one of our favorite bands "Joe Zook and the Blues Deluxe." A mutual friend introduced us and we have been together ever since.
Why they renewed their vows through the Bordentown Elks: We had been talking about renewing our vows for a few years. This gave us the opportunity to do it in our beloved town where we were originally married in and to give something to the Elks. It also gave us a way to honor our dear friends Maggie and Edwin by asking them to be our witnesses.
Russell and JoAnn Shoesmith
Hometowns: Russell is from Allentown, NJ. JoAnn is from Yardville.
Ages: Russell, 55 and JoAnn, 56
Careers: Warehouse manager Modern Store equipment; bartender/manager 31 years at HOB Tavern
Years married: 18, but together 31
Wedding date: Sept. 13, 1997
How they met: 1984 at Russell's brother's biker birthday party.
Why they renewed their vows through the Bordentown Elks: My husband is a member, and we LOVE the people who organized this, shout out to Heather Cheesman and Patti Dixon.


Kelly Monroe and Adam Haviland
Hometowns: Kelly is from Trevose, Pa. and Adam is from Jacobstown
Careers: Adam is a carpenter for South Jersey Property Damage Specialists. Kelly is a closing representative for RCP Management Company.
How they met: We met through family members on Easter 2013.
Engaged since: Mothers Day 2014
Why they married through the Bordentown Elks: We chose the Elks because it was on Valentine's Day and we wanted just our family present at the ceremony. Wanted to keep it small and special.
Future plans: Our future plans are to honeymoon in the spring and to start our future together as a family.
Pete and Linda Delucia
Hometowns: Hamilton Township
Ages: Pete, 62 and Linda, 60
Careers: Pete retired from State of New Jersey Department of Human Services
Years married: 41
Wedding date: Sept. 8, 1973
How they met: Met in 1969 through Pete's mom and Linda's grandmother
Why they renewed their vows through the Bordentown Elks: To help raise money for the Elks National Foundation.
Mickey and Patti DeSantis
Hometowns: Bordentown City
Careers: Patti is retired from Ocean Spray in Bordentown. Mickey currently works for AT&T in Middletown.
Years married: 35 years in March
Wedding date: March 21, 1980
How they met: We met at the Silver Fox Bar in Bordentown City, April 1979, which is now Toscano's.
Why they renewed their vows through the Bordentown Elks: It was a great fundraiser for a great cause, ENF (Elks National Foundation). Our daughter Heather was officiating with the ceremony, which we thought would make a nice memory. It's all about memories. Plus Patti got a new ring out of the deal.
Miguel and Barbara Lizardi
Hometown: Burlington
Ages: Barbara 39, Miguel 35
Careers: Dog groomer, welder
How they met: We met at Kat Man Du nightclub.
Future plans: Our future plans are to enjoy the rest of our lives together.


Today
,
News