Test anxiety

Feb 25, 2015 09:34AM ● Published by Community News Service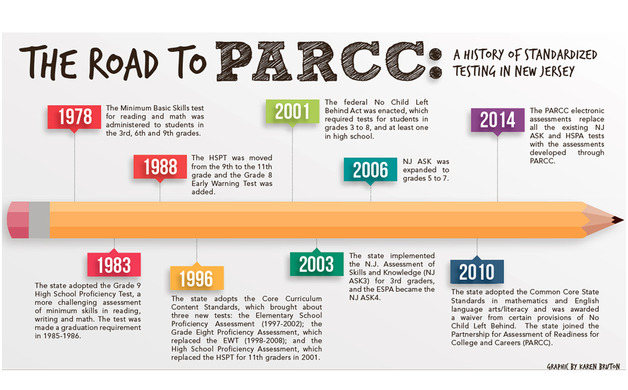 By Michele Alperin

PARCC — the name alone raises angst among residents in New Jersey.
Short for Partnership for Assessment of Readiness for College and Careers, the PARCC assessments will be administered this month to all New Jersey public school students in grades 3 to 8, and students taking algebra 1, geometry, algebra 2, and English courses in grades 9, 10, and 11. The test will replace the NJASK in elementary grades and HSPA in high school (See graphic on page 6 on the history of standardized testing in New Jersey).


"PARCC is a group of states that worked together to develop a set of assessments with the shared goal of finding a more effective approach to measure student achievement under the new academic standards in mathematics and English language arts," says a PARCC FAQ on the N.J. State Department of Education website.

"These new standards, known as the Common Core State Standards, were adopted in 2010 by the N.J. State Board of Education after a thorough process that involved public participation, as well as advice and input from all sectors of New Jersey's education and business communities."


As the implementation of PARCC draws near, parents and critics are increasingly expressing concerns over student anxiety, overtesting, question difficulty and computer navigation problems to the point where some parents are refusing to let their kids take the test.

School officials, on the other hand, point to the positives they feel the test will bring. Robbinsville School District Superintendent Steve Mayer said his hope for the test is that it "gives us good data about us: about how we are doing as a school district helping our kids to think critically, analyze information and make judgments from reading sources. The tests are supposed to measure progress against the Common Core standards. If it gives us good feedback, it will help us as a school district."


Danita Ishibashi, assistant superintendent in the Ewing School District, compared the practice test questions, which mirror the expectations of the Common Core State Standards, to questions on previous state assessments.


"The PARCC test focuses more on the application of Language Arts and Math knowledge and skills instead of just identifying facts, providing a definition or providing a single answer to a problem," she said.


Literacy questions, Ishibashi said, will require students to cite textual evidence to support their responses, and in math they will have to select all options that answer questions or may be asked to choose the equation necessary to solve a problem rather than to provide a solution.


Emina Vukovic, owner of JEI Learning Center in Hamilton and parent of a 6th grader at Grover Middle School in the West Windsor-Plainsboro District, said that the test was developed "to gauge children at different levels [with the idea that]… if a third grader is not on target with skills based on the third-grade curriculum, when they are in 4th, 5th, 6th, up to college, there will be a domino effect."

To make sure students are prepared for college and/or a career when graduating high school, schools have to raise the bar, Mayer said. "We are finding even at community colleges, a lot of kids are not prepared. It has to map back to kindergarten."


Robbinsville resident Debbie Baer said she is worried about the elementary-level tests because they were developed from the top down. In addition to being the parent of a Robbinsville student, she also sees it from the perspective of an educator and a former teachers union leader. Baer currently works as a K-3 reading teacher in the West Windsor-Plainsboro Schools and for eight years was the president of the West Windsor-Plainsboro Education Association.


"When they designed the Core Content standards, they started with the inaccurate notion that kids are not ready for college," Baer said. "Starting with this assumption, they go back yearly, making sure the child can make the leap from one year's expectation to the next."
This translates back to expectations that are too high for third graders, she said, noting that no preschool or elementary educators were involved in the first round of creating the Common Core standards.


Laura Waters, a member of the Lawrence School Board, said democratically high expectations are what PARCC and the Common Core are all about. Waters wanted to make it clear that she was expressing her personal opinion and not one on behalf of the school district.


"What the Common Core is really saying is that kids who live in the most backward town in Mississippi should have access to the same core standards as kids who live in Bergen County," she said. "What we teach in school shouldn't be determined by how sophisticated or how privileged the state or the individual town is."


Although there have been some fears that teachers in schools where the students come in with tremendous needs will be unfairly affected by test results, Waters said that the tests are weighted for socioeconomics, disabilities, and non-native English speakers who are still learning the language.


Waters said that the annual assessments mandated under the No Child Left Behind legislation have been critical for these vulnerable groups.


"The one really important benefit of that law is that for the first time schools weren't able to hide the achievement of students who are minority, poor, have disabilities or are new to the English language." Instead of remaining hidden in school averages, their achievements or lack thereof remain visible. "If we get rid of annual standardized testing, those kids become invisible again," Waters said.


In the run up to the test, a number of problems have been voiced, but Mayer suggests that many of the concerns are not reality based until the test has been given.


"Our curriculum is already aligned with the Common Core," he said, noting that the kids are already being asked to do the types of things that appear in the PARCC assessments in class.


Waters also emphasizes that most problems can be adapted after the test has been given the first time.


"The test may be too sophisticated, too hard, too stressful, but we haven't tried it yet," she said. "It may need to be adapted. That is just par for the course — people change tests. It doesn't mean we're married to the exact questions, the exact level of assessment. It is a process."


That said, educators and parents have raised a number of concerns with the tests.
The difficulty of the computer manipulations is one concern, said Baer, who is opting her son out of the testing. She describes an item in the language arts practice test involving two short stories, followed by several questions and a request for a comparison. The story is on one side of the screen and the questions on the other, and to see the entirety of the story requires scrolling up and down.


Because of the complexities of testing on the computer, "there is a lot of teaching about how to do the test; you have to teach kids how to maneuver because no help can be provided during the test," Baer said.


Regarding questions that require writing, she said, "even if I have a lot of ideas about the comparison of the stories, I won't be able to do it if I'm not a fast typer." This is similarly true of math questions where students have to explain in writing the mathematical concept they are using.


Some feel teacher-student time is also reduced by the testing and by preparation for the testing. "I want the most teacher-pupil time, not the most testing," said Baer, who was happier with testing in 3rd, 8th, and 11th grade as opposed to the yearly testing required with PARCC.


"In third, everybody knows how to read, and if you have one who isn't, it is a big indicator; by eighth, you have independent learners, who should be able to handle quite bit," Baer said.


Mayer acknowledges the anxiety behind testing and is trying to minimize it. "We are trying hard to make sure our teachers understand that if they are implementing our curriculum and program, they should be in good shape."


Waters said the biggest concern she hears is that the test is too stressful, the prep for it cuts into instructional time and it creates an atmosphere in the classroom that values testing over teaching. But in Waters' view, "these aren't high stakes tests for children — it is not going to have an impact on their future academic career."


Teachers, however, will be affected by the test. For one thing, suggests Baer, it puts them in a quandary in the classroom. They want to prepare the kids for PARCC, but they don't want to teach to a test and potentially have to eliminate something significant, say, a poetry unit.


Additionally, 10 percent of their evaluations will be based on test scores. This is a problem for Baer, on several fronts. One is that scores for younger children will be compared to NJ ASK scores from last year, comparing apples and oranges. The state will then compare how much an individual student improves with the average improvement of all students in New Jersey who had the same NJ ASK score last year. "It is very complicated comparing a teacher's work to students she had no impact on," Baer said.


Also, an individual student's score can be affected by issues not content related, for example, the recent death of a grandmother, divorce of parents or just skill in test taking. And, Baer adds, "Once we get results, those students are not in my class and have been reshuffled into a fourth-grade class."


Given that open-ended math and essay-style questions on the PARCC must be scored by humans, Vukovic expresses concerns about both the time the grading will take and whether the graders will be able to evaluate certain issues that might affect a particular child's answers. "Did the child get the answer wrong because he didn't scroll down to read the rest of the passage. Did the technology hiccup?"


For Waters, PARCC tests are only a fraction of testing in schools, which she thinks there is too much of. She suggests that we may want to reevaluate the level of internal assessments that kids must do: midterms, finals, AP exams and weekly quizzes.
Many schools have had to upgrade technologically to prepare for the testing.

Mayer notes that his schools are in the middle of a pilot for using Chromebooks and some additional ones have been purchased to have enough coverage for the PARCC assessment. "We spent money on technology but it is money we would have eventually spent anyway."
Kevin Bobetich, testing evaluation specialist and data systems for the Hamilton School District, speaks to the technical challenges he encountered. His district purchased several thousand Ultrabooks.

"For the PARCC assessment you want to have the most up-to-date technology possible; if you have a 4-year-old computer, there are certain system requirements, and older technology may not work," he said, noting they also had to order mice and headsets for the students.

Schools have also been getting teachers and students ready for the PARCC testing.
In Bordentown, for example, the school district was chosen to participate in a PARCC field test last spring. The field test included select classes at Bordentown Regional Middle School, Clara Barton Elementary and MacFarland Intermediate. The testing will be limited to the participation of two classes per subject area.

Despite the efforts of school officials to alleviate parents' concerns, there are a growing number of students who will be opting out of the test. Most school districts are requiring that parents inform the them in writing that their children are refusing to take the test and are making arrangements for students to do alternate work while their classmates are testing.

There is also a move afoot at the statewide level, where several members of the legislature, including District 15 Senator Shirley Turner, have introduced bills requiring school districts to allow children to opt out of the test without any repercussions. Currently, in some school districts, students opting out of the test and not attending school those days are marked absent.

Noting that the Ewing School District respects the variety of opinions of parents regarding PARCC, Ishibashi said that "all students are expected to participate in the assessment as a component of the instructional program" but that "we will handle all requests to opt out professionally and appropriately."

Regarding the opting out of her son, Baer said, "What I am opposed to is my child being put through this meat grinder for no reason I can see." In Robbinsville, she adds, kids who refuse will be in a separate room, with a teacher or sub supervising, and they can bring a book or other work.

Regarding opt-outs, Mayer said students would be put in a quiet place where they can read for the duration of the test, but adds that he would like to see everyone take the test and is not sure why someone would opt out.

"If I was a parent, I would want to know the feedback—here's how your child stands up against the standardized state measure," he said. "We're not using scores for class placement; it is feedback for individuals and for us as a district."

Regarding anxiety on the part of students, he notes that many parents don't share scores with their children anyway and recommends that parents tell their kids, "Go do your best. It doesn't define you as a student; it is feedback for the school district."

Waters attributes much of the anti-PARCC activity to teachers unions and Save Our Schools NJ, an organization that advocates for excellent public schools. Furthermore, she suggests that the loudest complaints are coming from higher income school districts.
Waters draws an analogy to the issues around measles vaccinations, which similarly are connected to wealthy communities.

"It becomes an issue about what's good for the larger community and what's good for my individual kid," she said.

As with measles, where the most vulnerable kids — the youngest and those with compromised immune systems — are at greatest risk, any retreat from standardized testing victimizes our most vulnerable kids, said Waters, who asks, "Do you make choices for your own individual kid or because as a community you want to protect those who are neediest?"



Today
,
News
,
Schools
test