Runners to go for the green in annual St. Paddy's Day 5k

Feb 25, 2015 09:51AM ● Published by Community News Service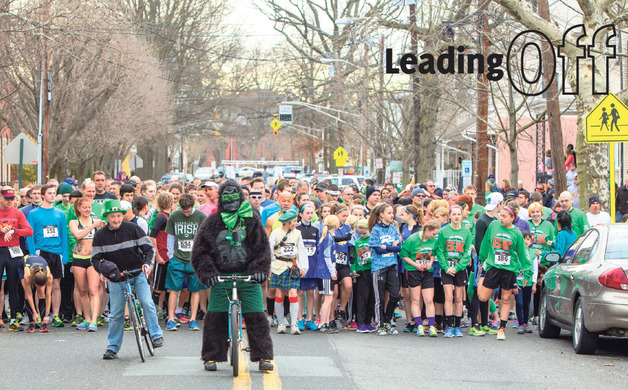 Runners gather at the starting line at the St. Paddy's Day 5k in March 2014. (Photo by Albert Rende.)
Do not be surprised if on March 21, you see someone in a gorilla suit riding a bike through Bordentown City while being chased through the streets by a horde of runners. That just means the 13th annual St. Paddy's Day 5k is well underway.


The race, which takes runners through the streets of Bordentown City, is an annual event hosted by the Bordentown Education Foundation. The proceeds of the race will go to helping teachers buy learning equipment as well as funding scholarships for students.
In addition to the 5k run, the event also features a Family Fun Walk for those who enjoy a more leisurely pace.


Race Director Joann Dansbury is hoping to draw on the successes of past races to make this year's event one to remember. Last year's race attracted nearly 600 members.
The success of the race, Dansbury said, is highly dependent on the forecast.
"The weather is the big factor for turnout," she said. "Many runners wait until the day of the race to see what the weather will be."


Dansbury noted that the event's greatest success came three years ago when it netted $15,000. That day also happened to have the best weather in the last three years.
The event has inspired some runners to show off their St. Patrick's Day spirit by dressing up as leprechauns or sporting other green gear. During this year's race, a cyclist in a gorilla costume will lead runners around the designated race area. Race organizers encourage those running to get creative as long as it doesn't interfere with other runners.


Runners in the 5k will be fitted with a radio-frequency identification chip that will acutely calculate when the runner begins and when he crosses the finish line.
The top three male and female runners in their age group will be given prizes. First place winners will be awarded a $100 gift card; second place winners will receive a $75 gift card, and third place winners will get a $50 gift card. Medals will also be awarded to the top three finishers.


Interested racers may register online or in person the day of the race. In person signups are set to begin at 7 a.m. March 21, the day of the race, at Clara Barton Elementary School. The 5k race is set to begin at 9 a.m., with the Family Fun Walk starting at 10. Registration for the 5k cost $25; for the walk, the cost is $20 for adults and $10 for children.
Water will be available on the course, and after the race, fresh fruit and bagels will be available to all participants for free. Dogs and other pets are not allowed to take part in the race, and those who bring baby carriages are asked to stay behind the runners.
On the Web: raceroster.com. 


–Michael Nunes
Community
5k
St. Pat's
Saint Patrick's Day