Johnson leads Lions to finish line

Feb 25, 2015 10:50AM ● Published by Community News Service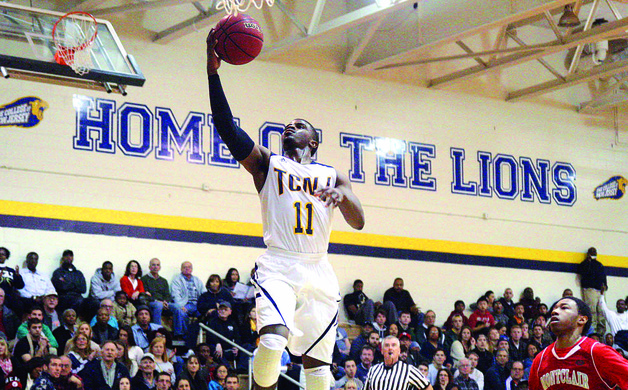 When Jayson Johnson decided to move closer to home after one year at Kutztown University, he knew exactly where to turn.


The six-foot-one Bordentown native and 2011 Life Center Academy graduate transferred to 
The College of New Jersey 
before his sophomore year in 2012, and he went there with a purpose. Before he came to TCNJ, head coach Kelly Williams was at the helm at Mercer County Community College, where he coached Johnson's brother. He knew the family, and he knew that basketball was a major part of the Johnsons' lives, starting with Johnson's father Herman, who had coached the sport at the high school level around the state.
So it's not really surprising that Johnson was always a presence at Mercer practices as an eight-year-old.


"They reached out to me, and I already knew the type of young man he was and the type of family he had," Williams said. "They have an unbelievable family. I knew that he would be a good fit here."


He fit in right away. Johnson quickly became the team's top scorer, and he was also a consistent leader in assists. Now a senior, as of Feb. 12, Johnson had a career-high 369 points, the best on the 13-10 team this season. He also shared the lead in assists (49) with teammate Eric Murdock, Jr.


Johnson also had 939 career points, just 61 shy of the 1,000-point milestone with two games to go.


Not bad for someone who only has three seasons with the Lions under his belt. Williams attributes Johnson's success to his strength and work in the weight room.


"With his body and his style of play, he is unbelievable in the open court," he said. "He's the type of player that once he gets the ball in the court, you can kind of stand up because he's just that special. He has the ability to take a bump and still score. His commitment in the weight room, his commitment to just working on his game year in and year out has really, really played a major role in our success this year."


With 1,000 points looming, Johnson said the mark is in the back of his mind, but it's team first for him.


"I wouldn't say it's the main thing on my mind," he said. "My parents are like, 'Wow, this would be a big accomplishment,' but I'm more focused on winning and doing what I've got to do to get our team to the playoffs."


Williams agreed.


"From a personal point of view, I would like for him to reach that 1,000-point milestone," he said. "That's something he can always remember and take with him personally. But, I know that he's a team-oriented guy. I know that he'd also like for his team to experience the playoffs, especially in this conference."


And a postseason berth is a definite possibility for the Lions, he added. When fellow transfer Bobby Brackett joined the team last year, the lineup shifted and players and formations moved around. It took some time for the players to adapt, including Johnson, and the Lions finished 8-17.


This year has been different. At press time, the team was 9-7 in New Jersey Athletic Conference contests. The top six conference teams earn playoff spots, and TCNJ's record had them at fifth.


"We've been playing our best basketball [this season] since I've been here," Johnson said. "The past two years, we've been struggling. We have a lot of momentum right now. I feel like we're the type of team that can go all the way."


Besides adjusting to lineup changes, though, Johnson's own development has a lot to do with the team's improvement.


"Jayson's a pretty quiet person, but over the last two years, his leadership has started to come out," Williams said. "He's talking a little more. He's encouraging the guys. He's getting after it. I'm proud to see that happen."


That improvement has been all about comfort and confidence for Johnson.


"Last year was a little bit of a struggle to adjust to," he said. "I was trying to figure my way around. This year, I really worked hard this summer. I tried to put the team first and find ways that I know could help us benefit. I just feel a lot more comfortable in that role."
Ideally, Johnson, a marketing major, hopes to continue playing basketball after graduation. His fallback plan is to pursue a career in sports marketing, hopefully with an NBA team, so he can stay close to the game. Coaching isn't out of the question either, he said.
Williams knows whichever path Johnson chooses will be the right one.


"He's just a special young man," he said. "He's easy to get along with. He's easy to coach. At the end of the day, he's a great person. I'm going to be sad to see him go. He's been a part of my family since he was eight years old. We've been in this situation together for a long time, even though I've only have the pleasure of coaching him for the last three years. He'll always be a part of my family, even after he graduates."


Sports
jayson johnson
TCNJ
Kutztown University