Wrestlers ready for regions

Feb 25, 2015 11:10AM ● Published by Community News Service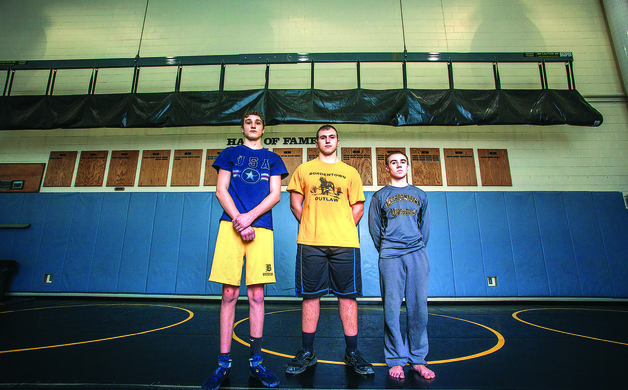 Tyler Kerr, Michael Miller and Darren Baker helped lead the Bordentown Regional wrestling to the Central Jersey Group I semifinals. (Photo by Albert Rende.)
Things were looking a little dire for the Bordentown Regional High School wrestling team at the beginning of February. The Scotties were 6-14 and seeded fifth in the Central Jersey Group I tournament, preparing to wrestle the fourth seed, Shore Regional.


But a win over Burlington County Institute of Technology on Feb. 5 changed the team's fortunes. They were elevated to a three seed, meaning they'd have to wrestle against sixth-seeded Maple Shade in the first round of the sectional tournament, a much more positive scenario for the Scotties.


"It's a big difference going from the fifth seed wrestling the fourth seed, to the third seed wrestling the sixth," senior captain Michael Miller said. "We feel with how intense our practices are now, we're in the position that we should be ready to have a good match."
And they did. The squad handily defeated Maple Shade, 56-21, on Feb. 9. Two days later, Bordentown wrestled in the semifinals against Point Pleasant Beach but lost, 45-22.


Despite the early exit, it was a far cry from the team's 0-4 start to the season. Now 11-18 and headed into the Region 7 tournament, junior captain Tyler Kerr attributes the upswing to more intense practices that feature stretching, jogging, warmup drills, sprints and live wrestling. Miller added that more conditioning at the end of practices, bodyweight workouts and partner exercises have helped, too.


"They have worked really hard," head coach Joe Sprague said. "They never quit and constantly keep on pushing. We put them through a lot at practice and are very demanding on them, and they have never shied away from that."


But Sprague said his captains—juniors Darren Baker and Mike Martinez, in addition to Kerr and Miller—have a lot to do with the turnaround. The younger wrestlers on the team look up to them, he said, which is important because some of the underclassmen are brand new to the sport.


Captains often get the credit when a team goes undefeated or wins a title, but the ones who lead through adversity or a subpar season sometimes fly under the radar. Kerr said he and the other three felt the pressure at times during the year.


"When the team is not doing well, it's tough for you to get that motivation to do well, also," he said. "During our matches, you've got to pump them up and get them motivated to want to be there."


Martinez stressed the importance of being friends with his teammates while still making sure he helps push them during practices and matches.


Miller said helping the underclassmen was difficult at first.


"We have such a young, inexperienced team," he said. "To have so many people not know what to do all the time and figuring out how to help teach, it is a challenge. We have to do our own thing during practice, but we also keep our eyes out if we see them doing something wrong. You always try to help out and give advice to them."


Miller himself was in the same position last year as a first-time wrestler in his junior year. The team had a handful of openings in the heavyweight class, and Sprague knew that Miller, who now wrestles in the 285-pound class, was left tackle on the Scotties' football team.


It was hard to adjust to the new sport, he said, especially as an older student. And at 240 pounds, Miller was going up against boys who were 30 or 40 pounds heavier than him. He stuck with it, and in this most recent offseason, he trained harder and wrestled constantly, leading to his co-captaincy.


"I think it's very hard to be a junior in high school your first year wrestling such experienced and heavier kids," he said. "I don't like to give up on things. I don't want to give up on a team that would still need a heavyweight. I didn't want to abandon them."


With Regions looming, Sprague has a clear idea of what he wants his team to improve on.
"The biggest thing is that we need to do a better job of listening and using what we learn in practice on the mat," he said. "Sometimes after we teach and drill something that we want them to fix in a match, they will still go back to bad habits. They are a young team and that is going to happen, but we want to eliminate that going forward."


He said his goal is to send five wrestlers to the tournament, but continuing to improve is also a high priority.


"Our main goal was to get better every day," he said. "It is hard to measure that in wins and losses, but I think that it's happening. In only losing two seniors to graduation, my ideal end to the season is that each individual on the team realizes how good we can be next year, and everyone buying into working hard in the offseason."


Miller said the squad is following that creed into the postseason.


"It's just about wanting to be there," he said. "It's the end of the season. A lot of people tend to check out. If you're still here, you might as well make the most out of it, make something out of yourself. We want to keep the season going as long as we can."


Sports
,
Today
wrestling
Michael Miller
Tyler Kerr
Joe Sprague