Township resident named Eagle Scout

Mar 03, 2015 06:09AM ● Published by Community News Service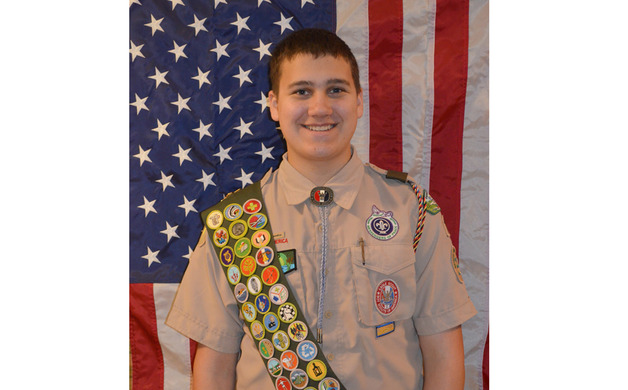 Daniel Comeau was honored with the rank of Eagle Scout at the Bordentown Senior Center Feb. 15.
Bordentown Township resident Daniel J. Comeau was promoted to Eagle Scout at a ceremonial dinner Feb. 15.
To attain Boy Scouts of America's highest rank, Comeau earned at least 21 merit badges and completed his Eagle Scout project. He built a patio and two benches at Peter Muschal Elementary School.
The project took more than 200 hours of work and $1,300 for materials to complete under his leadership.
Comeau was honored at a Court of Honor ceremony and dinner at the Bordentown Senior Center. He was presented with a proclamation from Bordentown Township Mayor James Cann. He received awards of recognition from the Marine Corps League, The Free Masons, U.S. Submarine Veterans, The American Legion, Sons of Union Veterans of the Civil War and Bordentown Knights of Columbus.
Comeau recognized Scoutmaster John LoBianco Jr. and his grandfather, Richard DiMattia, as his mentors during the Eagle Scout Ceremony.
The following organizations helped make Comeau's project possible with their donations: Home Depot of Hamilton, Abby Rose, Inc., Peter Muschal School PTA, Knights of Columbus, Bordentown Elks, Yardville Supply, Rita's of Bordentown and Villa Mannino. The scouts and leaders of Troop 13 also helped and supported the project.
Comeau is a freshman at Bordentown Regional High School. He joined Bordentown Cub Scout Pack 65 in 2006 and crossed over to Bordentown Troop 13 in 2011. He is a member of the Order of the Arrow, scouting's national honor society, and earned his Brotherhood in 2014. He attended the inaugural National Scout Jamboree at The Summit Bechtel Reserve in West Virginia in 2013 and will be attending the 23rd World Jamboree in Yamaguchi, Japan in July of 2015.
Do you like this story? Like it on Facebook to show us you do!
News
Daniel Comeau