Rotary gearing up for biggest month of events

Mar 30, 2015 07:18AM ● Published by Community News Service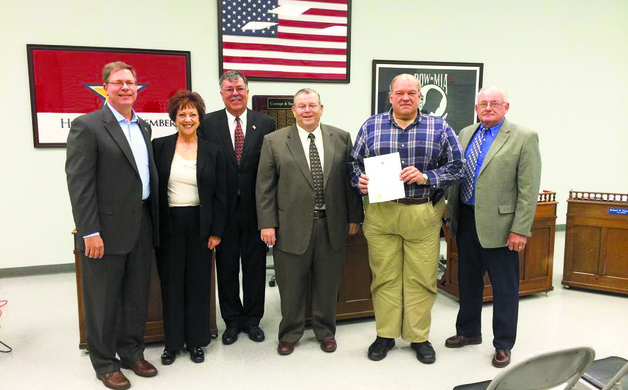 By Jessica Oates
While many have likely heard of Rotary, few may actually realize the impact the organization has on their immediate community and on the world.


Bordentown Rotary provides service to others and promotes integrity, goodwill and peace through fellowship of local business and community leaders. But what does this really mean? Guided by the motto "service before self," the Bordentown chapter of the world's largest service organization raises funds through whatever means possible to serve those in need.
April is one of Bordentown Rotary's biggest fundraising months. On Thursday, April 23, people will gather for a fun and philanthropic evening at Rotary's second annual wine and beer tasting fundraiser at Old York Country Club. April also marks the time of year when the Rotary organizes its annual Can-a-thon event.


Last year, Bordentown Rotarians, together with students from the Interact Club (a high school version of Rotary) exceeded their lofty goal of raising $15k worth of canned goods. Rather than serving one pantry as they intended, enough food was raised to stock the shelves of four. This year, Rotary will be at it again, asking shoppers at local supermarkets to pick up some extra cans during their shopping trips and make donations on their way out. Rotarians and Interact club members will take shifts at The New Egypt Marketplace as well as at the Shop Rite and Acme supermarkets in Bordentown.


While each chapter's humanitarian efforts are concentrated locally, the organization comes together to make a global impact, too. Projects include raising funds and collecting donations for area food pantries, donating holiday food baskets to those in need, supporting local fire, police and first aid departments, assisting families who endure catastrophic loss, and larger initiatives such as helping bring clean water to those in other countries who don't have access to it, and even eradicating polio. Rotary also hosts yearly dinners to raise funds to fly doctors to underprivileged children with heart conditions around the world whose families cannot afford the treatment they need.


Rotary is also heavily involved in education and youth leadership. Bordentown Rotarians mentor students from Northern Burlington, Bordentown, New Egypt, and Florence High Schools who are members of the Interact Club. While it is typical for a Rotary Chapter to support 1–2 high schools at a time, Bordentown Rotary provides mentorship to all 4 schools as well and collaborates with students on various community service projects and fundraising efforts.


Bordentown Rotary past president Brian Flynn said he joined Rotary specifically for the opportunity to work with kids again. Flynn, who lives in Columbus, and runs a wealth management and financial planning practice at Morgan Stanley, said that he loved volunteering as a coach for his children's sports teams when they were young.
"When my kids grew up, I had more time on my hands and wanted to get involved in something," he said. "I chose Rotary for the youth mentoring, but also because I was so impressed with the impact the organization has locally and around the world."


Much like Flynn, Dawn Moore joined Rotary after years of volunteering as a Girl Scout troop leader and cheerleading coach when her children were younger. Moore, who also lives in Columbus, said that she was attracted to Rotary because it is first and foremost a service organization.


"We give back locally and globally," she said. "It is beyond a networking or business organization, though there are those opportunities, too. I knew some of the people who belonged to Rotary and I knew they were good people, but until I joined, I didn't realize everything that Rotary does."


Moore owns Huber-Moore Funeral Home in Bordentown.


Bordentown Rotary President, Judy Margulies, also said the main goal of Rotary is to provide service to those in need.


"Many people in Rotary feel very fortunate and want to pay it forward to others in the community," she said.


She emphasized that Rotarians have a good time while carrying out their mission of service.
"We're not a bunch of stuffy old men sitting around smoking cigars," she said. "We spend a lot of time thinking about how to get people involved and how to make sure members are having a good time at our meetings. We have parties, we eat, drink, and make merry, but we also brainstorm about how we can help our community and how we can do a better job than we have done before."


Margulies, of Chesterfield, is a branch manager at Beneficial Bank in Bordentown. Her former commute to Philadelphia for work left her with little time to get involved in the community. When she started working in Bordentown, the time was right for her to see what Rotary was all about.


"We are not a business marketing group," she said. "Along the way we meet people from different walks of life, and there are times when we do business with them, but business is not the primary goal."


In addition to leading the organization, Margulies is the liason to the Bordentown High School Interact club. She attends meetings with students to see where Rotary and Interact can coordinate efforts.


Margulies said she is happy that the organization experienced substantial growth under her administration, but that Bordentown Rotary is always looking for new members. 

And the best way to find out what Rotary is all about, she said, is to attend a meeting.
"We are all busy people," Moore said. "But if you like to have fun and do good things and be surrounded by great people, make time to come to a meeting and get involved."


The Rotary wine and beer tasting event is scheduled to be held at Old York County Club in Chesterfield from 6:30–9 p.m. with bottles from a variety of different vineyards as well as well as craft beer selections. Proceeds from the evening will benefit college scholarship awards for students in the area, as well as the Bordentown Food Pantry. Tickets must be purchased in advance and are being sold for $55 per person. They include a tasting glass, samplings, and hors d'oeuvres. Attendees are encouraged to bring a canned goods donation to benefit the local food pantry and help kick off Rotary's second annual can-a-thon weekend. For tickets, call Dawn Moore at (609) 410-8194.


To learn more about Bordentown Rotary or to attend a meeting, call Brian Flynn at (609) 284-4437.
Today
,
Community
,
News
Marguiles
Dawn Moore
Old York Country Club
April
can-a-thon
wine and beer tasting fundraiser