The men behind the cameras

Mar 30, 2015 07:25AM ● Published by Community News Service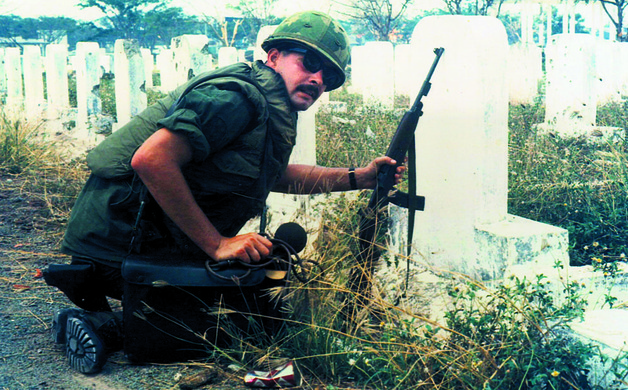 Bryan Grigsby manages his sound recording equipment in the French cemetery in Saigon during "Mini Tet" in May 1968. (Photo by Howard Breedlove.)
Gallery: Bryan Grigsby War Photographer [8 Images] Click any image to expand.
By Lexie Yearly
A framed black and white photograph hangs in Bryan Grigsby's Bordentown home, a vivid reminder of the wartime reality he once witnessed. 


Almost 50 years later, Grigsby can still recall the events of that day, when he, Rick Griffith and Howard Breedlove documented the combat in progress along Plantation Road in Vietnam.
From 1967-1970, Grigsby served with the Department of the Army Special Photo Office, spending a total of seven and a half months documenting the combat in the Vietnam War through still photography and audio recordings.


The date he took the photo was May 6, 1968. Grigsby, on his second mission of the day, had set out with Griffith and Breedlove to film the house-to-house street fighting that was happening in Saigon.


The scene unfolded like that of a movie, he recalled. Near the area where shooting had already begun, Breedlove began setting up his camera equipment; only moments later,  Grigsby heard him shout, "I'm hit!"


Grigsby and Griffith raced to tend to him—he'd been wounded by a piece of shrapnel—and as Griffith wrapped a tourniquet around Breedlove's leg, Grigsby captured the moment on film.


Thanks to a recent documentary by Traditions Military Videos titled "Unseen Warriors: Army Combat Cameramen in Vietnam," stories like—and including—Grigsby's are finally being told.
Grigsby, now 71, was one of nearly 50 men interviewed and featured in the documentary; the production also includes some of Grigsby's own still photos and even a sound recording clip.

The idea for the documentary came nearly three years ago as Traditions Military Videos co-owners Ellen Holzman and Meredith Vezina considered the fact that they'd soon be reaching retirement age, after more than 20 years of collecting and selling wartime film footage.


"We felt we wanted to give something back," Holzman said. "We had made a living all that time selling the kind of film footage that's in these documentaries, and all this time we had always credited the National Archives, which is where you get that film footage. But of course it wasn't the National Archives that took them, it was the cameramen."


Most people have seen iconic wartime images and film clips featured in documentaries, TV shows and even coffee table books. But often, Holzman said, no one considers the story of the person behind the camera who documented that footage.


Over the past three years, Holzman and Vezina interviewed nearly 50 veterans, poured over hours of film footage, and assembled a documentary over four hours long that tells the stories of those cameramen.


They tracked down veterans by reaching out to military associations, and eventually interviewed veterans from three units: 221st Signal Company, DASPO and the 69th Signal Photo Platoon.


The stories from those soldiers, Holzman said, ranged from sad to funny to ironic to heartfelt, but most of the people she spoke with just wanted their work and their fellow soldiers' work to be appreciated.


"It wasn't so much they were interested in looking like heroes," Holzman said. "They wanted their fellow cameramen, the work they did and the sacrifices they made—they wanted them to be recognized."


While some of the stories describe the chaos of shooting film while the unit was under fire, many soldiers also filmed plenty of other footage outside of combat.
Grigsby recalled taking aerial shots of major base camps and snapping photos of the soldiers alongside him on his missions.


"They liked us," Grigsby said. "They liked having their picture taken, they were flattered. A lot of these guys were in units in places where the press never showed up."


After completing his service with DASPO in 1970, Grigsby returned to his hometown of Gainesville, Florida, where he completed a bachelor's degree in telecommunications with a minor in education at the University of Florida; at the time, he noted, there was no option to complete a degree in photography.


He then went on to begin what would be a highly successful career as a photojournalist.
Though he'd started out knowing little about photography, during his time in DASPO, Grigsby had discovered he had a knack for it.


"I even look at those pictures now and say, 'That's not bad.' It turned out I had an eye for it," he said. "So after two and a half years in DASPO, I got out, and I knew I wanted to be a photographer."


It was a very different course from the plan he'd had as a college student before he'd enlisted in the army. An aspiring musician, he was completely disinterested in both photography and fighting in the war.


He didn't support the war, he recalled, and as he reflected on the beginning of his photography work in the army, his one hope was that people remember what happened in Vietnam, and the lack of support for the soldiers who risked their lives, so as never to repeat that moment in history.


Leading up to his own enlistment, Grigsby had spent five years in college—changing his major four times—before he finally enlisted as an army bandsman at age 24.


While in basic training, though, he switched his military occupational specialty to audio specialist after the White House Communications Agency presented an opportunity for a position where he'd get to live in Washington, DC and cover then-President Lyndon Johnson.
But upon his graduation, Grigsby learned those positions had already been filled, and instead received orders to report to Fort Shafter in Hawaii; from there, Grigsby and other soldiers were sent on three-month missions to Vietnam, South Korea and Thailand.


His first mission in 1967 was to South Korea, where he only recorded sound. When he returned from his mission, it was decided there was no need for a full-time sound person, and that Grigsby would be trained in still photography.


Ironically, Grigsby was no stranger to photography—in fact, he'd grown up surrounded by it. His father, a serious amateur photographer, had all his own camera equipment and even his own darkroom; meanwhile, Grigsby's older brother, a chemical engineer, had landed a job at Kodak.


"I had grown up in the middle of this and completely ignored it…I didn't think there was anything to it," he recalled.


Grigsby's career as a photojournalist after the war began when he was hired as a staff photographer at his hometown paper, The Gainesville Sun. By the time he left the paper seven years later, he was working as chief photographer. He then moved to Missouri to take a position as director of photography at The Springfield News-Leader.


An opportunity at The Philadelphia Inquirer is what eventually brought Grigsby to New Jersey. He remained with the Inquirer from 1982 until his retirement in 2012, starting as a staff photographer and later becoming a photo editor and assigning editor. During his time there, he was even nominated for a Pulitzer Prize in Feature Photography.


During his photojournalism career, Grigsby also lectured about photography as an adjunct at nearby colleges.


Grigsby's photography has led him to document his travels around the world, from Paris to Guatemala and a host of other locations in between. But the photo he took in May 1968 still remains one of his favorites.


More of Grigsby's work can be seen online at bryangrigsbyphotographer.blogspot.com. For more information, or to order a copy of the documentary, go online to 
militaryvideo.com
.
Today
,
Community
,
News
War Photography
Grigsby
Army Special Photo Office
Bryan Grigsby