Gordon scores 1,000th point

Mar 30, 2015 08:27AM ● Published by Community News Service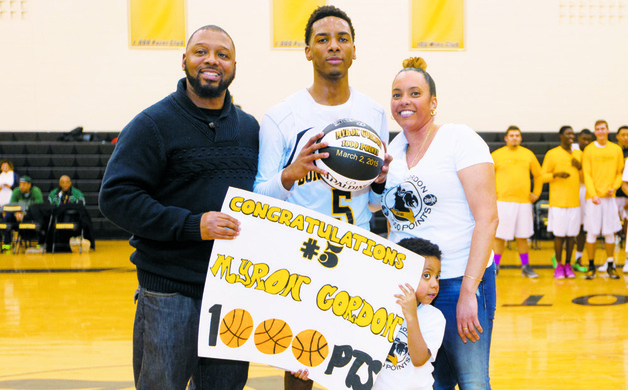 After scoring his 1,000th point March 2, 2015, BRHS junior Myron Gordon celebrates with his dad, also Myron Gordon, mom Tana Rivera and brother Brayden Banks. (Photo by Suzette J. Lucas.)
Gallery: Myron Gordon's 1000th Point [2 Images] Click any image to expand.
By Ken Weingartner
If there were lessons to be learned as the Bordentown Regional High School boys' basketball team progressed through its season, Scotties' coach John Myers hoped his players recognized they applied to not only the game itself but to life outside the gym as well.
His message appeared to hit home.


Bordentown enjoyed a memorable season, going 24-6 and, in somewhat of a surprise, advancing to the state sectional championship game. The Scotties more than doubled their victory total from the previous season, blending confidence and cohesiveness into a winning formula.


"I want these kids to believe that when they put their mind to something they can do it," Myers said. "I use basketball because I happen to be the basketball coach. But I really talk to them more about handling things in life. Things aren't always going to be perfect and you have to battle your way through it. These kids became battlers. They really battled all the time."
Matt Culda, a senior and co-captain, said the Scotties' ability to deal with the highs and lows of the season was one of the keys to the squad's success.


"Just keeping our heads up and working hard," Culda said. "Always having confidence in ourselves no matter the ups and downs we had. We just believed we could do it. We always kept in mind what we wanted to do and what our goals were. Not panicking when times were tough; always keep grinding and working hard. Life is a cycle; there are going to be ups and downs. Whenever I'm struggling, I just need to remember that it's going to go back up."


The team's first game in the Central Jersey Group II tournament was a big one. Not only did they have to win to advance, but junior Myron Gordon entered the game just six points shy of the 1,000-point milestone. Sure enough, Gordon, who averaged 22 points per game this season, hit the mark.


"That was my individual goal for this year," he said. "It meant a lot to me. And now I can come into next year and not have to focus on it."


In the regular season, Bordentown rallied from an eight-point deficit with 2:13 to play to beat Haddon Heights. In the Central Jersey Group II tournament, the eighth-seeded Scotties continued that tradition and again rallied from late deficits to knock off No. 1-seed Lakewood in the quarterfinals and No. 4 Rumson-Fair Haven in the semis.


The Lakewood rally, from five points down with 1:04 to go, came after Gordon, Burlington County's top scorer, fouled out. But seniors Brion Teel-Scott and Jon Vasil hit 3-pointers to fuel the comeback, and five different Scotties made free throws in the fourth quarter. Eleven Bordentown players saw action in the game.


"They learned to be a unit," Myers said. "They had to recognize that each of them had their own strengths and no one was more or less important. Everyone had a part. It might not be 32 minutes or 20 points or 16 rebounds, but they have a part that will make a difference in the game. At some place at some time, they all made a difference in a game."


Bordentown won 17 of its final 20 games of the season, with the only losses coming to powerful Trenton Catholic, Pemberton and Manasquan in the state sectional final. The Scotties avenged the Pemberton setback with a win in the opening round of the state tourney.


"Nobody thought we could do it; only we thought we could do it," Gordon said about Bordentown's postseason run. "We owe it all to Coach. He's done a lot to help develop us as a team and to make us stronger. We thought we could get as far as anybody, even to the [Tournament of Champions]. We just came up short."


The squad, he added, always knew it was skilled.


"We just had to put the pieces together," he said. "I knew we were a special team from the first game. We just had to keep building and getting stronger. We never gave up. Our offense was shaky sometimes, our defense was shaky sometimes, but we always had heart. We weren't going to let a team step all over us."


Darnill Brown, Dante Gipson, Manny Ansong, Mike Giorgianni, Culda, Vasil and Teel-Scott were among the Scotties' remaining top scorers.


Seniors on the squad were Teel-Scott, Culda, Vasil, Giorgianni, Drew Chiszar and Dom Nemeth.


"They're great kids; I love them to death," Myers said. "That is the hard part of high school basketball, saying goodbye to kids, because you build such a relationship with these players."
Culda, who plans to focus on a pre-law degree in college, said he would miss his days on the hardwood.


"I've been playing basketball my whole life," Culda said. "I love the thrill of the game. Winning helps a lot, but I just loved playing. It's been an amazing ride. I've enjoyed every minute of it."
And while some people might have been surprised by the Scotties' ride through the state tourney, the players and coach were not among them.


"I had my expectations for this team," said Myers, who saw Bordentown finish second to state Top 10-squad Ewing in the 2014 Moody Park summer league, which proved to be a springboard for the scholastic season. "I really believed this. I was really expecting us to play hard all the time, and they did. It was great. It was a great run."
Sports
,
Today
,
News
,
Schools
basketball
scotties
Myron Gordon
1000 points