Jersey Devil BBQ draws inspiration from Garden State

Mar 31, 2015 08:48AM ● Published by Community News Service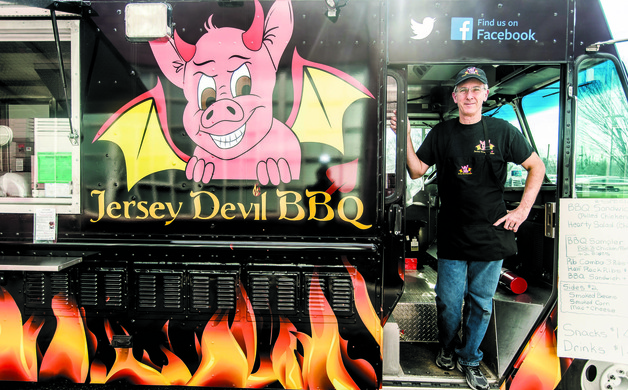 Bordentown native Dan Moran is the mastermind behind the Jersey Devil BBQ food truck in Hamilton. (Photo by Suzette J. Lucas.)
Gallery: Jersey Devil BBQ [3 Images] Click any image to expand.
By Meagan Douches
There's no doubt that food trucks have been sweeping the nation over the last few years, and Bordentown native Dan Moran has added to the craze by starting his 
Jersey Devil BBQ truck
 in Hamilton.
Growing up, one of Moran's favorite pastimes was grilling with his father at backyard family cookouts. Decades later, he and his wife, Mary Dunn, were inspired to start barbecuing seriously after discovering the Big Apple Barbecue Block Party on a trip to New York City in 2009.


"The smell of the wood, the smoke, fire and meat [was] intoxicating," Moran said.
Moran started competing in national barbecue competitions five years ago. He fell in love with the barbecue community and culture.


For him, the next step was to start a business based on barbecue. He purchased a food truck in August and it was recently completed by East Brunswick's Vending Trucks in January. It was the company's first time creating a food truck with a built-in smoker.


Jersey Devil BBQ plans to introduce the community to its truck at several upcoming events including Food Truck Fiesta on April 18, the Hamilton Concert and Fireworks show in July and Septemberfest. The crew also plans to open on the weekends and during the week for catering.


Jersey Devil BBQ is a family business with Moran as the pit master, Dunn as the business expert and their son-in-law, Rick Austin, as the social media and marketing coordinator. Austin earned his experience working in the corporate sector for seven years.


"We all have slightly different talents so it works very well," Dunn said.


"Dan handles the food, we stay away and let him do his thing and that's how the food turns out so well," Austin said.


Austin said Dunn has a lot of experience starting businesses. Dunn, a graduate of Steinert High School and Mercer County Community College, was the former Director of Nursing at Millhouse where she learned about the legal aspects of running a business.


Moran, a veteran safety officer at PSE&G, and Dunn, a nurse at Health Insurance Quality Improvement and Training, continue to work their full-time jobs while managing the food truck.
The couple is used to juggling their jobs and their pursuit of barbecue. The family took their hobby to the next level when they began competing at national barbecue competitions in 2010. Through these events, Moran was able to learn many different techniques which he now combines to make his own unique style of barbecue. Moran worked with various experts featured on the BBQ Pit Masters TV series.


Every week he went to a different competition using the experiences as cooking school. He learned how to select, how to prepare, smoking techniques and how to send food to the judges.


The competitions allowed Moran and his family to become a part of the national barbecue community.


"That's what the whole organization is," Moran said. "If you need something or need to know something they'll help you out. Except the recipes; you just don't ask for that."
As members of the National Barbecue Association, the couple travels the country to attend barbecue conventions and experience different flavors and styles.


"We've eaten all over the country," said Moran.


Two years ago, the family went to New Orleans to work for Habitat for Humanity. During their travels, they made sure to sample all of the barbecue they could between here and New Orleans.


"Everyone was like 'Uncle Dan we're tired of barbecue,'" Moran said.


Moran and the rest of the Jersey Devil BBQ crew are now working to bring the barbecue flavors they love to their hometowns. Dunn said they want to bring some of the flavors of their travels back and give people the opportunity to try them. At the same time, they want Jersey Devil BBQ to not just mimic styles of barbecue, but to create a new one that will be synonymous with New Jersey.


"New Jersey has no [barbecue] identity like Kansas City, Memphis or Texas," Moran said. "They all have their own little twist, but there is no identity for barbecue in New Jersey, so that's what we're trying to create."


The Jersey Devil BBQ crew is very focused on representing New Jersey, sourcing products locally and giving back to the community.


"That's how we picked our logo, the Jersey Devil," said Dunn. "When we were starting to compete, Dan wanted people to know we're from here without even having to ask. So, we thought Jersey Devil BBQ team, [people would know] we must be from Jersey."


Inspiration from the local area also led to Moran's signature barbecue sauce. Dunn said they thought of Jersey-centric ingredients when creating their sauce, which led them to include cranberries in it.


Born and raised in Bordentown, Moran lived around the corner from the Oceanspray Cranberry factory. He said, if the weather was right, he could walk outside and smell stewing cranberries.


"So that is another inspiration for the flavors we choose to have," Moran said. "New Jersey being the Garden State, cranberries are just the lure."


With their signature sauce, Jersey Devil BBQ offers a variety of smoked meats including ribs, pulled pork, pulled chicken and sausage as well as different sides. Moran describes his barbecue as having, "a sweet, savory, smoked hickory flavor."


The crew said that the customer and family favorite is their beef brisket which is slow smoked for over 12 hours. Moran loves to sit back and watch people enjoy it.
"At a family function, it just disappears," he said.


Another favorite menu item is the crews' baked beans which are cooked on the smoker just as long as the ribs and brisket. They're smoked, and include all of Jersey Devil's proprietary spices.

Moran and his family have been happy to receive lots of excitement and interest from members of the community.


"It's a good feeling that the demand is there," Dunn said. "It just makes you feel good when people come up to talk to you about your food."


To find out more information and to track the Jersey Devil BBQ truck, go online to 
jerseydevilbarbeque.com
.
Do you like this story? Like it on Facebook to show us you do!
Today
,
Community
,
News
Food Truck
Jersey Devil
BBQ
Barbecue
Jersey Devil BBQ
Barbeque
ribs
pork
Hamilton