Middle school wrestlers take South Jersey titles

Mar 31, 2015 08:59AM ● Published by Community News Service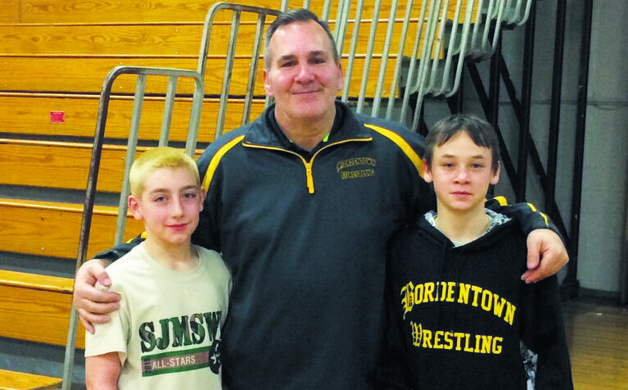 By Jashvina Shah


Bordentown Regional Middle School students Sammy Mazzella and Sean Pedersen have been wrestling for more than half their lives. They both have roots in Bordentown's youth recreational wrestling program, and this season they put that training to good use, each winning a South Jersey wrestling title.


"I hadn't really thought about being able to do it, but I really just never stopped and would always push myself during practice," Pedersen said. "Sammy would always push me during practice when we would practice together, and I think that really helped us a lot."
Pedersen started wrestling when he was five years old, and Mazzella when he was four. Having wrestled for roughly eight years and with family members who have played the sport, the pair are legacy wrestlers.


"That's where you're going to get your success because they get a lot of reps in," Bordentown coach Chuck Lynch said. "When you start early like that, kids take to it because when you're five and six years old, it's more like going out and playing instead of [it] being a sport."

While being legacy wrestlers gives Mazzella and Pedersen an advantage, the two faced challenges, sometimes physical, throughout the season en route to their championships.
"In the finals my shoulder was hurting the entire time and I got a bloody head, but I didn't let that stop me and I kept going," Pedersen said.

Pedersen was seeded No. 2 in the tournament and defeated the No. 1 seed in a close final match. Mazzella's win capped an undefeated campaign.

"[I had] a bulls-eye on my back because I was undefeated and I was scared of losing," Mazzella said.

He finished the season 15-0.

"Sammy is a contemplative wrestler. He tries to go out there with a game plan that involves some of his more favorite moves," Lynch said. "At some point in his future he's going to have to develop other moves because when you get to the next level, if you're going to be harder to pin, it's harder to use the same move over and over, so that's where he has to develop."
Both Mazzella and Pedersen have wrestling influences from Bordentown's youth recreational program, which Pedersen's father runs.

"I remember not being really good but I knew I had to try as hard as I could and just keep on pushing myself," Mazella said.

Lynch saw Mazella's talent, but the wrestler struggled in his sixth grade campaign.
"I knew that Sammy had talent because he is a legacy wrestler, he's a kid who's been wrestling for a while, but in sixth grade he was a little flat. He was the youngest class on the team and maybe that had something to do with it," Lynch said. "But he was definitely more defensive last year, he was more timid last year and this year he had a plan. He went out, he worked hard in practice, and he went out with the idea of pinning his opponent every time."
A problem this season was finding a wrestling partner to challenge Mazzella in practices, but the seventh-grader worked on his wrestling outside of practice. The work led to improvement and a captaincy for Mazella this season.

"It was a maturation on his end, being confident, being on the team and [being] put into a leadership position. … He was one of those guys who was working hard so he was a captain," Lynch said.

Like Mazzella, Pedersen was a successful wrestler when he was younger, with a little help from his brothers, Brett and Drew. The success and legacy background pressured Pedersen, who struggled with losing. Quitting crossed his mind, but that idea was quickly squashed.
"In the middle of the season I was thinking of just stopping, but Sammy was helping me and everything and everybody on the team and it kept me going," Pedersen said.
But Lynch saw Pedersen's confidence and mindset improve this year.


"Emotionally, he has all the confidence in the world. He's not really concerned with whether he wins or loses, he's concerned about putting his best effort in and learning from each experience," Lynch said. "That's a maturity that you really don't see until later in your wrestling experience. People get so emotionally tied up whether they win or whether they lose that they lose sight that it's not about today's match. It's about how you are preparing and how you are developing for tomorrow's match. He's at that level."


Like Mazzella, Pedersen earned a captain position with the team. It marked the second year as a leader for Pedersen.


"He's a kid who never gives up," Lynch said. "It can be a tight match, he can be behind but he's always confident that there's time enough left to make a difference in the match."
Pedersen's attitude pushed him through a difficult season. He peaked in time to turn his losses into victories, finishing with a 12-4 record and the championship.


"This isn't like baseball or football where you have to make up points to win," Lynch said. "In the sport of wrestling, you can be behind by 14 points, turn around, pin your guy and you win. It can all turn around in two seconds. He's one of those guys that keeps on pushing."
Sports
,
Today
,
Community
,
Schools
Sammy Mazzella
Sean Pedersen